Most Gorgeous Bengali Bridal Makeup Looks For D-Day
Want to be the gorgeous Bengali bride on your big day? Check out these stunning Bengali bridal makeup looks to be the epitome of beauty and elegance.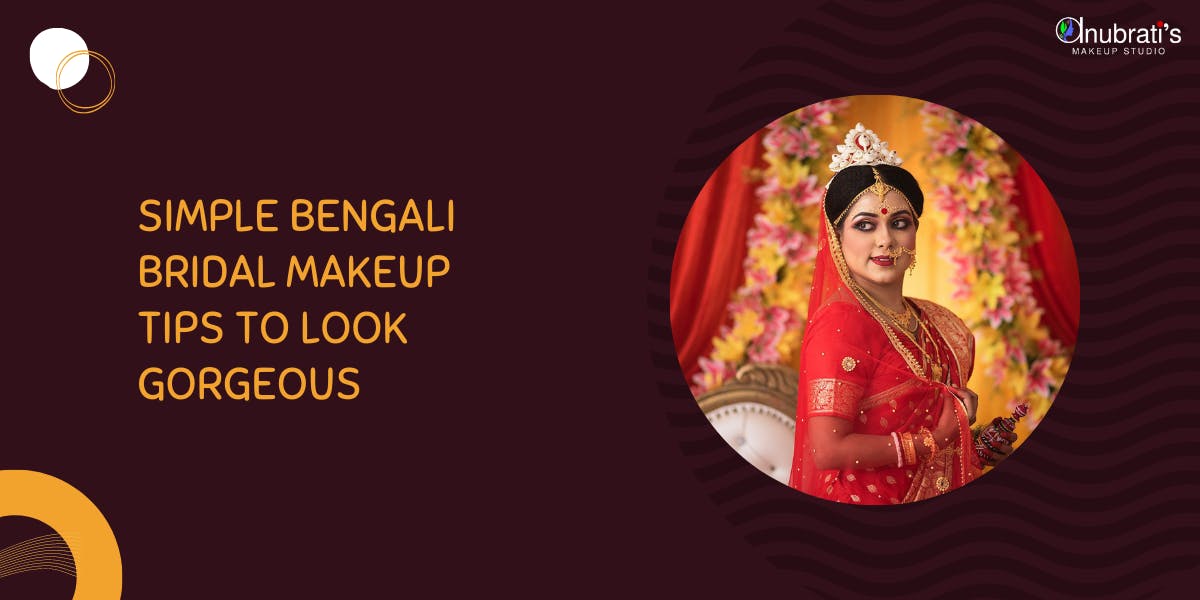 The beauty of a traditional Bengali bride cannot be expressed in words. A Bengali bride dolled up in a luxurious banarasi saree, white mukut & traditional jewelry looks no less than a divine goddess. But the most attractive part of the Bengali bride's look is her bridal makeup. Her dramatic big kohl-lined eyes, red lips, highlighted cheeks, and Chandan art can mesmerize everyone. The timeless beauty and glamorous makeup of Bengali brides have won millions of hearts. And that is the reason that we always got fascinated by the Bengali bride's look in Bollywood movies. The attractive eyes of a Bengali bride speak a million words about their beautiful look. Every element of their bridal look speaks volumes about their charm and elegance. With years of experience in the makeup industry, we have dolled up many beautiful Bengali brides on their wedding day. Being one of the best bridal makeup artist in kolkata, we understand your emotions attached to your wedding day look. So, here we're sharing some most beautiful Bengali bridal makeup looks that will ensure your transition into a stunning Bengali bride.
1. The Artistic Chandan Bindi
One can not beat a Bengali bride in terms of beauty. Because the Chandan bindis enhance their whole bridal look. The beautiful Chandan bindis are true works of art. If you want to add a traditional bong bride's touch to your wedding look then do not skip the red and white Chandan art over the forehead. The red and white Chandan bindi design gives you a dramatic look on your wedding day. The beautiful Chandan bindi design includes smaller dots, leafy motifs, and an ornate design that makes the bride look pretty.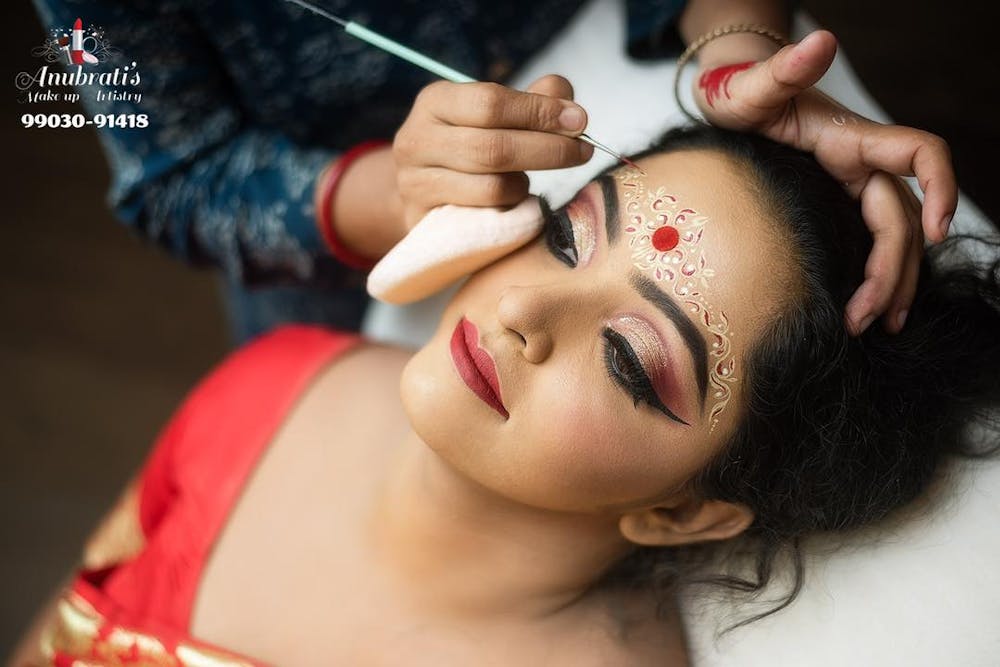 Recommended: Why Should You Hire A Professional Makeup Artist For Your Wedding?
2. Attractive & Bold Red Lips
Wearing a bold red bindi with hot red lipstick is a signature style of a traditional Bengali bridal look. From celebrity brides to traditional brides everyone likes to wear red shade lipstick on their wedding day. The best part about red lipstick is it compliments many colors. Hence you will feel easy to complement your gorgeous bridal silk saree with this deeper tone. To add a glam touch to your lips make sure to take the help of a professional makeup artist kolkata on your wedding day.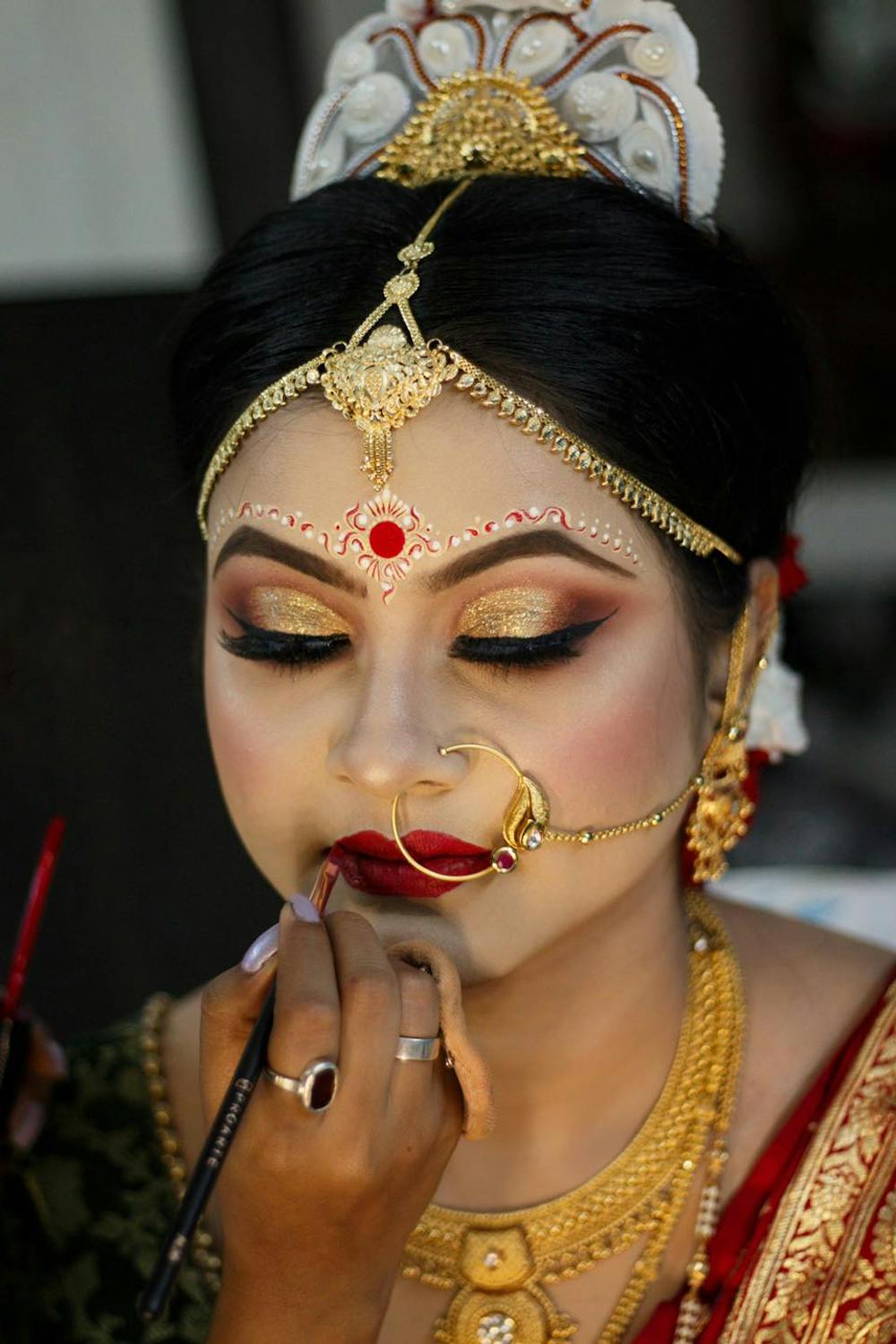 Must Read: Every Bride Must Have These Bridal Makeup Essentials
3. Dramatic Kohl Eyes
The dramatic kohl eyes are the main reason behind the sharp features of the Bengali bridal look. The big expressive eyes have a magical appeal to attract everyone around. To get such a dramatic eye the top makeup artist in kolkata apply concealer under the bride's eye. They can draw a winged eye line in seconds using an eye liner. To make your eyes appear prominent and attractive. They further add lighter shades of blush around the chick bones of the bride to make her a glamorous bride.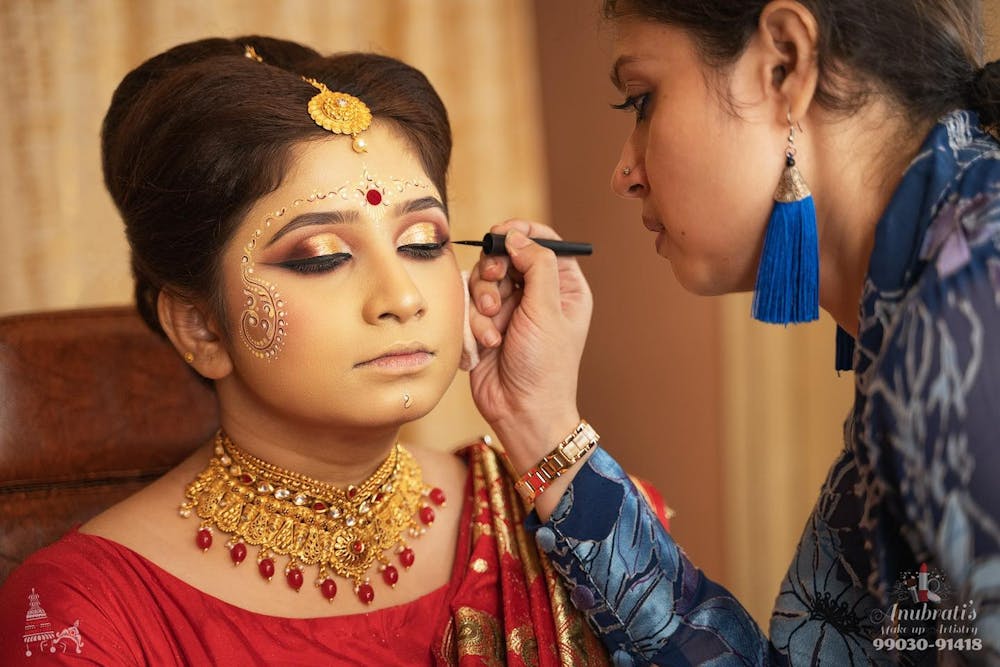 See More: 13+ Attractive Wedding Nail Art Ideas For Bride
4. Glittery Bengali Bridal Look
After drawing the dramatic kohl eyes you need to add a glam touch to your eyes to make them more expressive. Adding a little glitter to the eyes of a Bengali bride is the most important rule of bengali wedding makeup. You can add some more drama by experimenting with a smokey eye makeup look. It can make you the most glamorous bride of this wedding season. The kohl and glittery eyes are further enhanced by adding false lashes and mascara to the eyes which works wonder.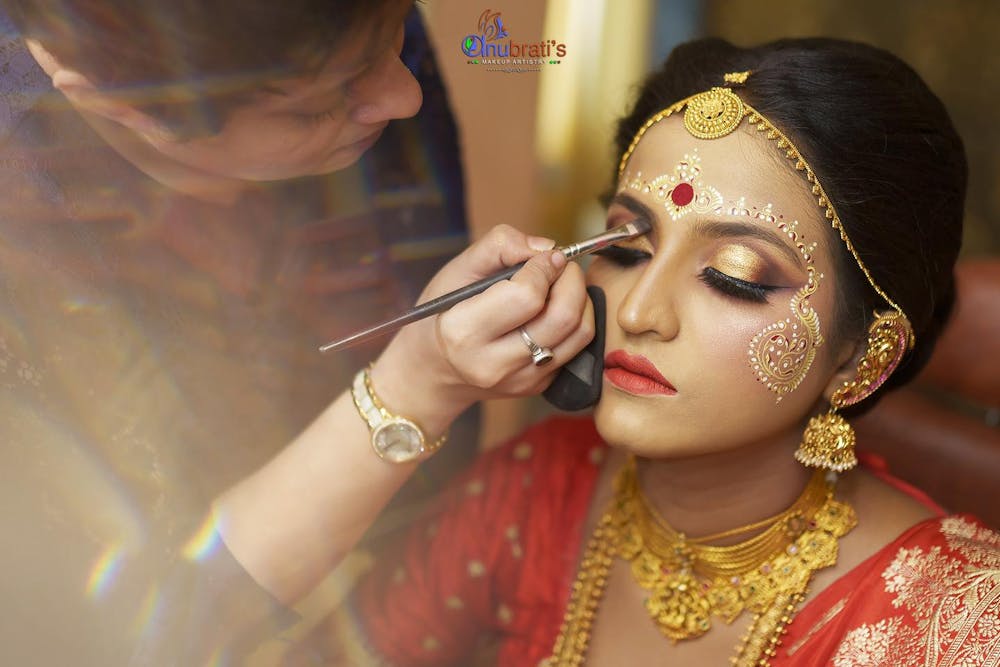 5. Highlighted Cheeks Bengali Bridal Look
The chiseled cheeks of every Bengali beauty make her more beautiful. Their prominent cheeks and perfect chiseled look offer a Bengali bride a divine look. You can add a little blush and gold highlighter on your cheekbones to get that perfect bridal look. Contouring your cheeks is a magical process that can take your wedding day look to the next level. Proper contouring can make or break your wedding makeup looks. So it is better to take expert help to get a super sculpted bridal face.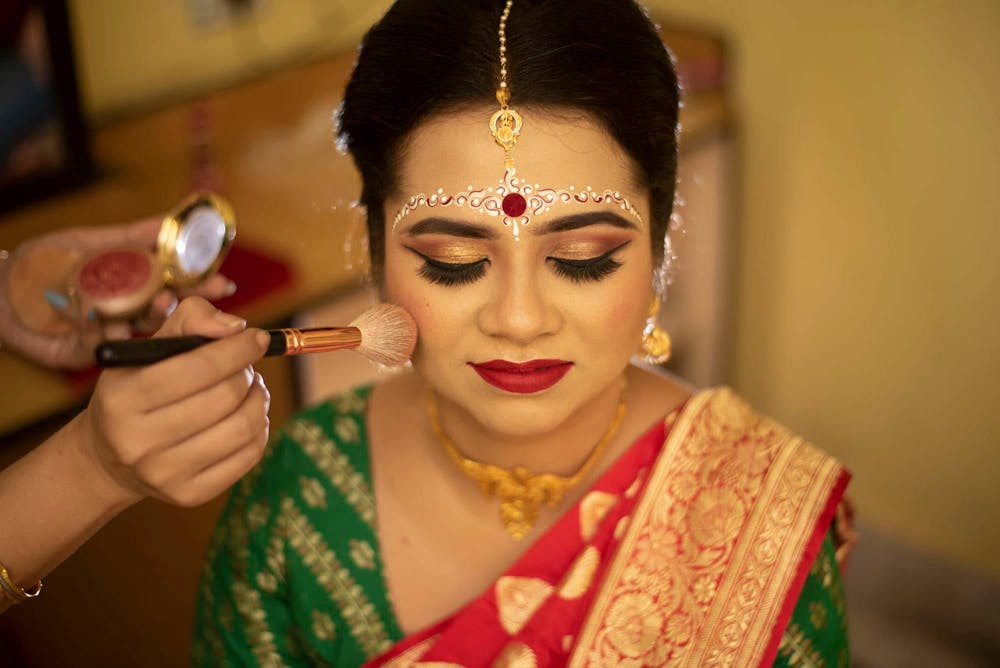 6. Natural Bengali Bridal Look
Simple makeup for wedding always focuses on keeping your skin tone natural. Today we can see many brides opting for a minimalist makeup look on their wedding day. Using the right foundation and a good makeup vase will give you smooth and glowing skin on your wedding day. But you need to make sure to use only branded and trusted makeup products to avoid any kind of skin problems. The nude makeup look highlights the naturally sharp features of the Bengali bride. The makeup artist put more focus on highlighting the nose to give it a sharp and perfect shape.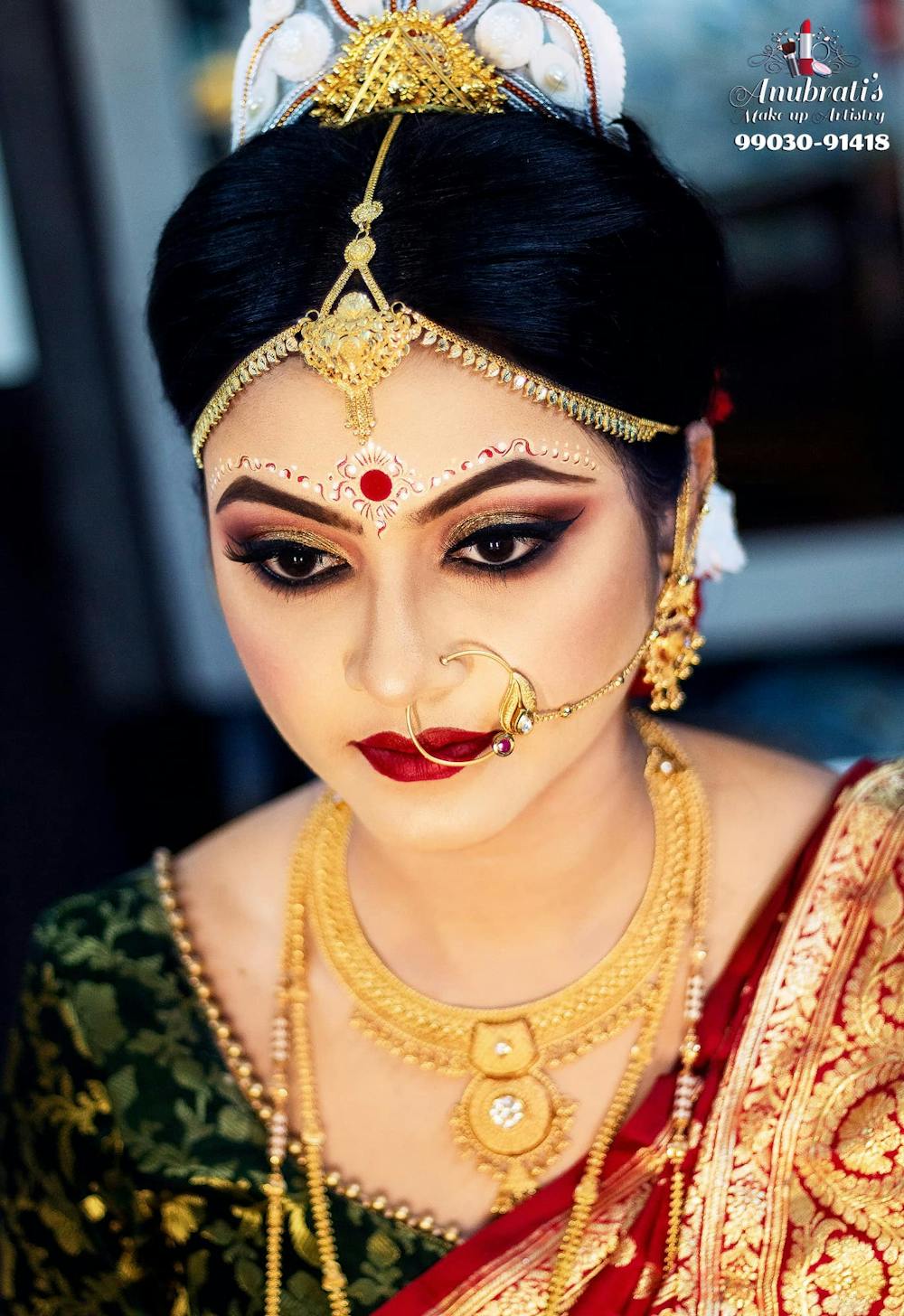 7. Stylish Hairdo With Mukut & Tikli
The gorgeous wedding look of this bride is further enhanced by tying her hair into a stylish bridal bun. A traditional white crown is also known as mukut. The bride's head is adorned with a mukut along with a tikli or mang tikka on her forehead. The lovely locks of a Bengali beauty add a glam factor to their bridal looks.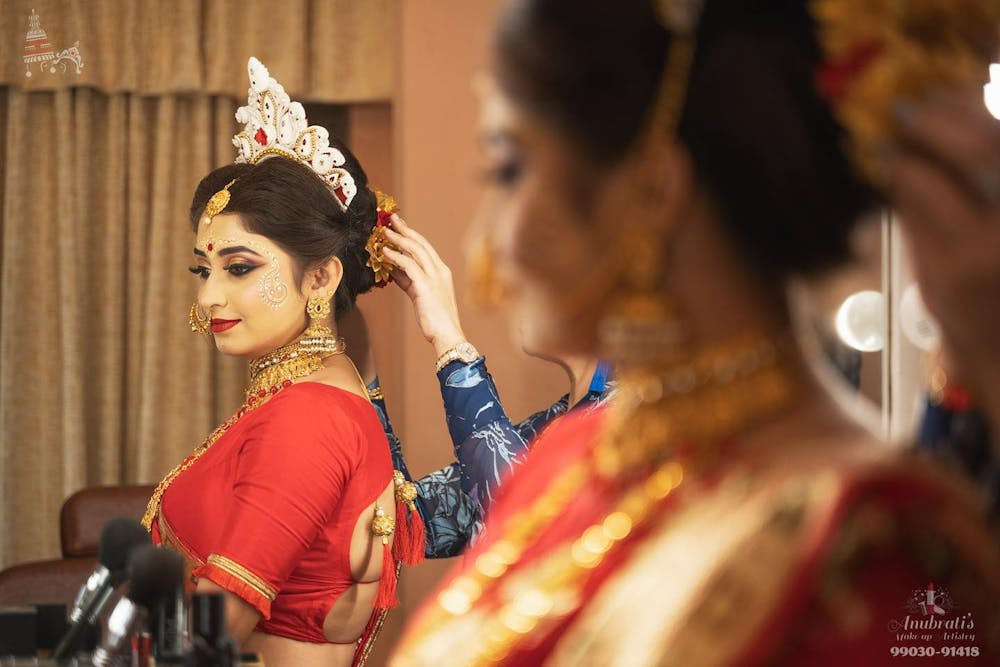 8. The Pinkish Bengali Bridal Look
Now, this wedding bridal makeup look looks quite different from the above ones. This is a brilliant makeup experiment for a reception ceremony look. This lovely bride has ditched the traditional touch of red and opted for a glittery pink shade. Her glittery pink eye makeup is the real winner in these wedding pictures.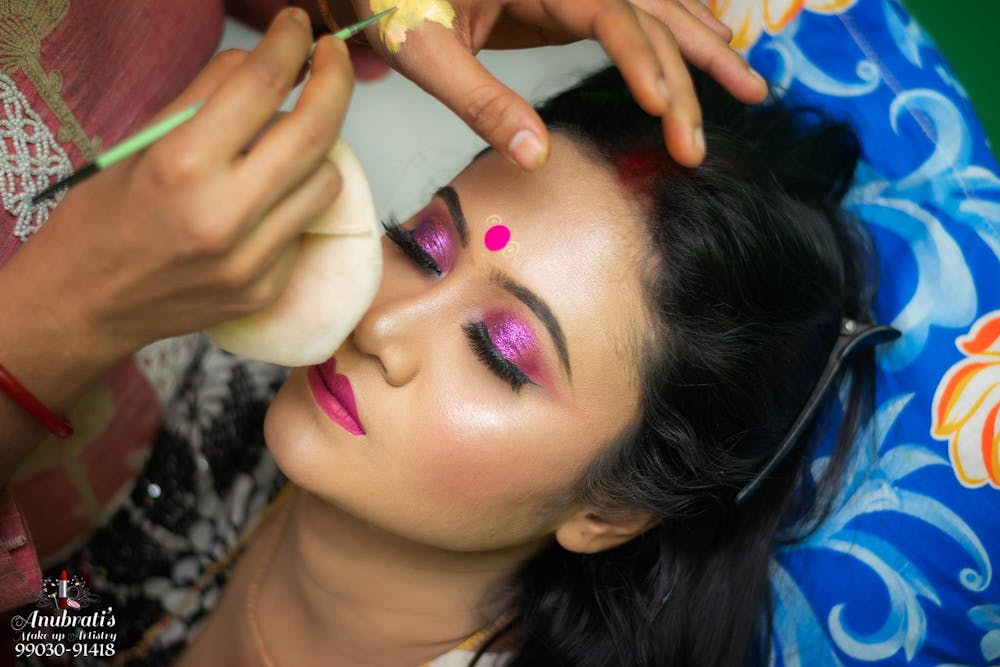 9. An Eye-Catchy Bengali Bridal Look
Here is another example of beautiful bridal makeup for a grand reception ceremony. Take inspiration from this glamorous bride who has chosen a dark shade like magenta hue for her reception day look. Her glittery eye shadow with perfect winged eyes is making her an epitome of beauty.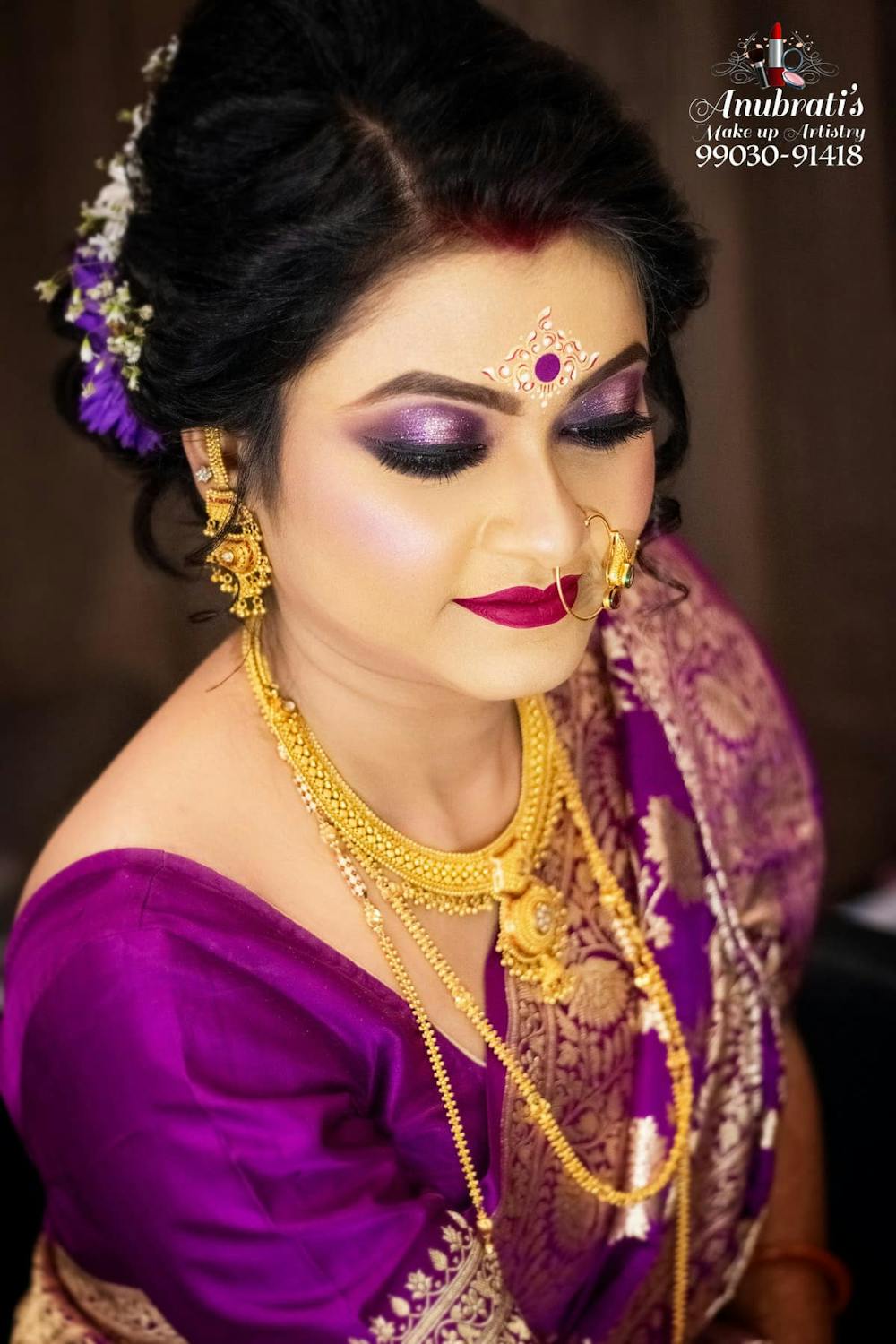 10. Nude Bengali Bridal Makeup
Bengali brides are known for their beauty and grace. Nude bridal makeup for Bengali brides is the latest trend over the past few years. It is great for those brides who don't like applying heavy foundation and eye shadows. Moreover, nude makeup is a great way to add a little glamour to your bridal personality.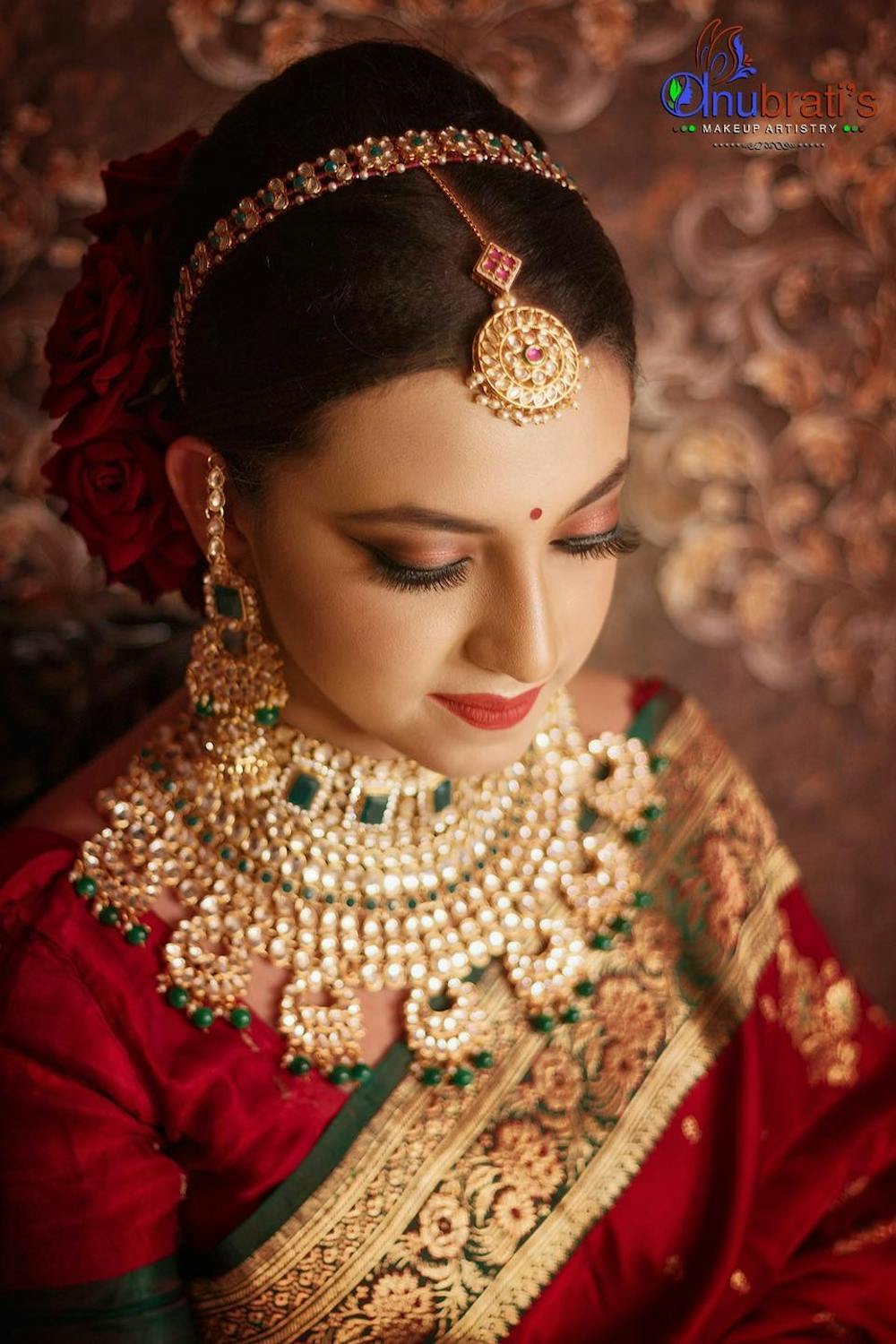 11. Dramatic Bengali Bridal Makeup
A dramatic bridal look is the most classy and gorgeous one. This kind of Bengali makeup needs a little bit of experimentation with bold colors. The highlight of this bridal makeup is the sharp features of beautiful bold eyes. The dramatic eyes and red lipstick can go well with a dusty skin tone.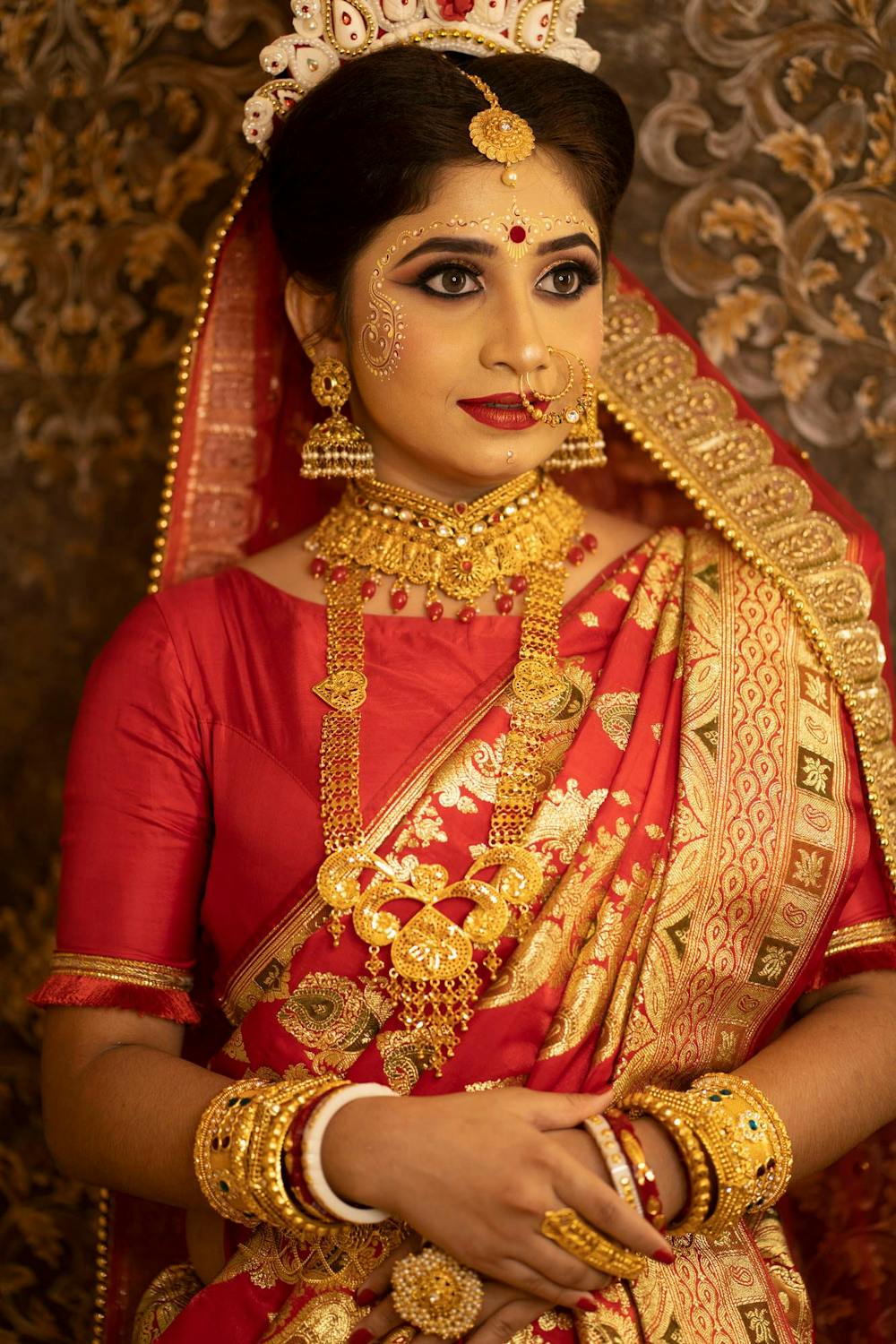 12. Glowy Bengali Bridal Makeup
The glowy Bengali bridal makeup is perfect for any bride who wants to take center stage on her wedding day. It will transform your skin tone and gives you a radiant glow that lasts all night long. The combination of red lips and artistic Chandan bindi design will be a cherry on top.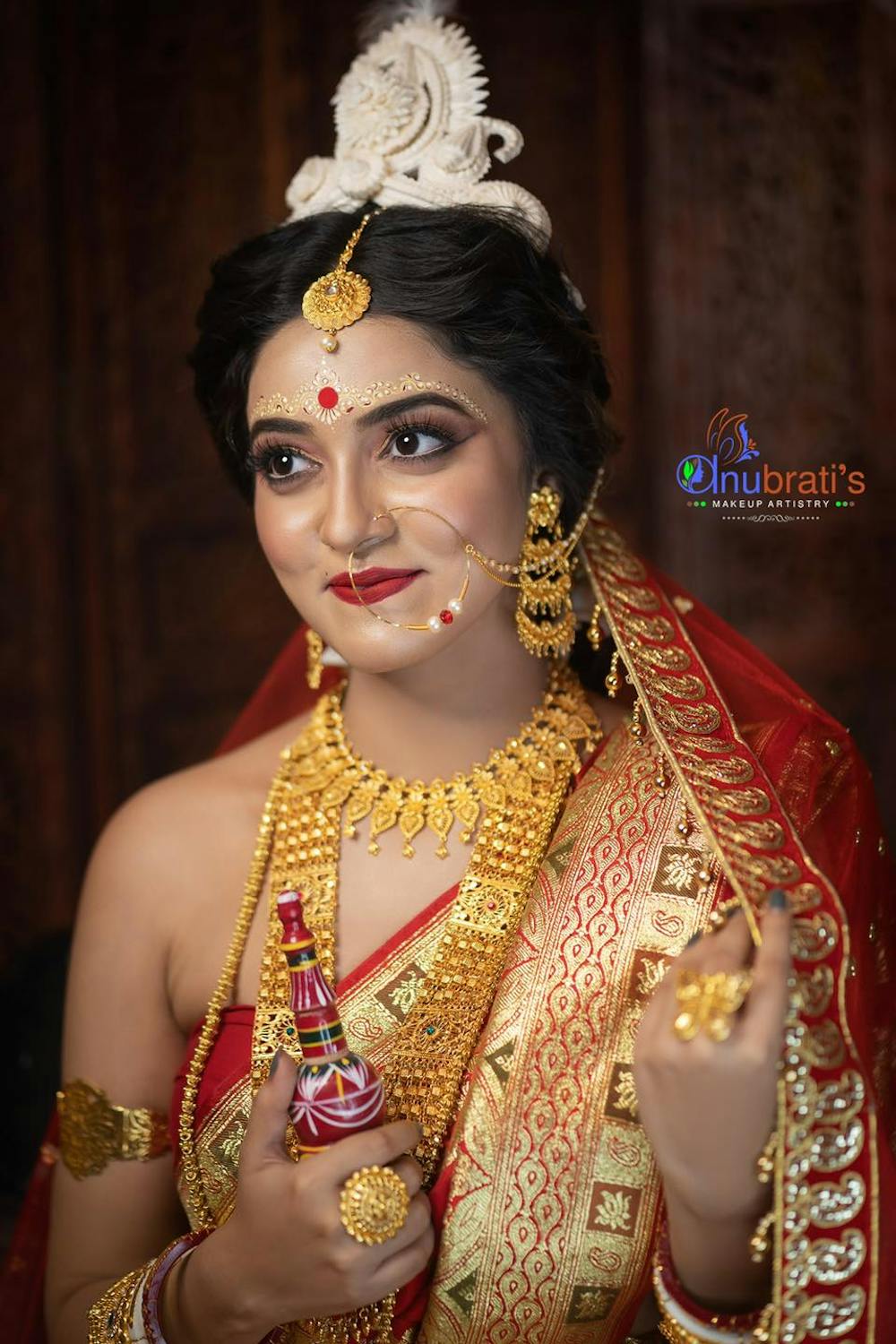 13. Rosy Red Bengali Bridal Makeup
Red is the most beautiful color that signifies pure love. Red bridal makeup for Bengali brides can add a romantic definition to the wedding look. It is a classic color that suits every Indian bride. Rosy red bridal eyes and contoured cheeks perfectly match the entire wedding outfit.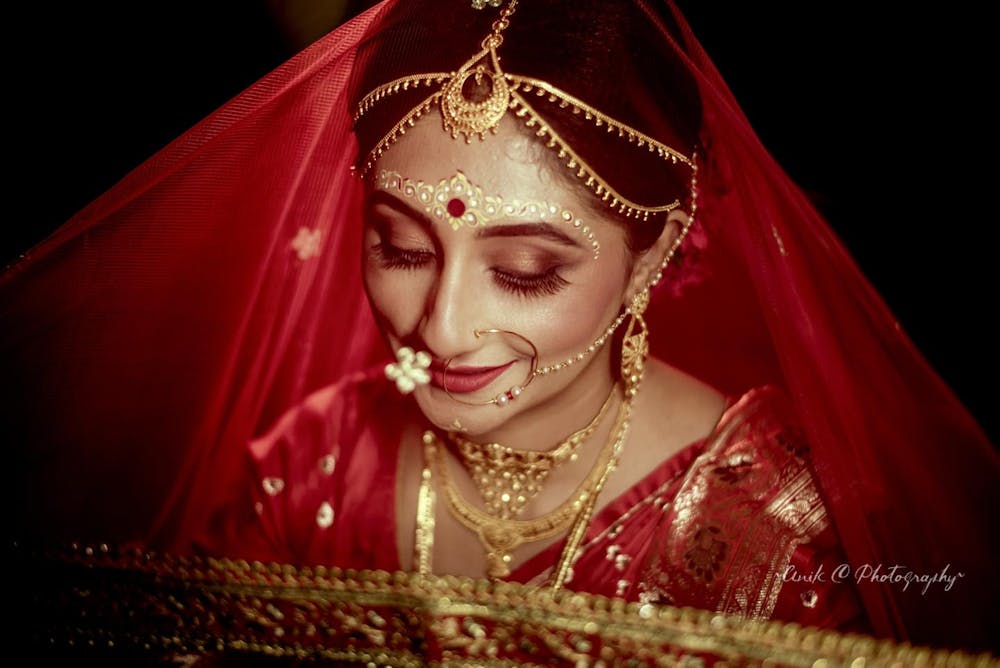 14. Traditional Bengali Bridal Look
A traditional Bengali bride look is the most beautiful and glamorous one. The glittery eye makeup and bold red bindi design can make you look like a real goddess. Highlighted cheeks and red lips accentuate the bridal beauty in true words.
Recommended: Trending Bridal Makeup Traditional Look For Bengali Brides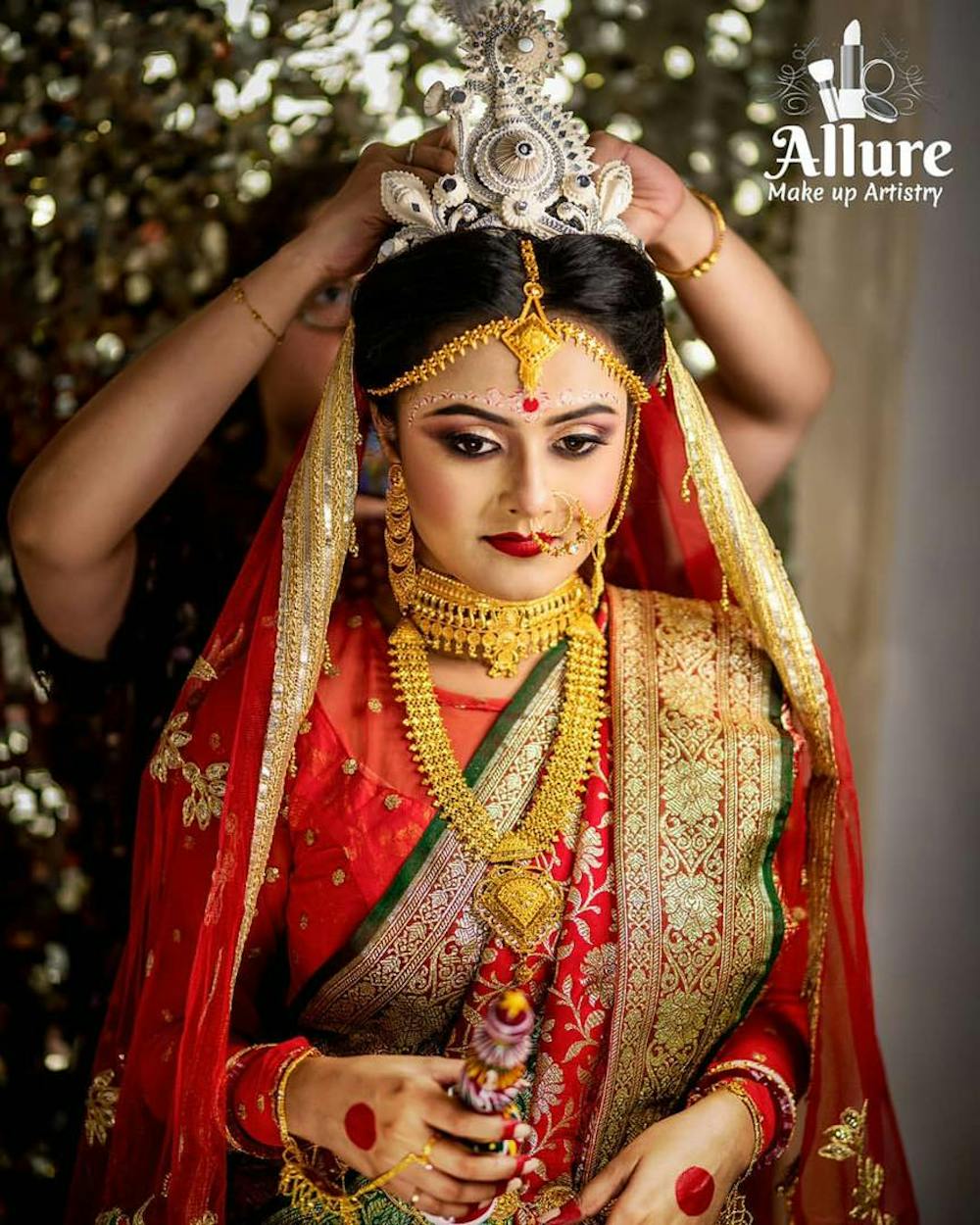 15. HD Bengali Bridal Makeup
HD makeup is the best way to stand out on your big day. It can help you look best on camera and in photos. You can choose colors that complement every aspect of your wedding look. Your eyeliner plays an important role in making your look more beautiful.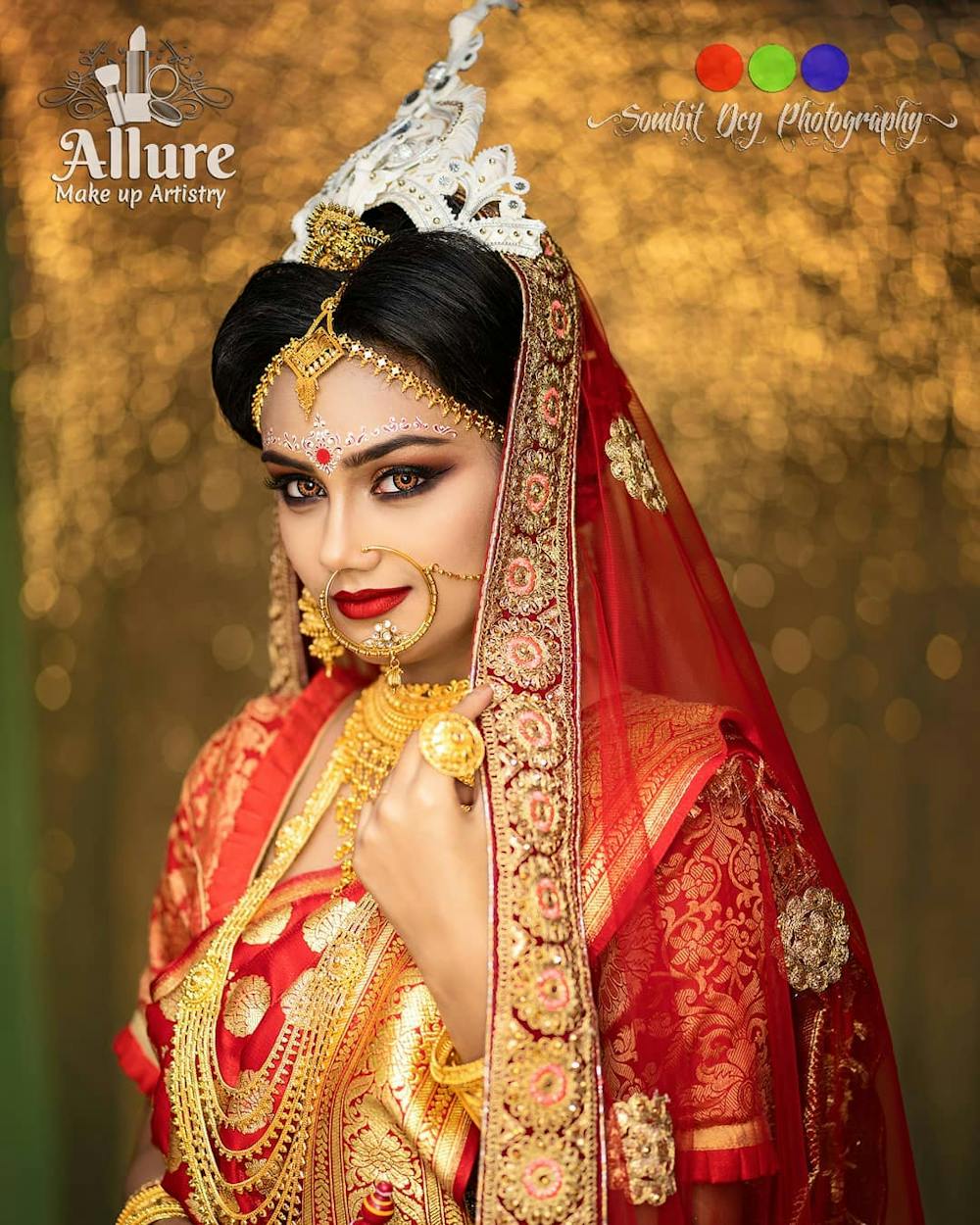 16. Beige Bengali Makeup Look
Beige makeup for Bengali brides is a color that is never too bold nor too light. The golden glow of this makeup gives you a natural glow and makes you look like a gorgeous bride. The glittery eyes and golden base are the perfect options for your reception night.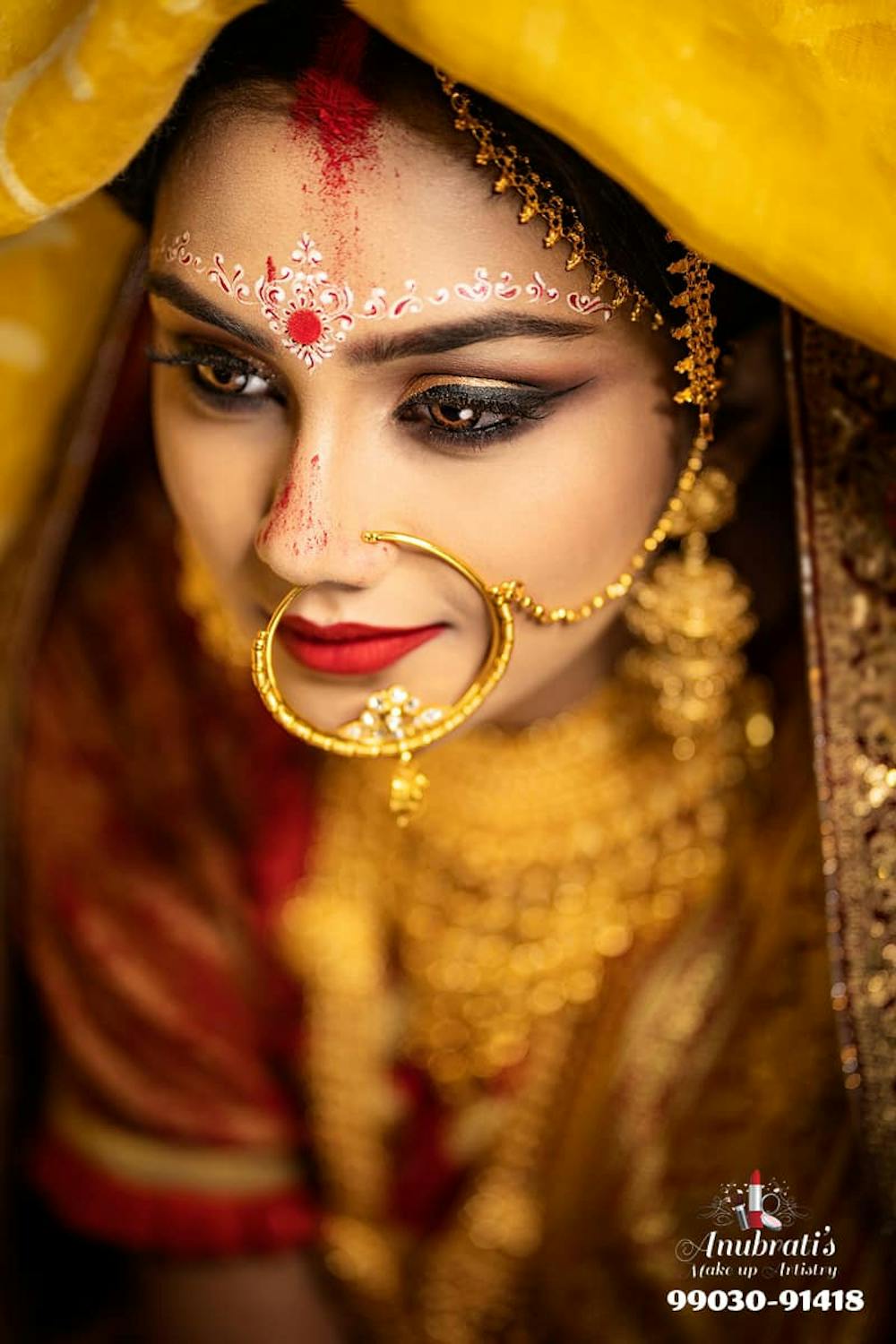 17. Smokey Bengali Bridal Makeup
Smokey eyes are an easy way to add drama and sophistication to your reception Bengali bride look. A smokey eye shade goes well with black eyeliner and a light pink shadow on the top of your lip. Highlighting your cheeks can add extra definition to your beautiful look.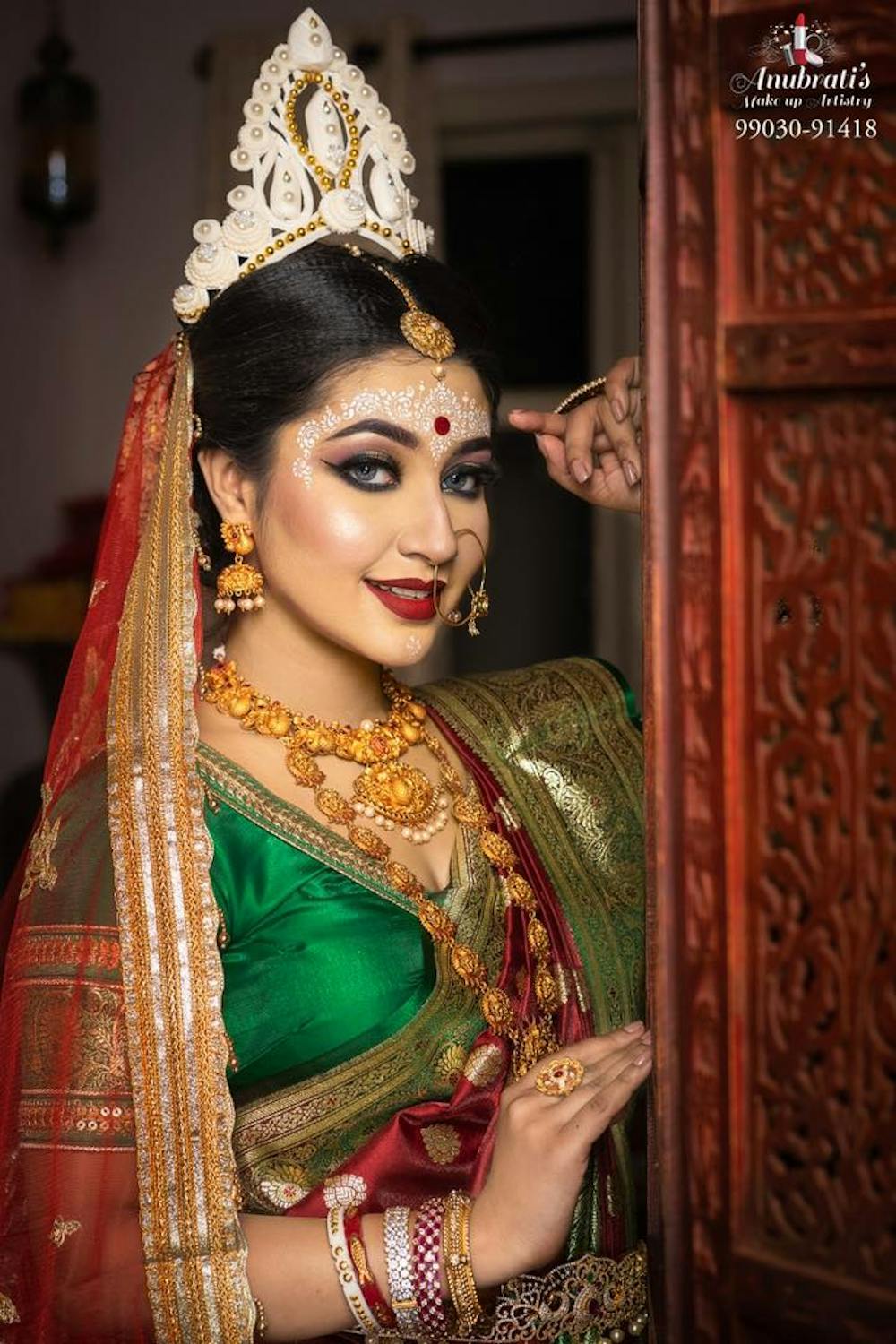 18. Winged Bengali Bridal Makeup
Winged eyes are a great way to add drama and dimension to your wedding day look. It can make you look like an eternal beauty stepping out of a painting. It goes well with traditional clothing. You can also use black eyeliner and add some glitter to make it highly glamorous. An exquisite bridal Kalka art in red and golden hues will enhance your whole bridal look.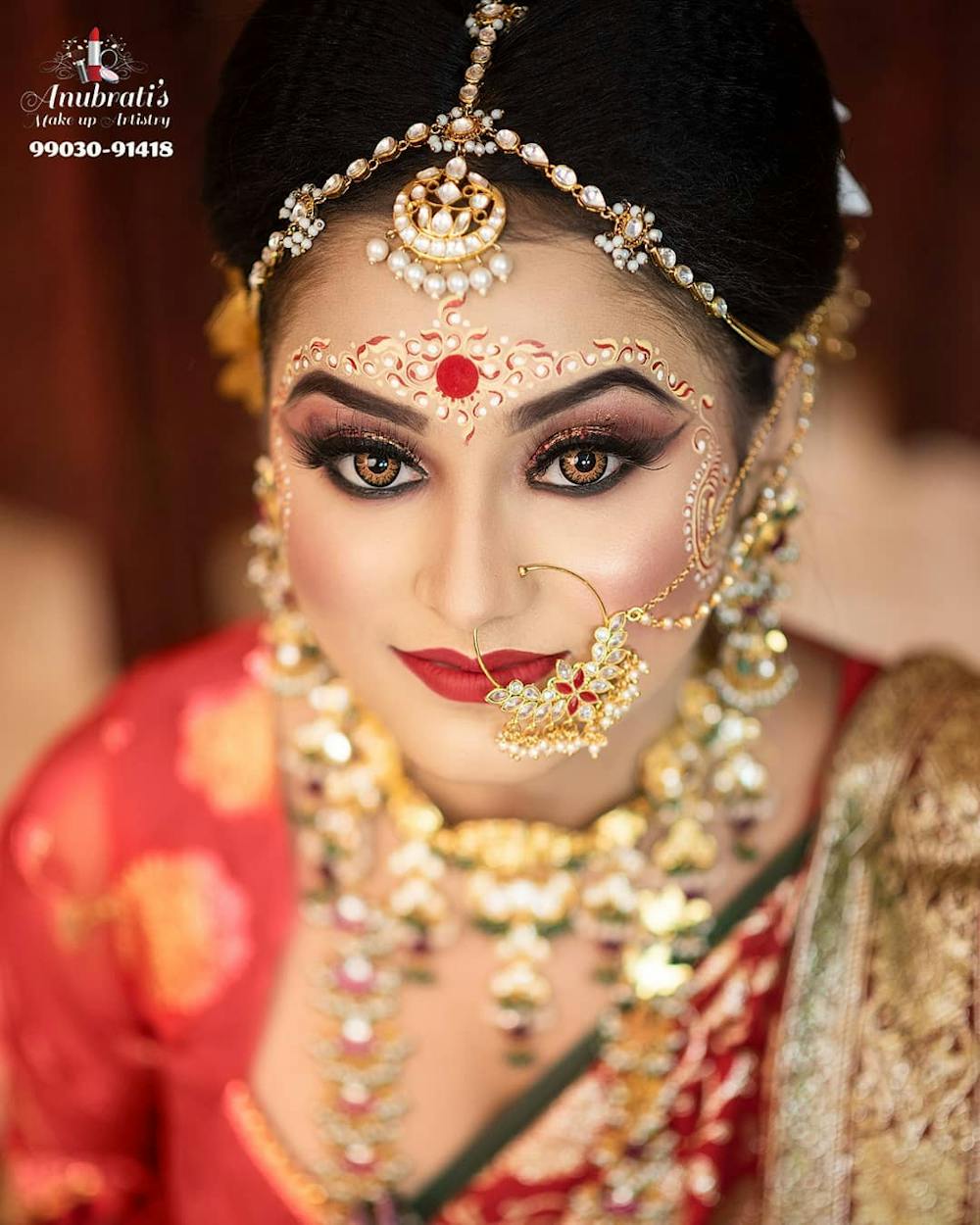 Good bridal makeup can enhance your natural beauty. But make sure to consult a professional makeup artist to pull out your best features on your special day.
GET IN TOUCH
Let's Book a Session
News & Blog
Recent Articles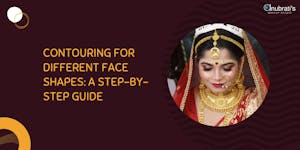 Learn how to contour for different face shapes with our step-by-step guide. Enhance your features and slay any makeup look.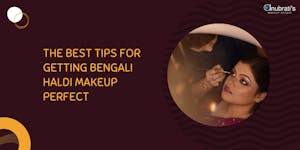 Transform your look with Bengali Haldi makeup, a unique blend of vibrant hues and modern style. Read this blog to enhance your beauty with our expert tips.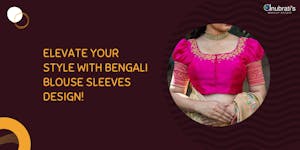 Here is a curated list of Bengali blouse sleeves design for all beautiful brides out there. All eyes will be on you with these trending blouse designs.