Trending Bridal Makeup Traditional Look For Bengali Brides
If you are looking forward to get the most alluring bridal makeup for your D-day, then you must check out this bridal makeup traditional look guide.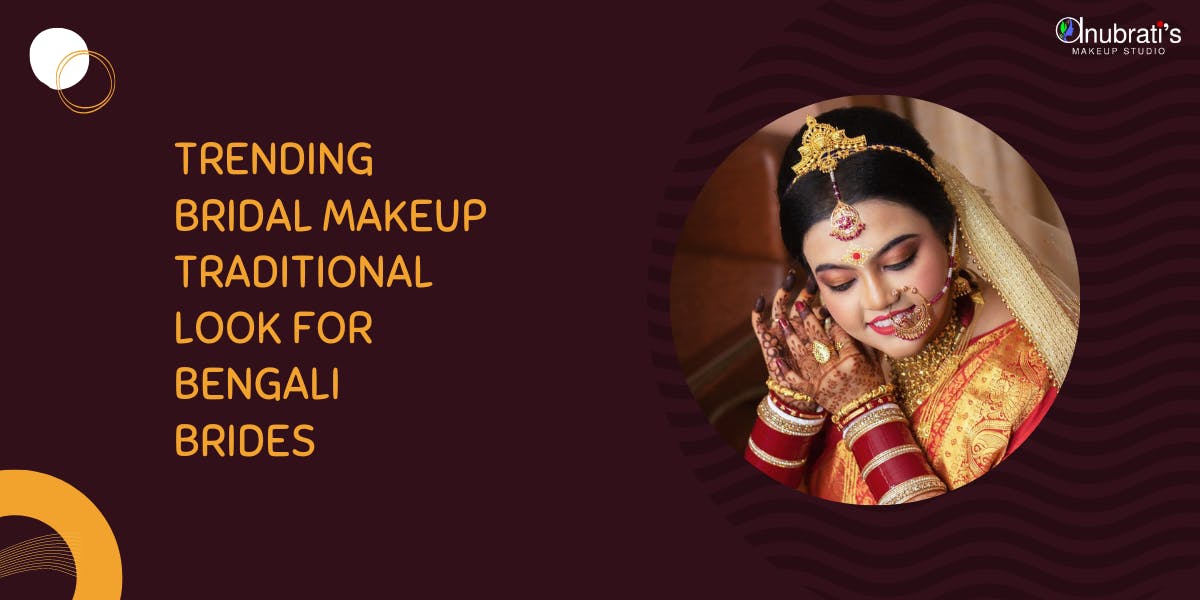 A wedding is a special event in every girl's life. You have been planning for months and now it's finally here! Your dress fits perfectly, your hair looks amazing and your jewelry is gorgeous. However, before you walk down the aisle, you want to look your best. Every Indian bride looks no less than an eternal beauty on her wedding day. A traditional Indian bridal look will contain all the elements that can provide you with a breathtaking look. You can visit a trusted makeup studio in kolkata to bring out your inner diva effortlessly.
Every bridal look has its own unique charm. You must go for makeup that matches your style. A quintessential Indian bride in a traditional look never fails to impress everyone. She has the magical aura to grab all the attention with her beauty. Below are some bridal makeup traditional looks that have been trending over social media for their glamorous vibes. Scroll down to bookmark the one you like the most!
1. A Subtle Bridal Look
If you are a bride who doesn't believe in that extra makeup on your face, then bookmark this look. The simplicity of this bridal makeup has added more charm to the picture. With pink lips and a touch of mauve shades, you can achieve a great bridal look for your wedding day.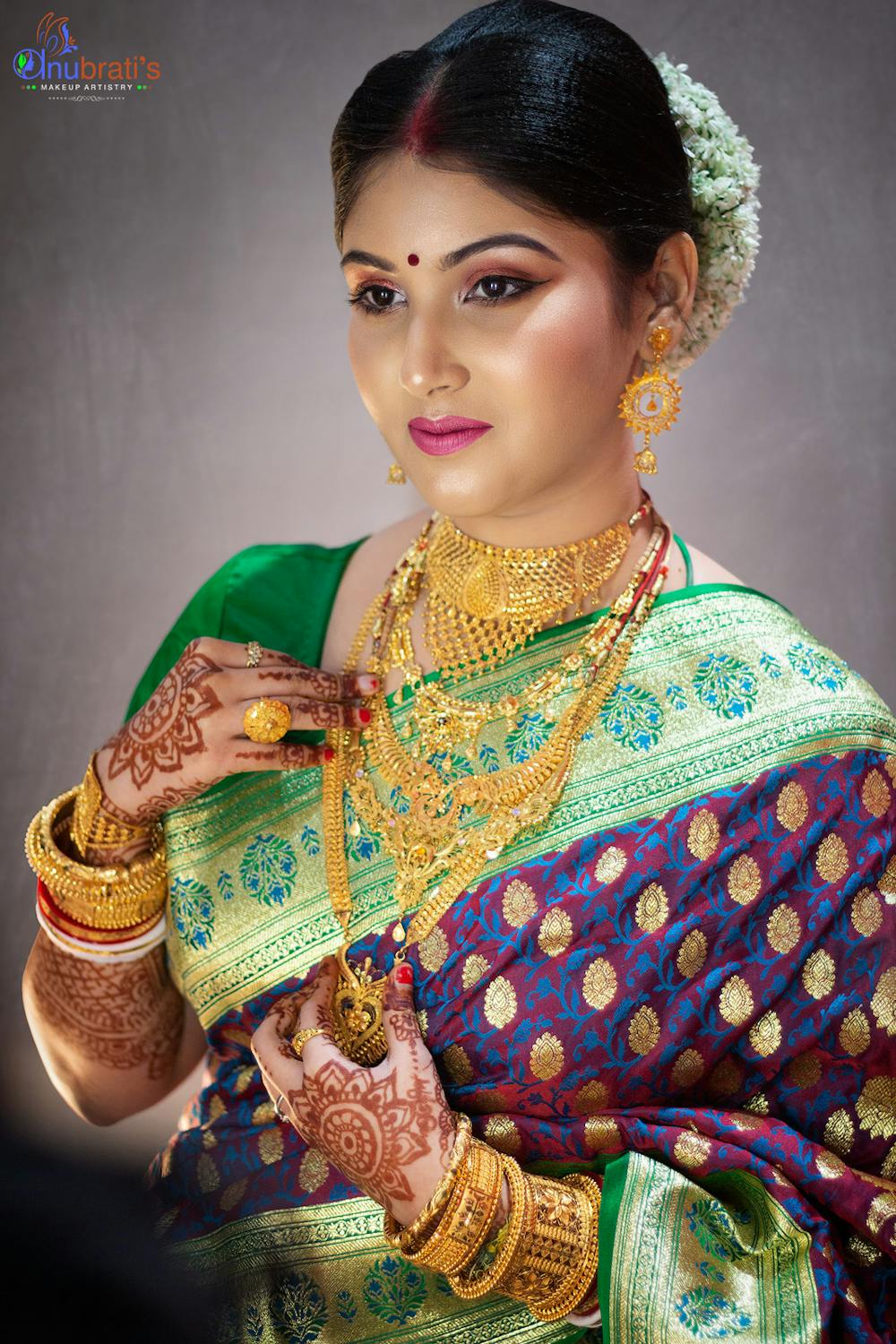 Recommended: Top 13 Makeup Tips For Winter Brides
2. A Magnificent Bengali Look Makeup
This beautiful bridal makeup done by the best bridal makeup artist in Kolkata is a masterpiece of art. The base has been kept nude to complement the dark shade of red on her lips. Her contoured nose and blushed cheeks are giving a glamorous shine. The traditional Kalka art in red and crimson color is a cherry on top.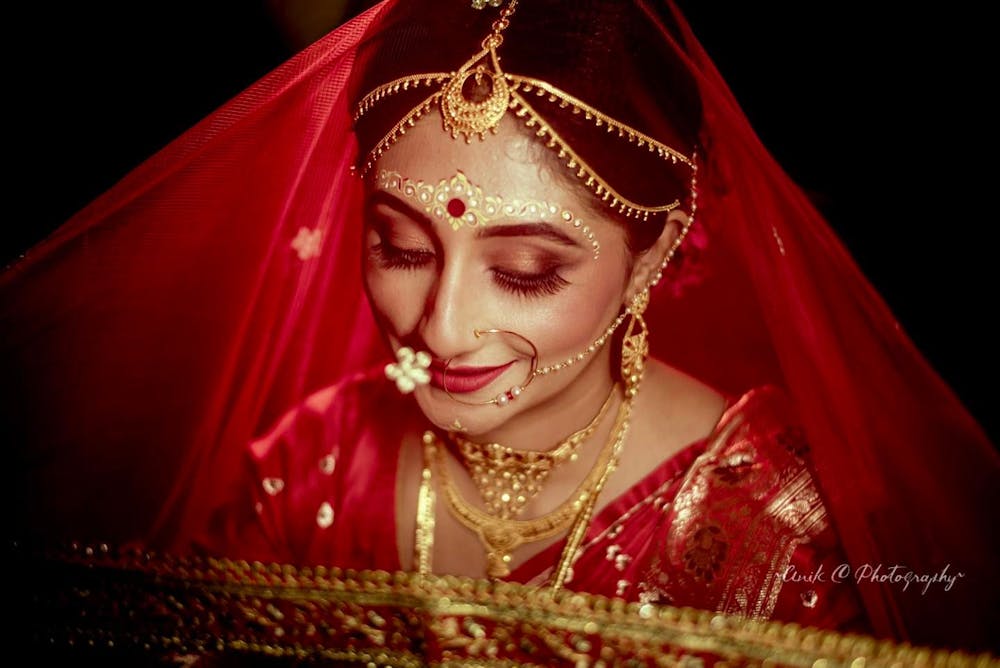 Also Check: Top 12 Beautiful Bridal Hairstyle For Wedding Reception
3. Beauty In Pastel Hues
Wearing pastels on the wedding day is the latest trend. But how to make a bridal look in pastel most alluring? Take inspiration from this traditional Bengali bride who has tried a soft base and pink lips. Her subtle and shimmery eyes are giving a gorgeous glow to her skin.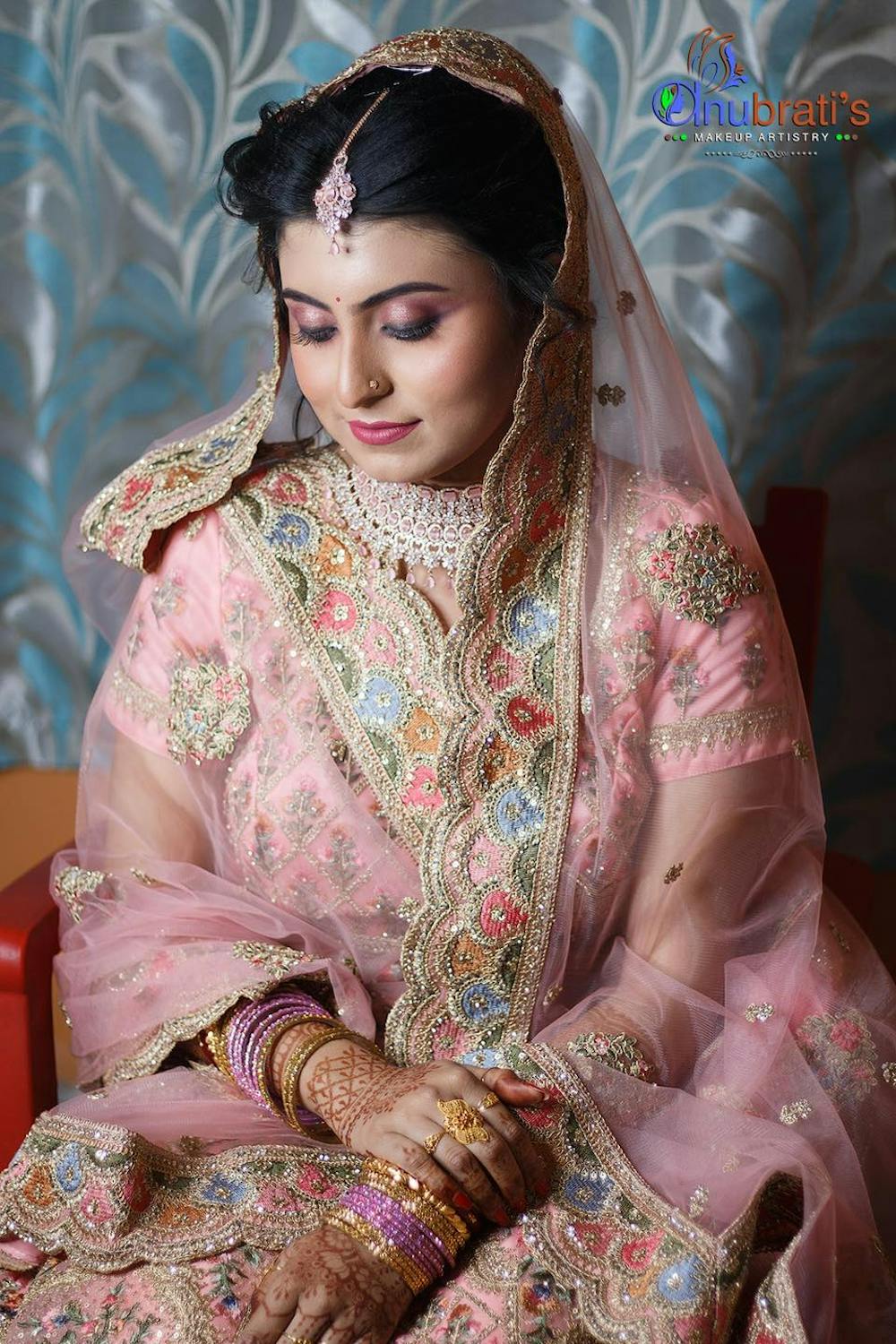 4. Sassy Bridal Look With Hint Of Shimmer
This is the kind of most attractive traditional makeup look to try on reception night. Green shimmery eyes with long lashes and red lips are a perfect match for a green Banarasi saree. This bride has opted for a small red bindi in the middle to complement the designs in her saree. Her highlighted cheeks and nose are adding a whole new definition to her bridal look.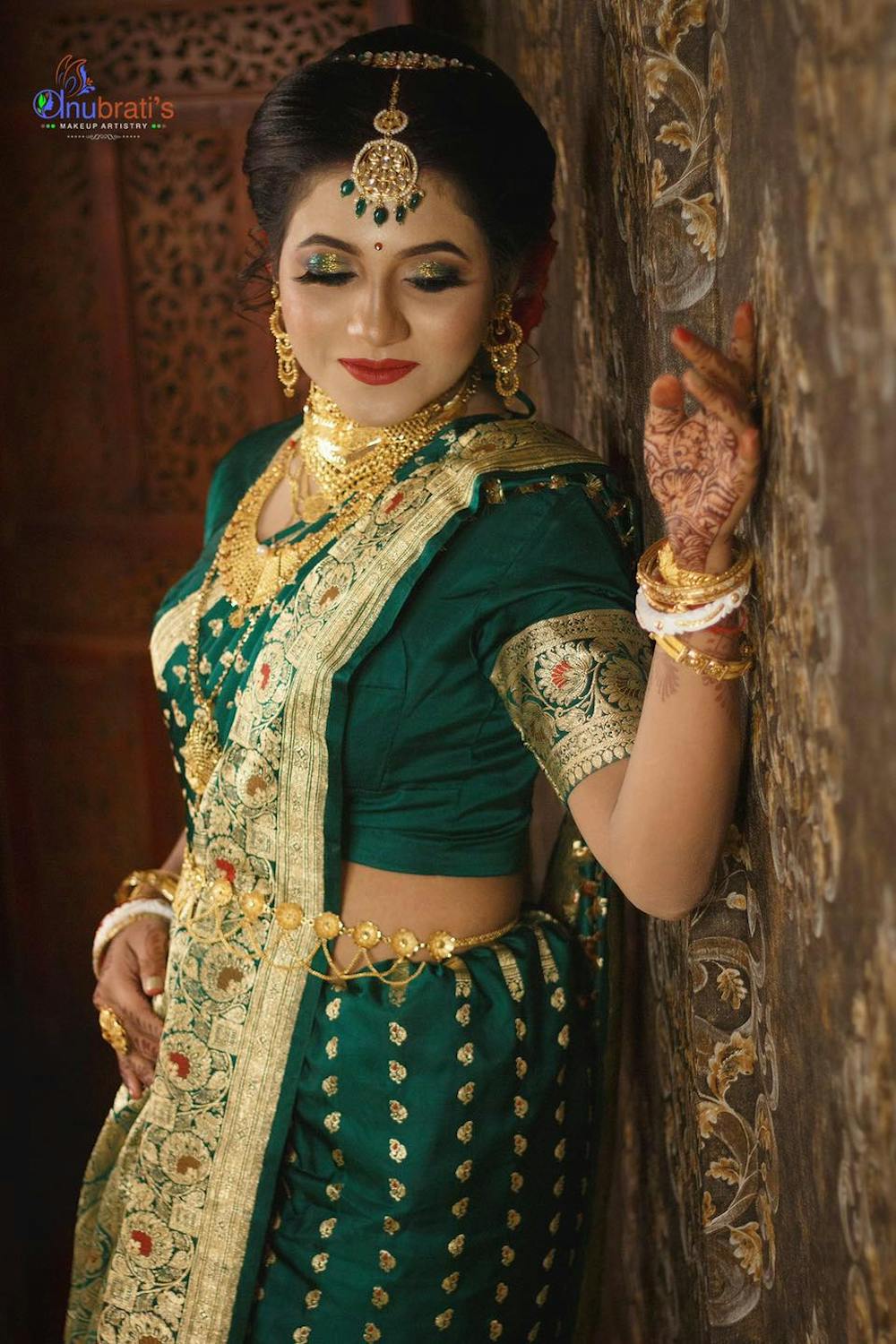 5. An Elegant Bridal Look
Are you searching for a royal marriage traditional bridal makeup look? This gorgeous diva donned in a red silk saree is looking like a real queen. The nose is highlighted very well to give it a pointed and edgy look. Her smokey eye, red bindi, and lips are doing great justice to her magnificent look.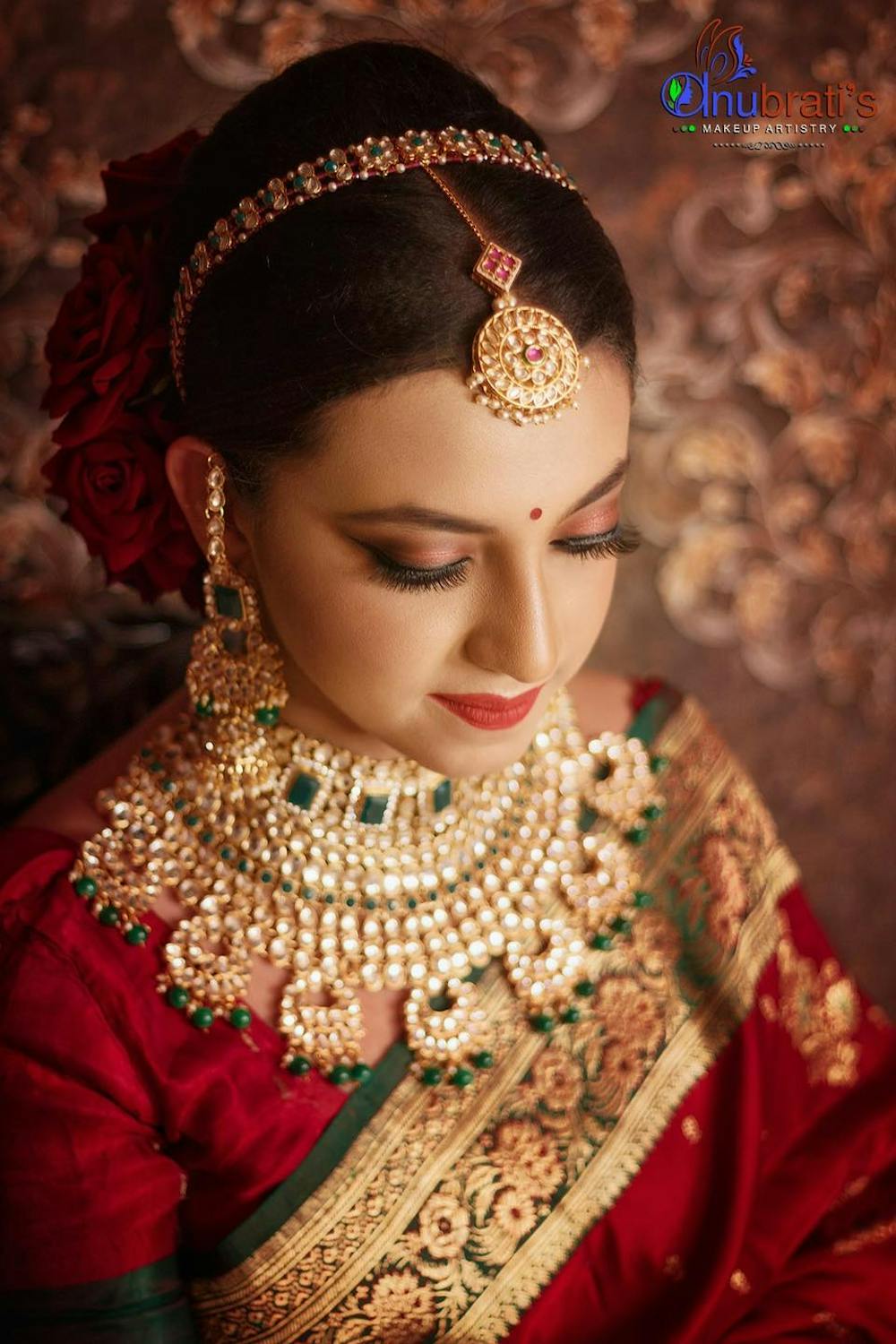 6. The Classic Bengali Look Makeup
Now, this is a purely traditional Bengali bridal look that is a mixture of elegance and glamour. Her shimmery winged eyes, red lips, and stunning eyebrows seal the deal. The exquisite Chandan bindi design on her forehead is adding grandeur to her look.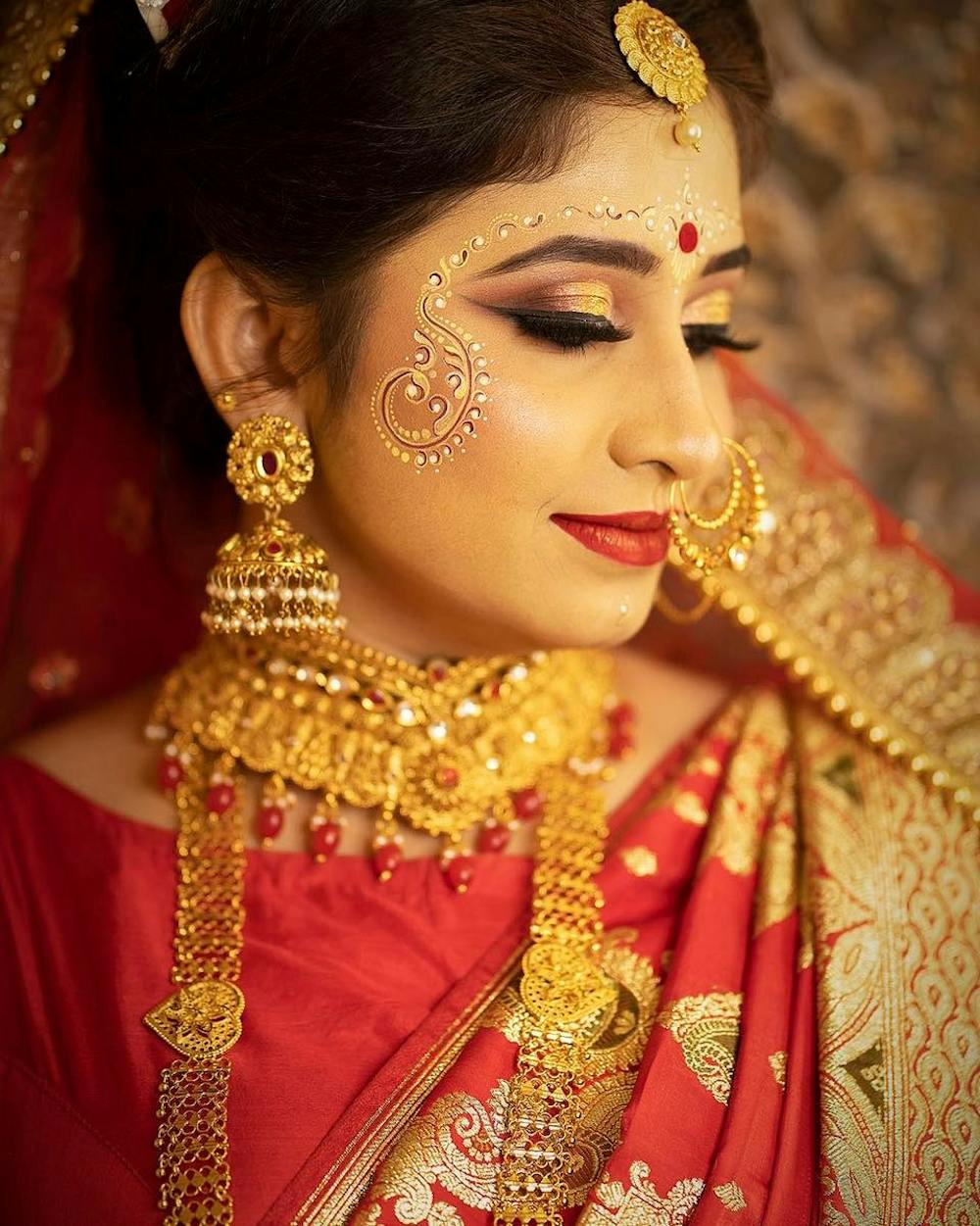 7. Dramatic Eyes For An Confident Bengali Bride
Your eyes define your inner personality very well. This gorgeous bride seems so confident and graceful in her bridal avatar. Her dramatic eyes and bold red lips are so attractive that anyone can fall in love with them. To complement such a Bengali traditional look you must try a nude makeup base.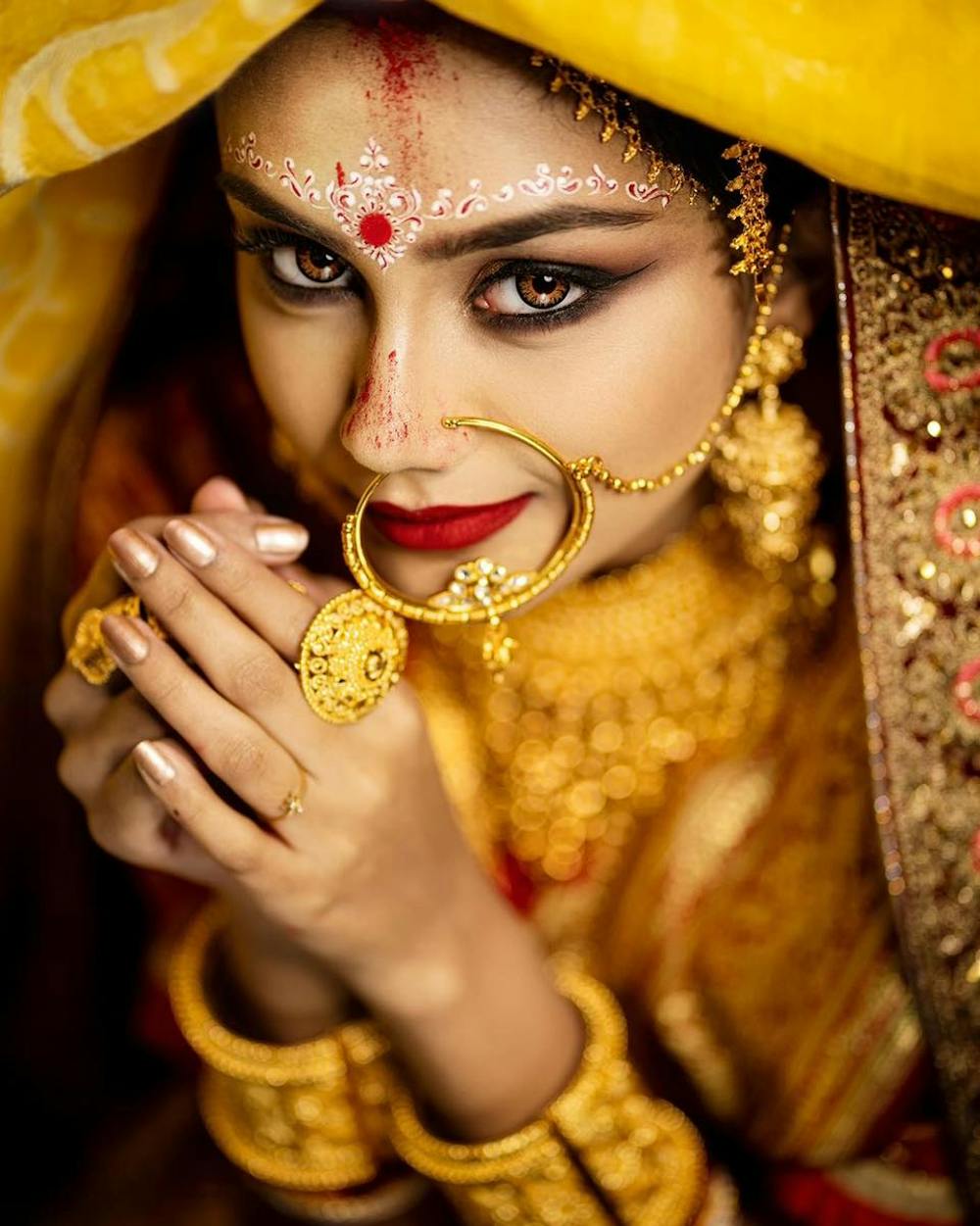 8. Eye-Catchy Traditional Bridal Look
Here is another traditional bridal look that focuses more on the beautiful eyes. Adding a moderate amount of blush and bronzer can enhance your cheekbones very well. Her winger eyeliner and dark brows are adding more beauty to her gray eyes. Her eye makeup is the real winner in her divine bridal look.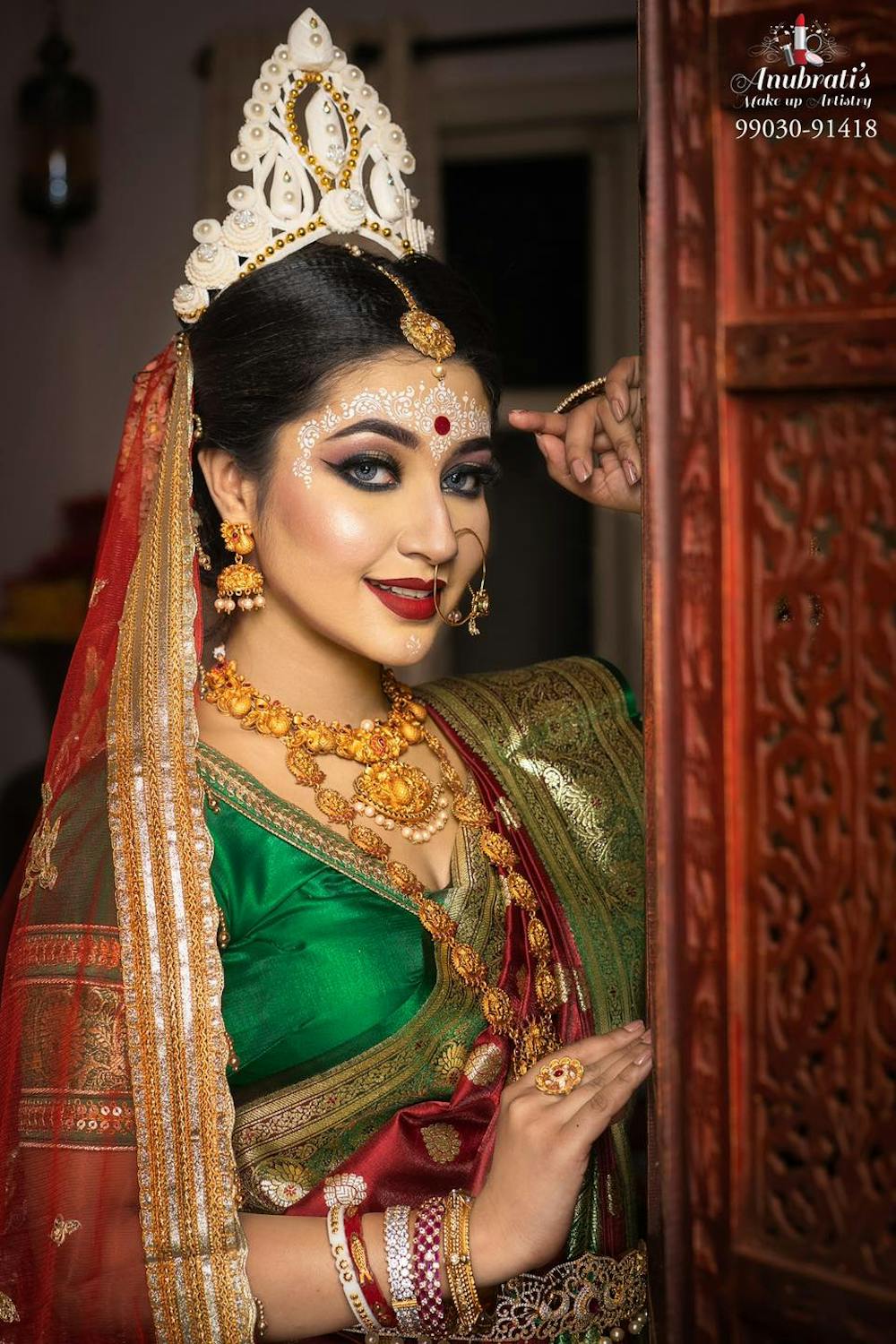 9. An Attractive Traditional Bengali Bride
This is yet another Bengali traditional bridal look with winged eyeliner. A red lip shade and highlighted cheeks add grace to the face. The soft bronze eyes and stunning eyebrows enhance the entire look. This bride has opted for a golden Banarasi saree and antique jewelry. Her blouseless bridal avatar is making her look like a glamorous diva in a traditional look.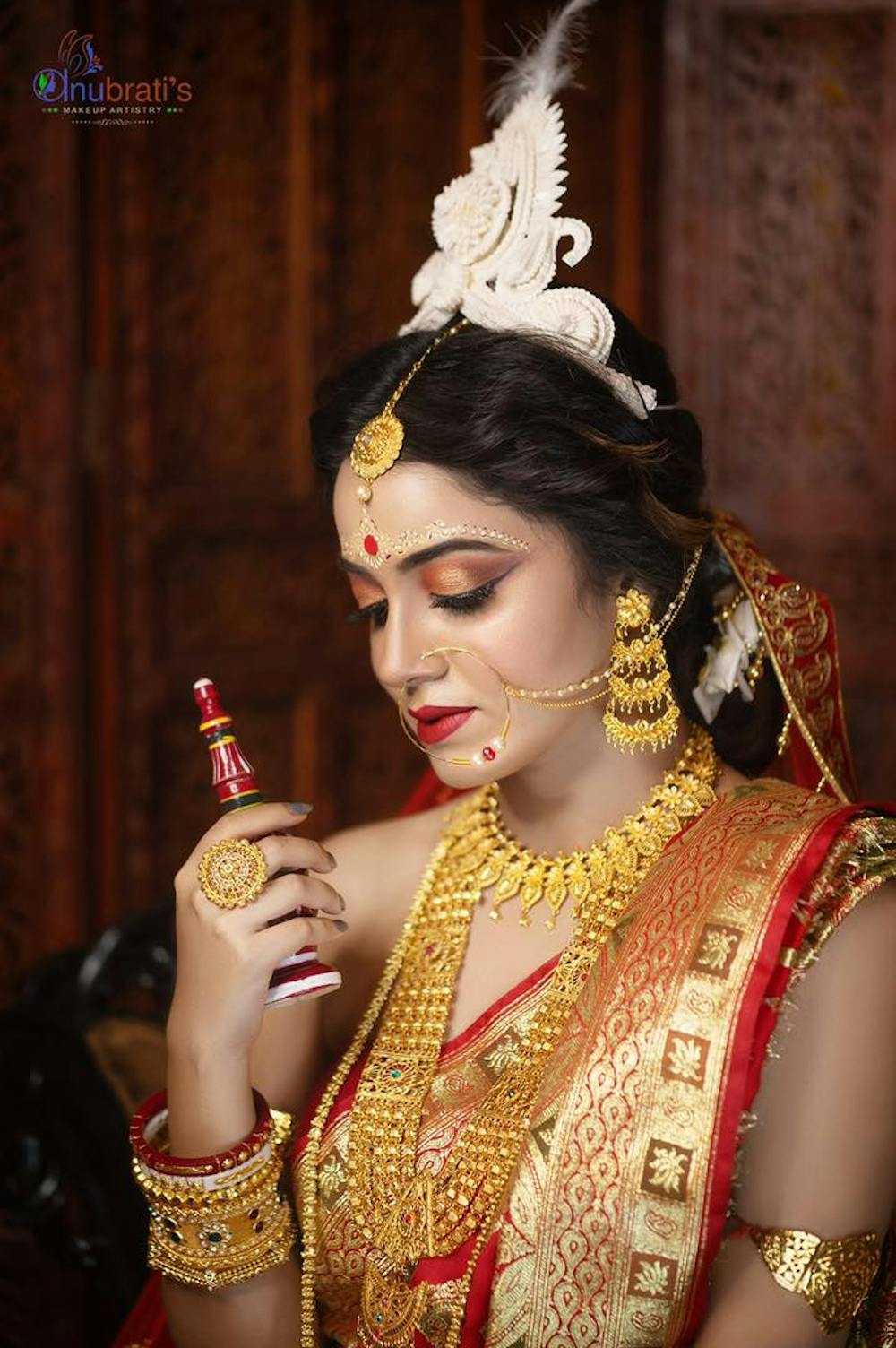 10. Radiant Look Of Beautiful Bride
We don't know how to define this super gorgeous traditional bridal makeup. Starting from her nude shade lipstick to the extra glow on her face everything is in a perfect amount. You can opt for a fresh and radiant look like this one to steal the limelight of the show.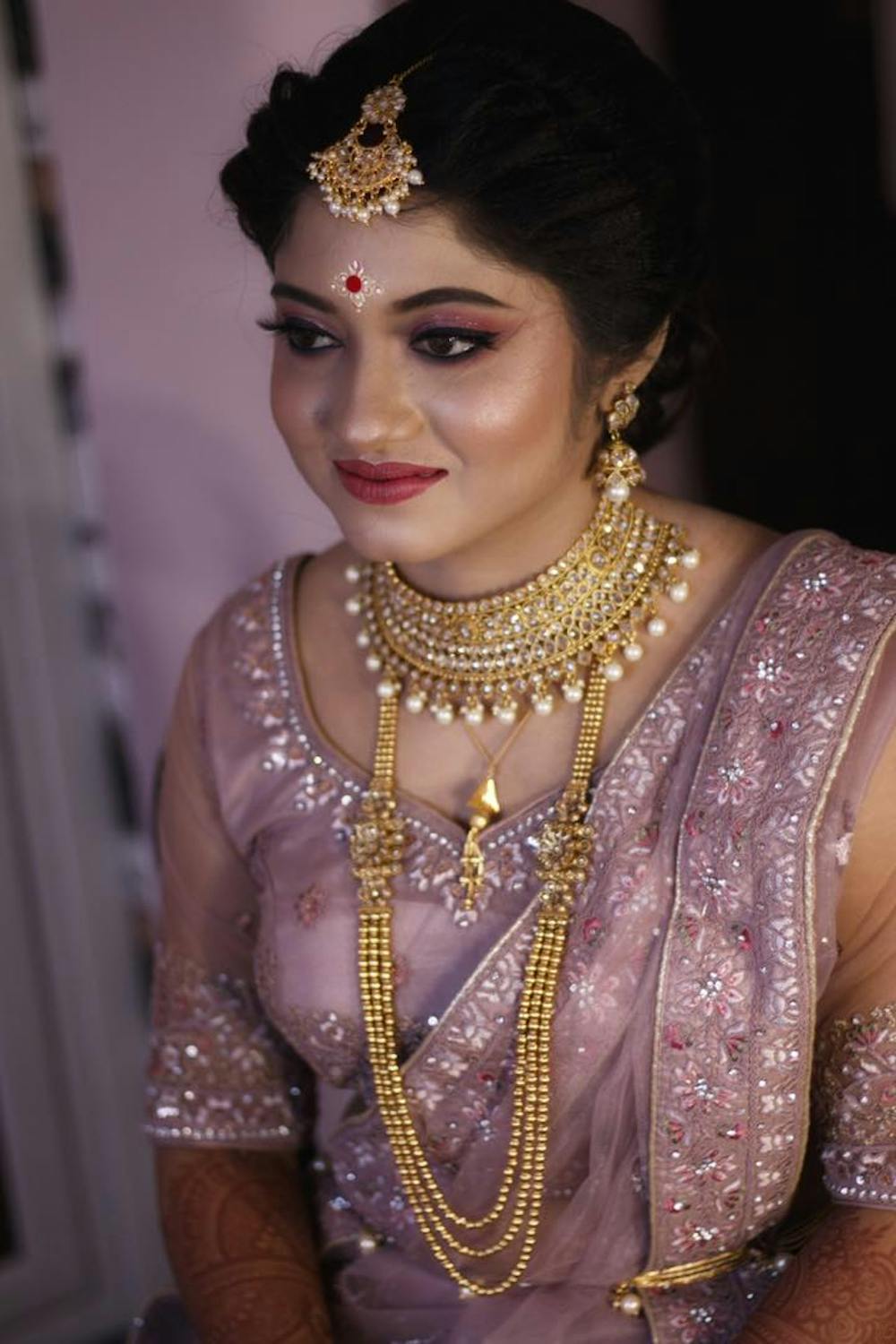 11. Colorful Eye Of A Bold Diva
Are you one of those brides who love to experiment with something new in the traditional makeup look? Adding a pop of color to your bridal look can make it more glamorous. Use some glitter in your eye shadow to highlight your inner and outer eyes. Adding a bold lipstick shade in a violet hue can reflect your bold personality.
12. Gorgeous Eyes Of Pretty Bride
Gorgeous bridal eye makeup can be all about a little drama and glitter on the eyes. This nude and colorful eye makeup in peacock shade is giving her an offbeat bridal look. Her exquisite bindi design is the main highlight of this look. You can also try smoky and glittery eye shades for a stunning bridal look.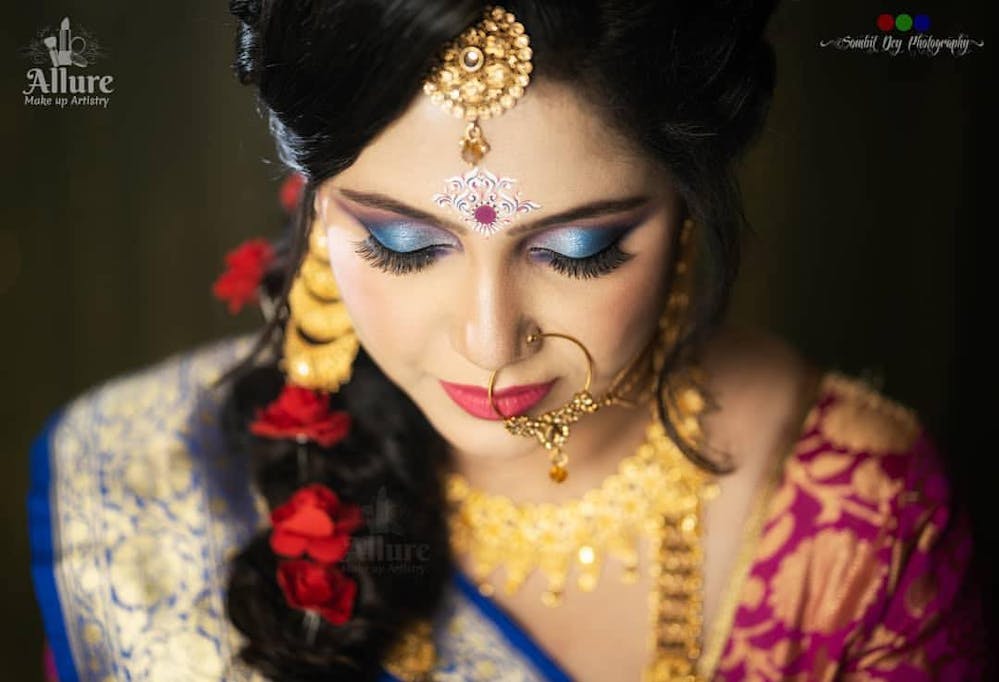 13. An Alluring Bridal Look
If you are a great fan of attractive cat's eye then this makeup look might impress you. A brown makeup look with a contoured nose and cheeks highlights the main features of the face. Dark red lipstick and a small bindi will be enough to bring out the bridal glow on the face.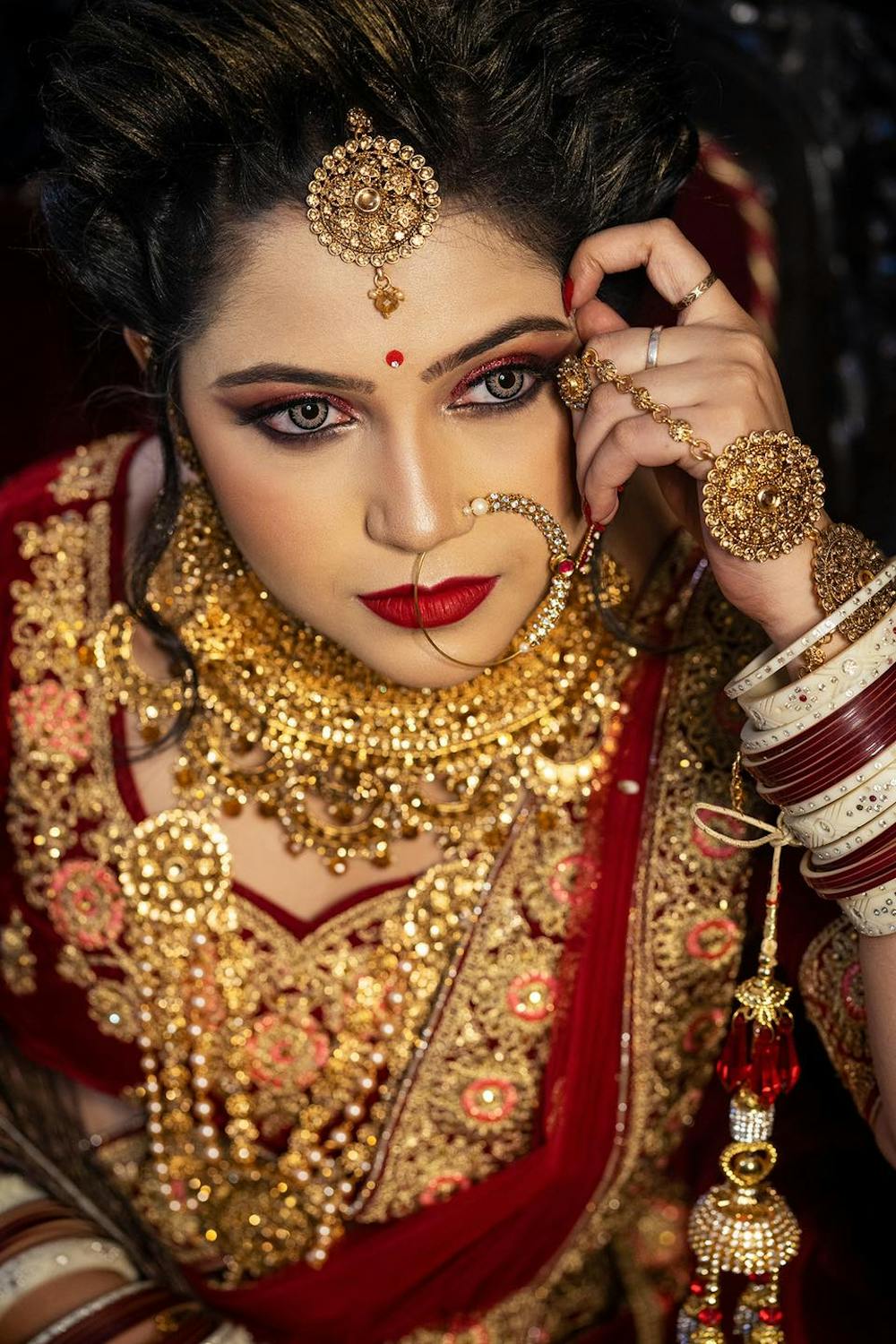 14. Soft And Dewy Bridal Look
Here is another beautiful bridal makeup in a traditional style that must be talked about. The fluffy brows and kohl eyes look beautiful and more expressive. Pink blush on the face matches the fairer skin tone perfectly and gives you a soft and natural glow. The glossy red lips and pink makeup base is the main highlight of this bridal look.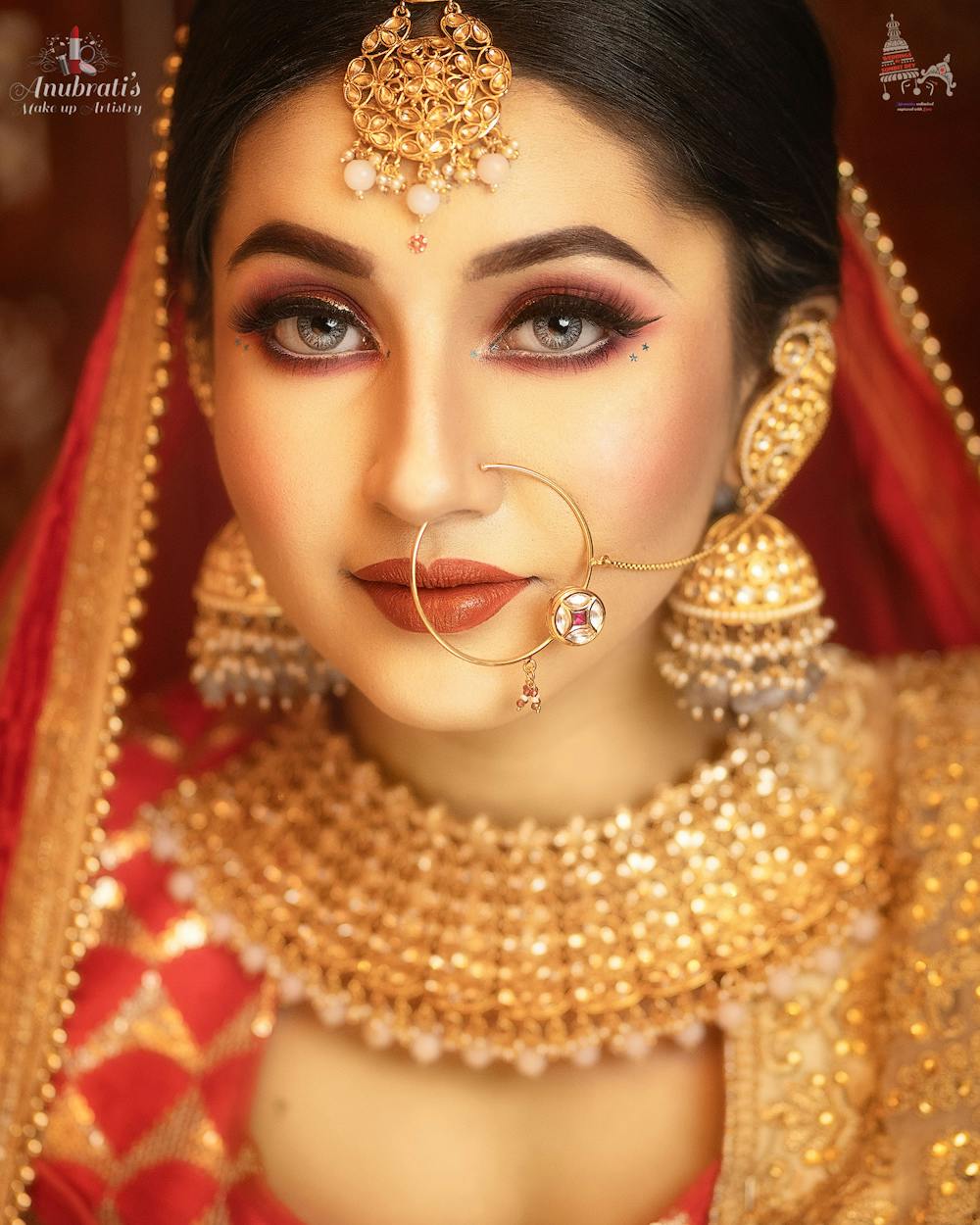 GET IN TOUCH
Let's Book a Session
News & Blog
Recent Articles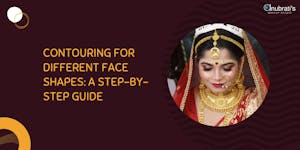 Learn how to contour for different face shapes with our step-by-step guide. Enhance your features and slay any makeup look.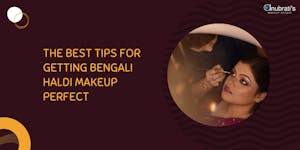 Transform your look with Bengali Haldi makeup, a unique blend of vibrant hues and modern style. Read this blog to enhance your beauty with our expert tips.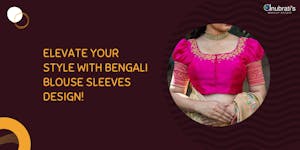 Here is a curated list of Bengali blouse sleeves design for all beautiful brides out there. All eyes will be on you with these trending blouse designs.