13 Bridal Eye Makeup Ideas For Your Dream Wedding
Want to make a style statement at your intimate wedding? Then check out these gorgeous bridal eye makeup ideas to be the most glamorous bride.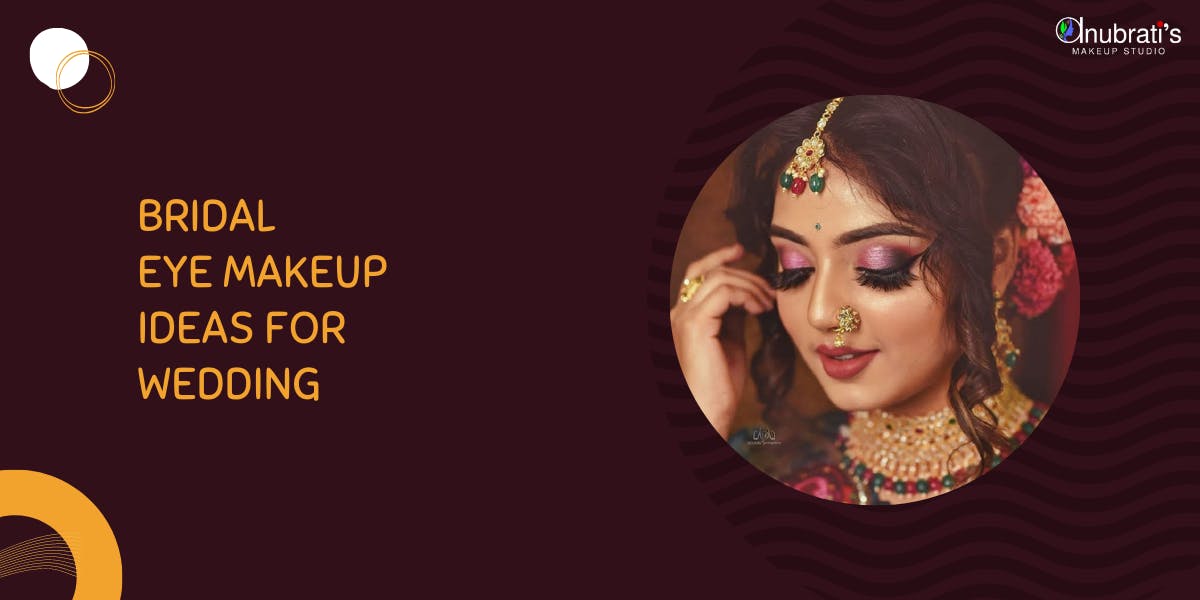 Your eye makeup adds a definition to your wedding day look. Eye makeup has always been the most beautiful element in bridal makeup. Any minute mistake in the eye makeup can spoil your whole bridal look. Because Eyes are the most attractive facial feature which reflects your personality. Eye makeup can turn your entire look and add a glam factor to your bridal persona. You will get a lot of options in bridal eye makeup. But you need to do extensive research on your eye makeup for getting that perfect bridal look. Keep in mind that you must always choose an eye make according to the time of the wedding function. For example, you must choose light eye makeup for the day affair and the bold glittery ones for nighttime. Also, make sure to choose an eye make that not only matches your outfit but also suits your personality. We've curated a list of one of the best bridal eye makeup ideas that you can pick for your big day. Look at these stunning eye makeup of brides done by best bridal makeup artist in kolkata.
1. Look At This Classic Gold Eye Makeup, One Of The Most Popular Bridal Eye Makeup Ideas
A gold hue looks beautiful on all skin tones and also compliments every shade of bridal silk saree. This classic gold eye makeup looks beautiful with heavy traditional jewelry and a banarasi saree. Adding voluminous lashes to your eyes will make them bigger and brighter. Our top makeup artist in Kolkata suggest brides to try opt for this gold eye makeup with a classic red and gold banarasi saree.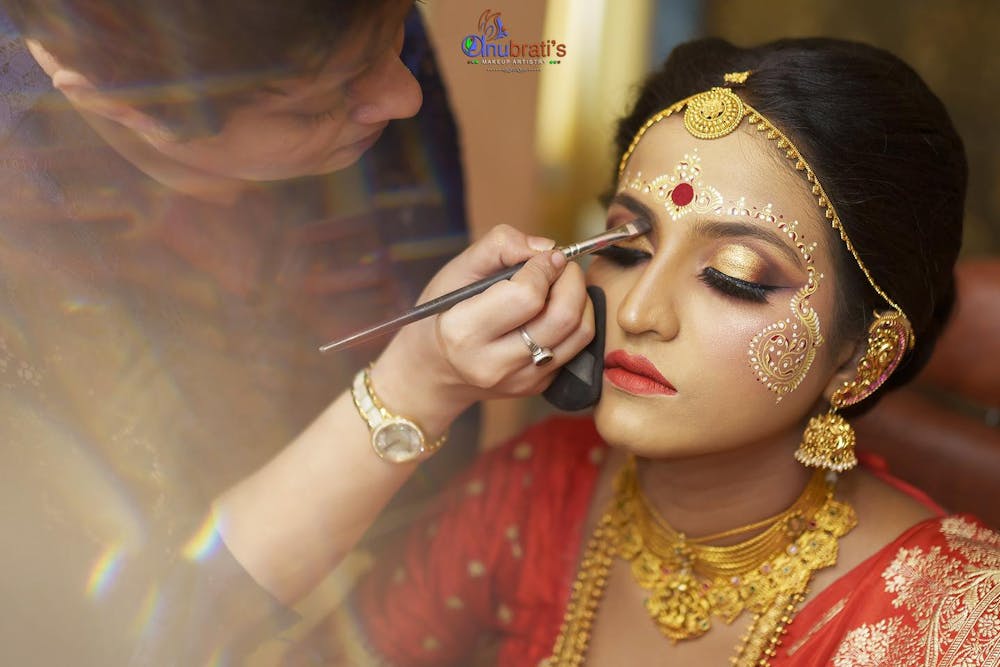 Recommended: Why Should You Hire A Professional Makeup Artist For Your Wedding?
2. Loved This Rosy Red Eyes Of Bong Bride
Our all-time favorite is a rosy eye that complements the red bindi and lips of a gorgeous bride. It brings out the warmth in your eyes with a hint of glitter. A rosy red eye shadow with soft gold and a winged eye liner look is a superb option for all brides-to-be.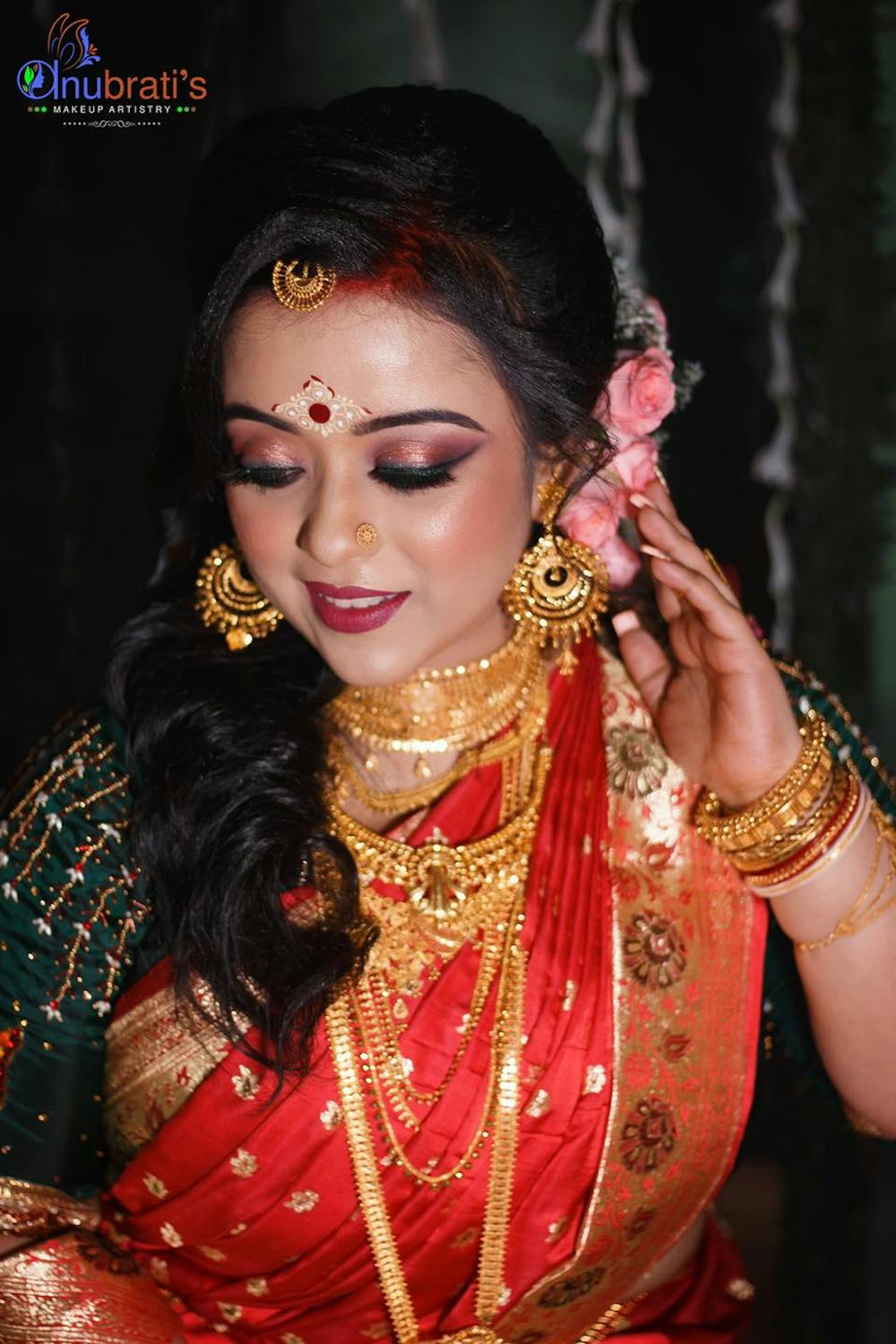 3. Glittery Purple Eyes With Long Eye Lashes
What was the first thing that you found attractive in this bridal look? It's definitely her purple eye makeup look. Give color vibrancy to your beautiful eyes by applying a purple eye shadow over a winged eye line. It will help you shine bright and mesmerize everyone on your wedding day.
4. Shimmery Brown Are The Most Traditional Bridal Eye Makeup That Can Never Go Wrong
You can add glamour to your bridal look by adding a hint of shimmery brown eye shadow. This is one of the classic wedding makeup ideas that will make you stand out on your big day. Here the makeup artist has tried to create a 2D eye makeup look by blending the shimmery brown eye with a smokey eye effect at the outer corner.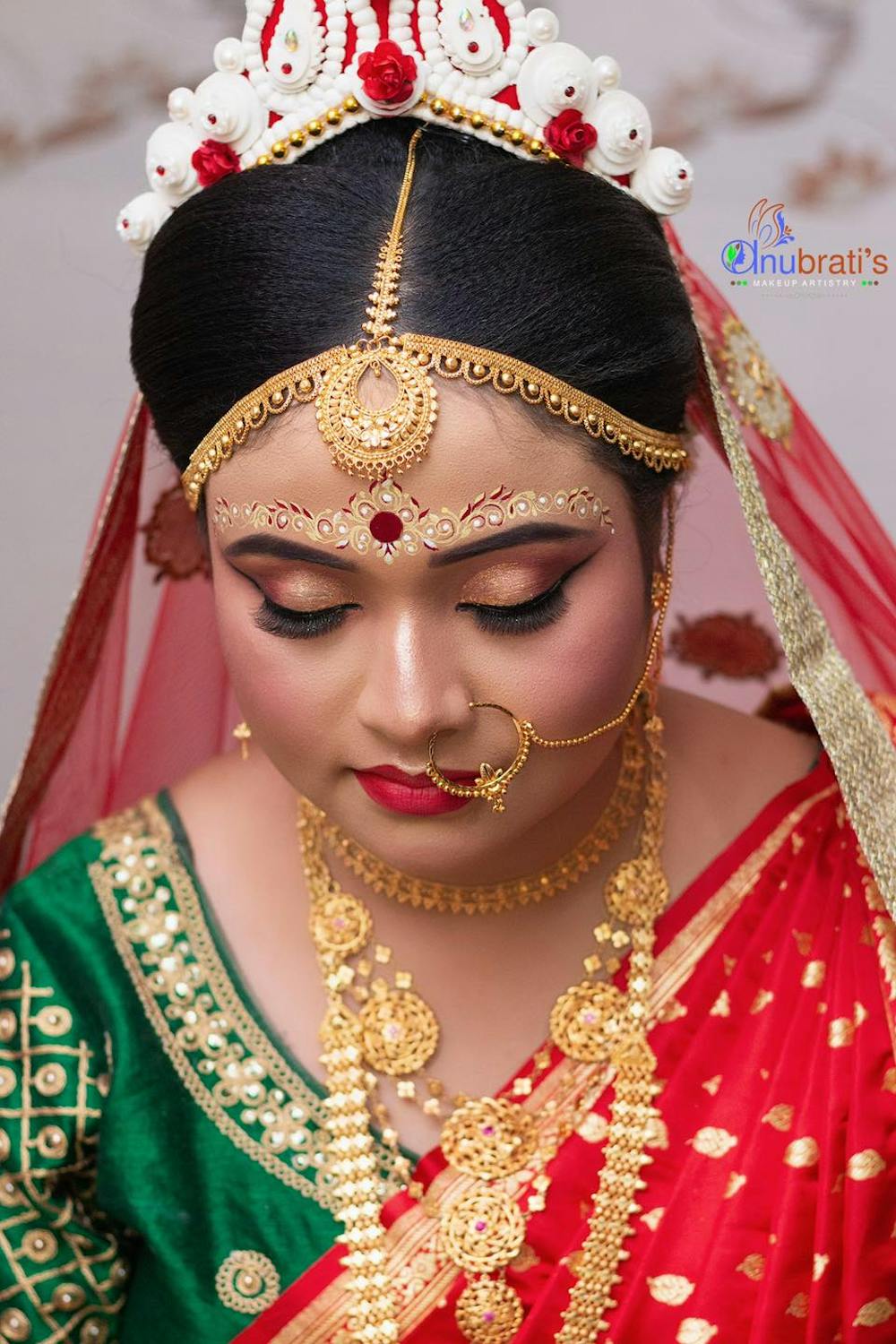 5. Let Your Eyes Do All The Talking With A Matte Smokey Eye Makeup
Smokey bridal eye makeup is the most attractive eye makeup look for the wedding day. This kind of eye makeup looks good on dusky or fairer skin tones. Moreover, it complements both the ethnic and modern bridal look.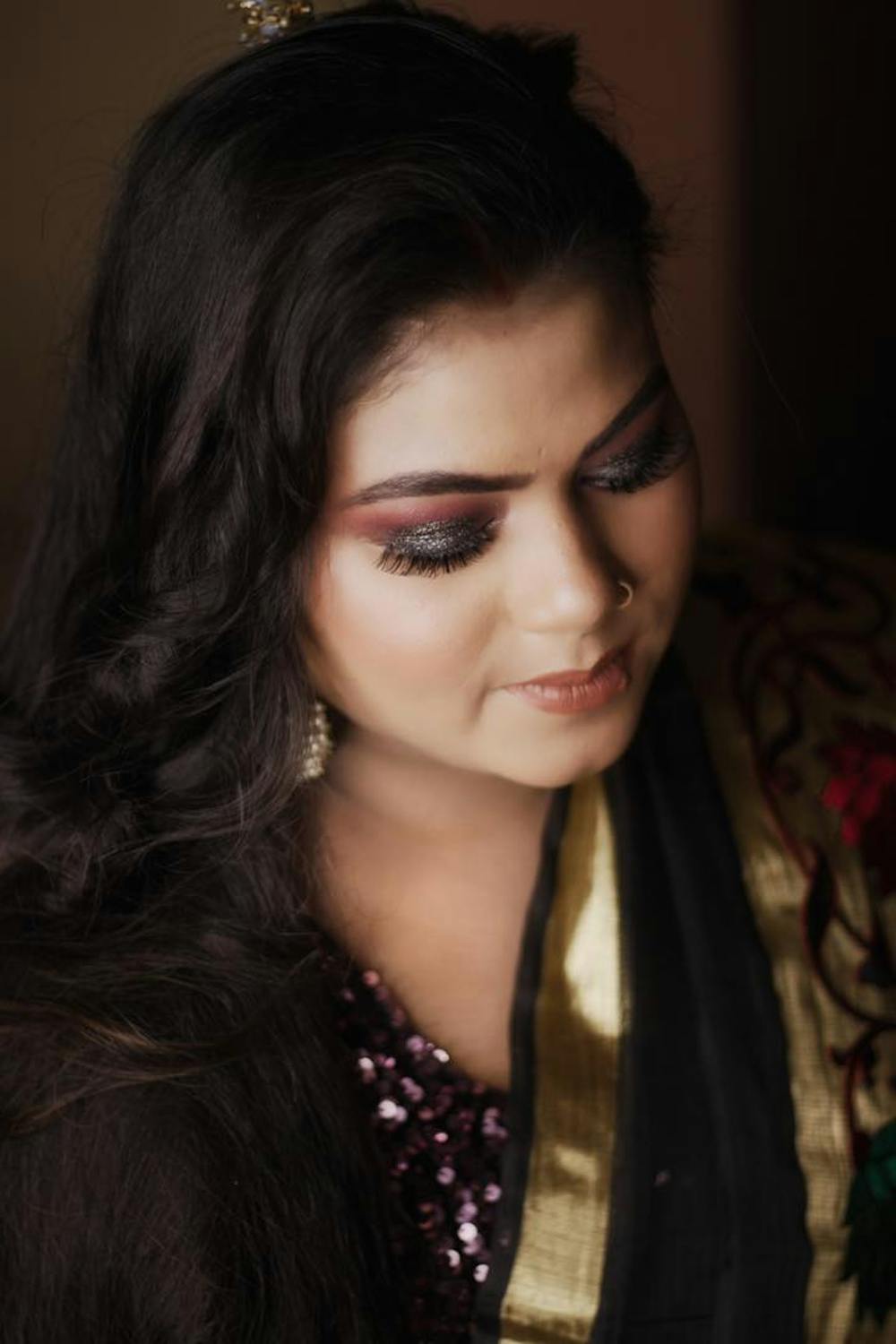 6. Glittery Pink Eye Makeup With Pink Lips Make A Great Combo
Brides with a lighter skin tone can opt for glittery pink eye makeup. If you are going to wear a pink saree on your wedding day then this is the perfect option for you. In this picture, an experienced makeup artist kolkata has drawn a beautiful winged line. It extends beyond the length of her eyebrows giving her a goddess-like look.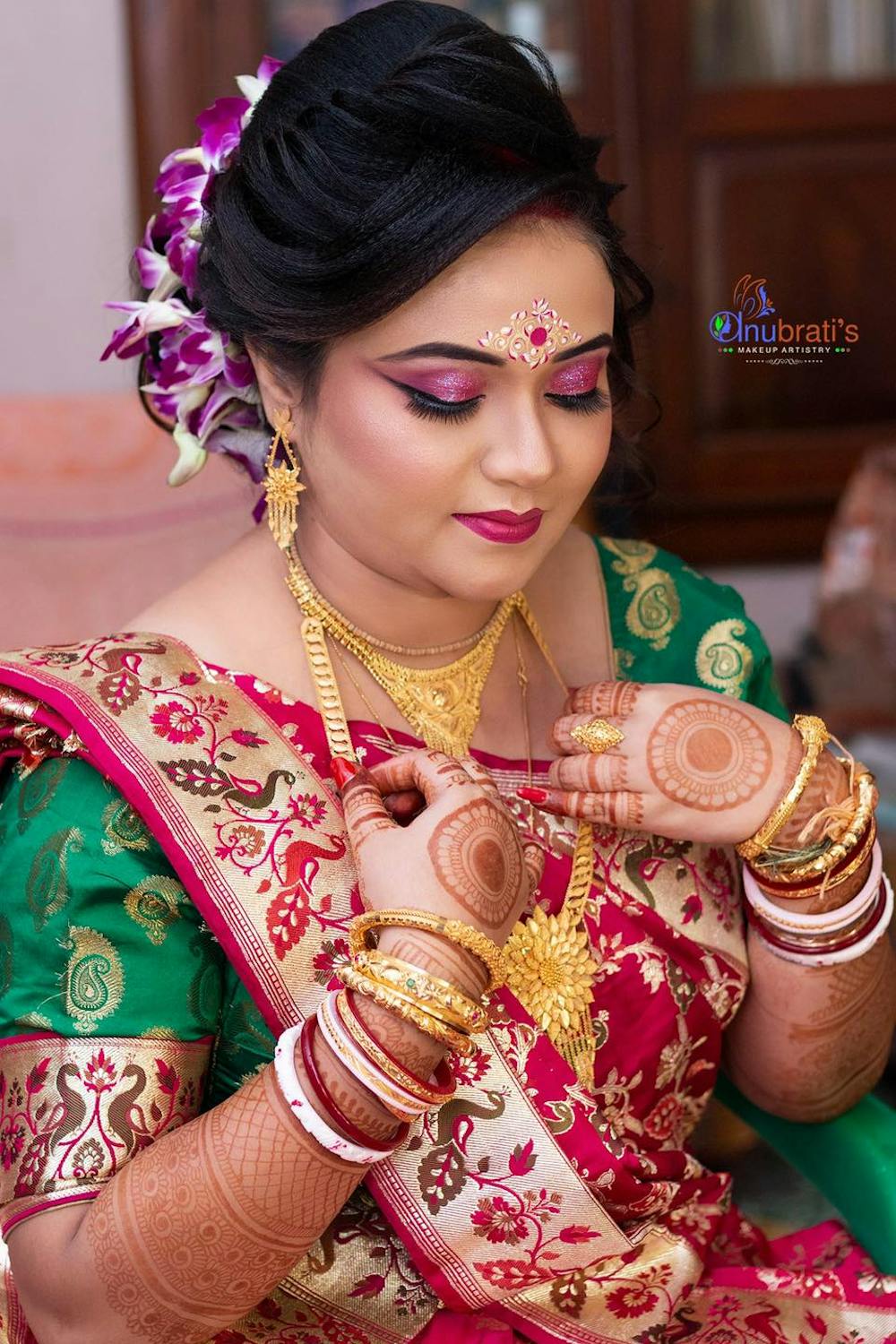 7. Shimmery Wedding Eye Shadow Ideas With Long Lashes
Here's yet another beautiful eye makeup look of an Indian bride. She has contrasted the shade of her silk blouse with her eye makeup look. This metallic green eye shadow with a hint of black is a good one to look like a glamorous diva at your reception ceremony.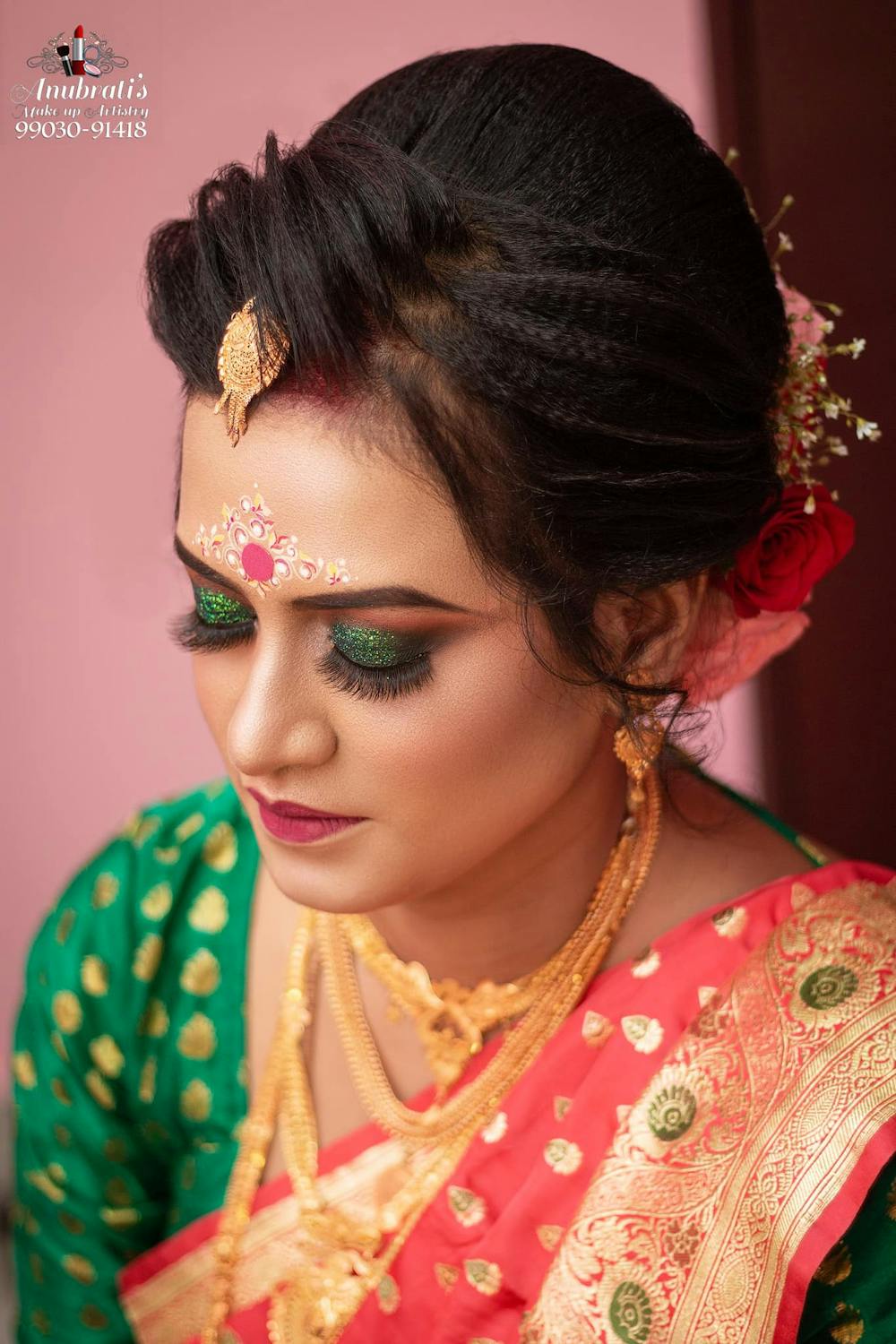 8. Rosy Pink Eyes With Voluminous Lashes Are The Most Gorgeous Ones
The next one on this list is a rosy pink eye makeup for the brides who love pastel. The rosy pink eye makeup accentuates the beauty of your eyes and complements your highlighted cheeks very well. You can intensify this look by using a peach shade lipstick that will go well with your pastel outfit and pretty eye makeup.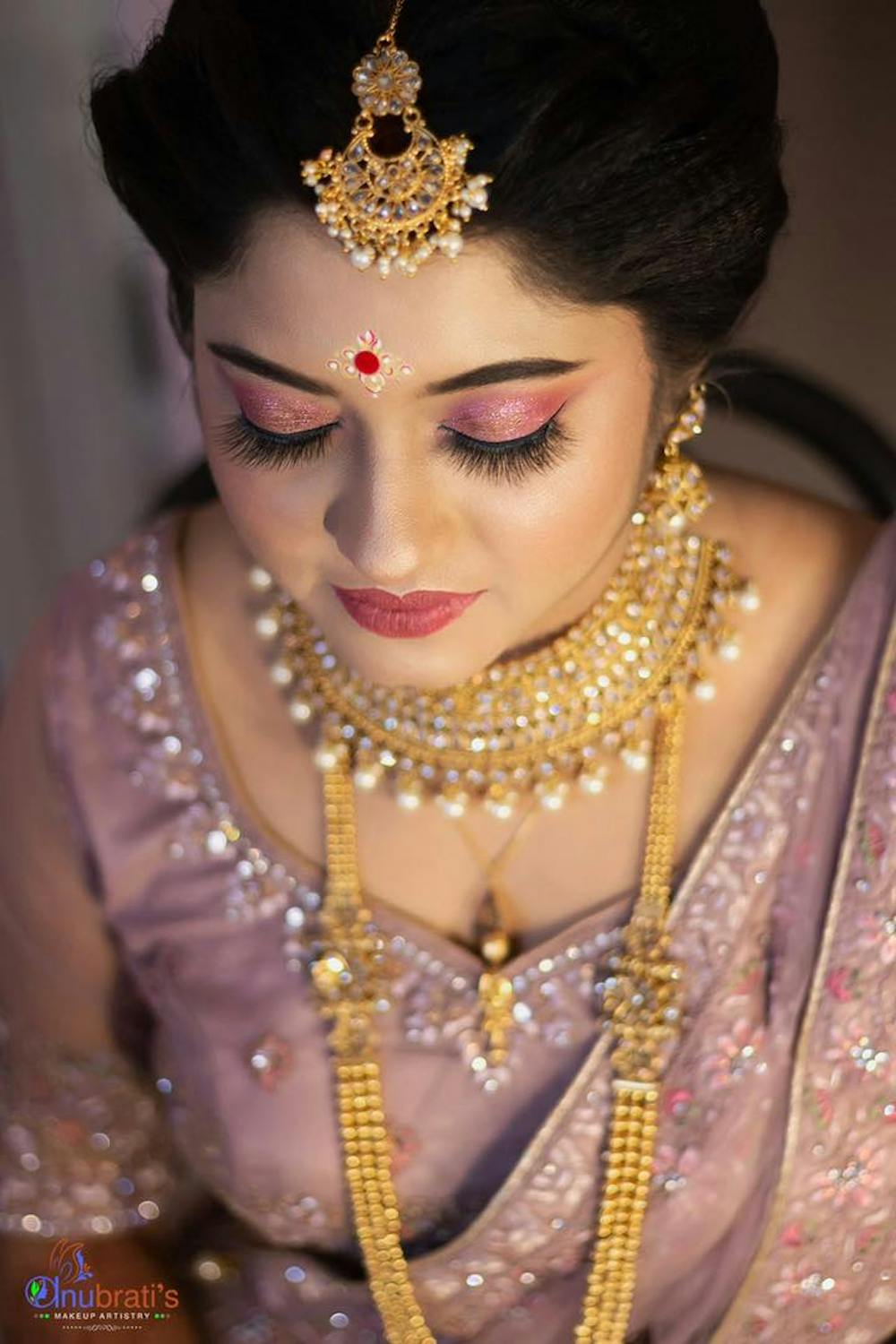 9. Simple Bridal Eye Makeup For The Minimalist Bride
Nude eye makeup is the most simple bridal eye makeup preferred by modern brides. If you don't like a heavy makeup look then you opt for this simplistic eye makeup look. To enhance the beauty of your attractive eyes you can add voluminous lashes to give them an intense look.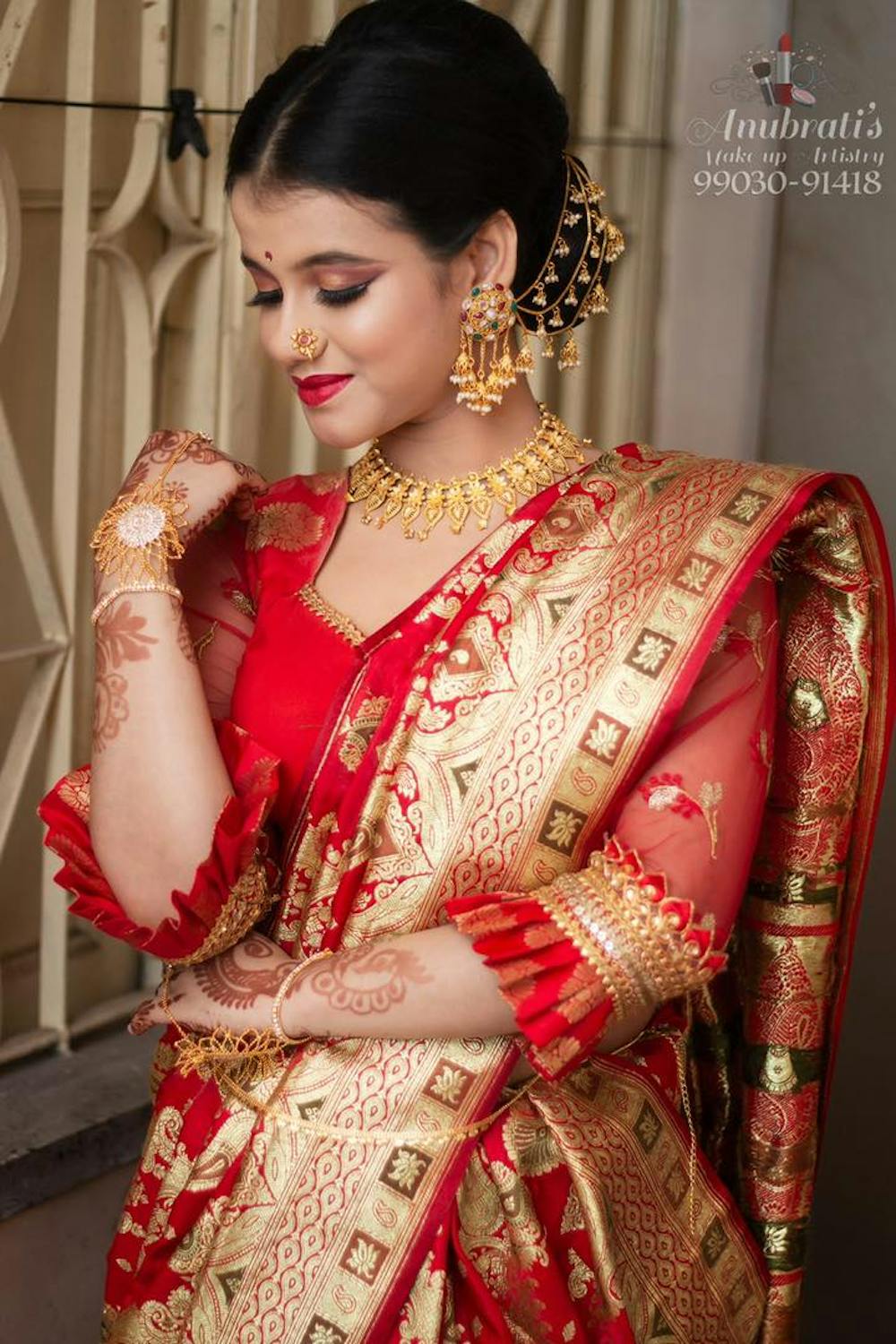 10. This Bride's Dramatic Blue Eye Makeup Is Way Too Glam!
Are you one of those brides who love to add a dramatic twist to the bridal look? Then take a cue from this lovely bride who has opted for a dual eye makeup look. Give a color vibrancy to your eye makeup by choosing two different shades to complement your contrasting outfits. The application of blue shade with a smokey touch is making this bride look like a glamorous diva.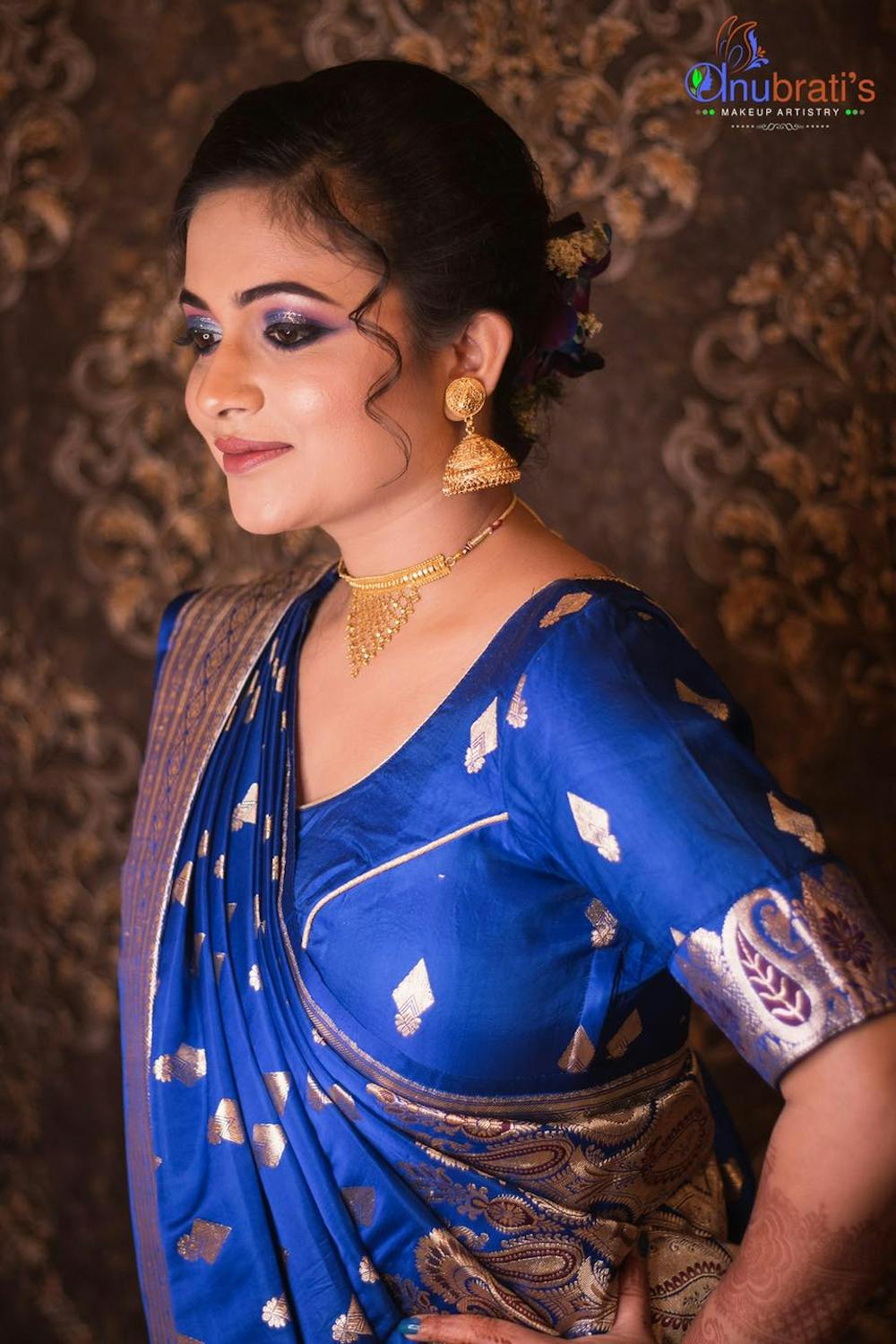 11. A Cat's Eye Makeup Is The Perfect One For the Most Stylish Bride
The cat eye look is the perfect bridal eye makeup for brown eyes. Here the makeup artist has tried to draw the eye liner and eye shadow in an elongated shade to create a cat eye look.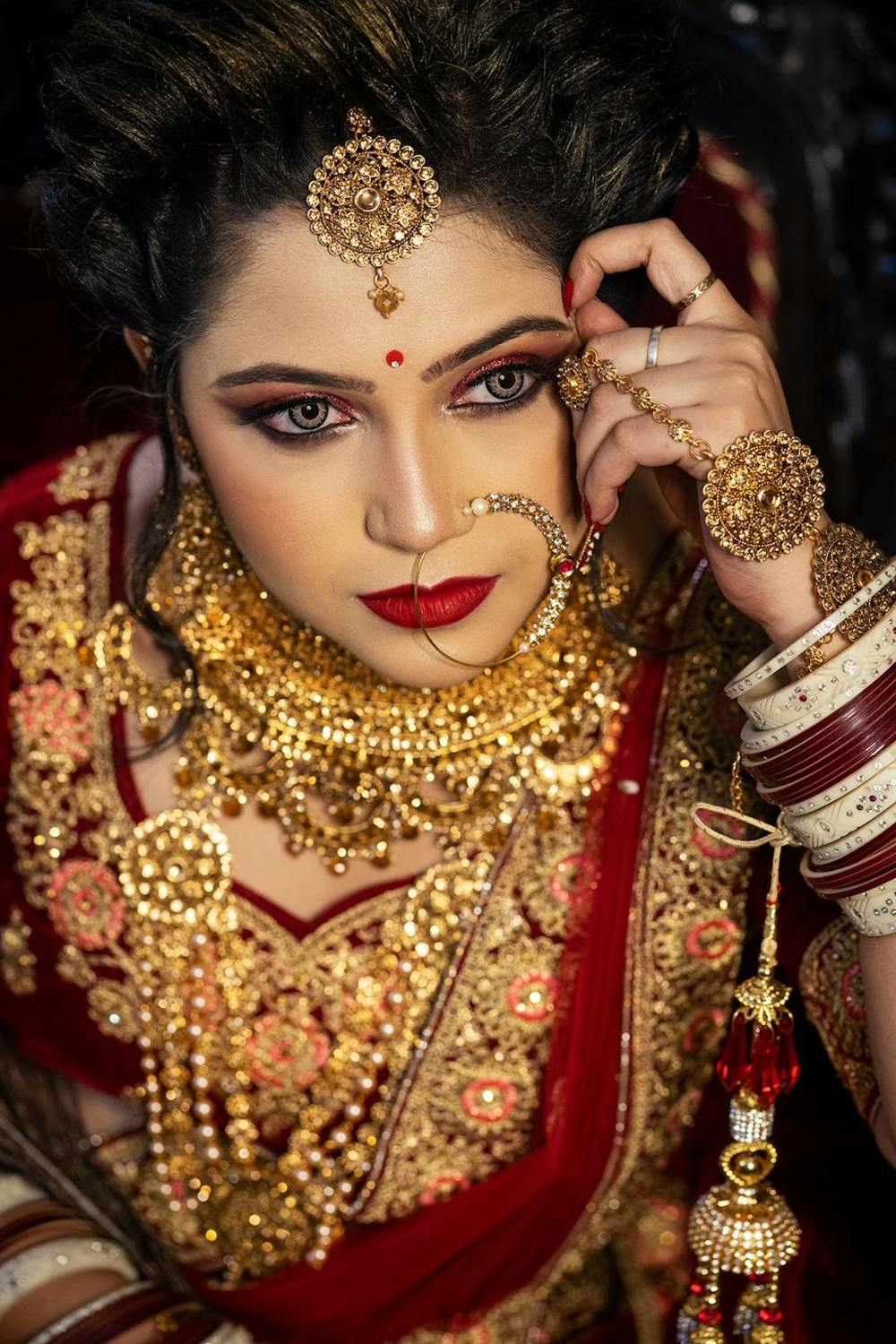 12. Combo Of Smokey & Metallic Eye Makeup Is A Sure Shot Win!
Metallic eye makeup is the best bridal eye makeup for a pre-wedding event. This eye makeup look works well with bridal lehengas and banarasi sarees. Adding a hint of smokey effects in the eye corners is sure to wow everyone.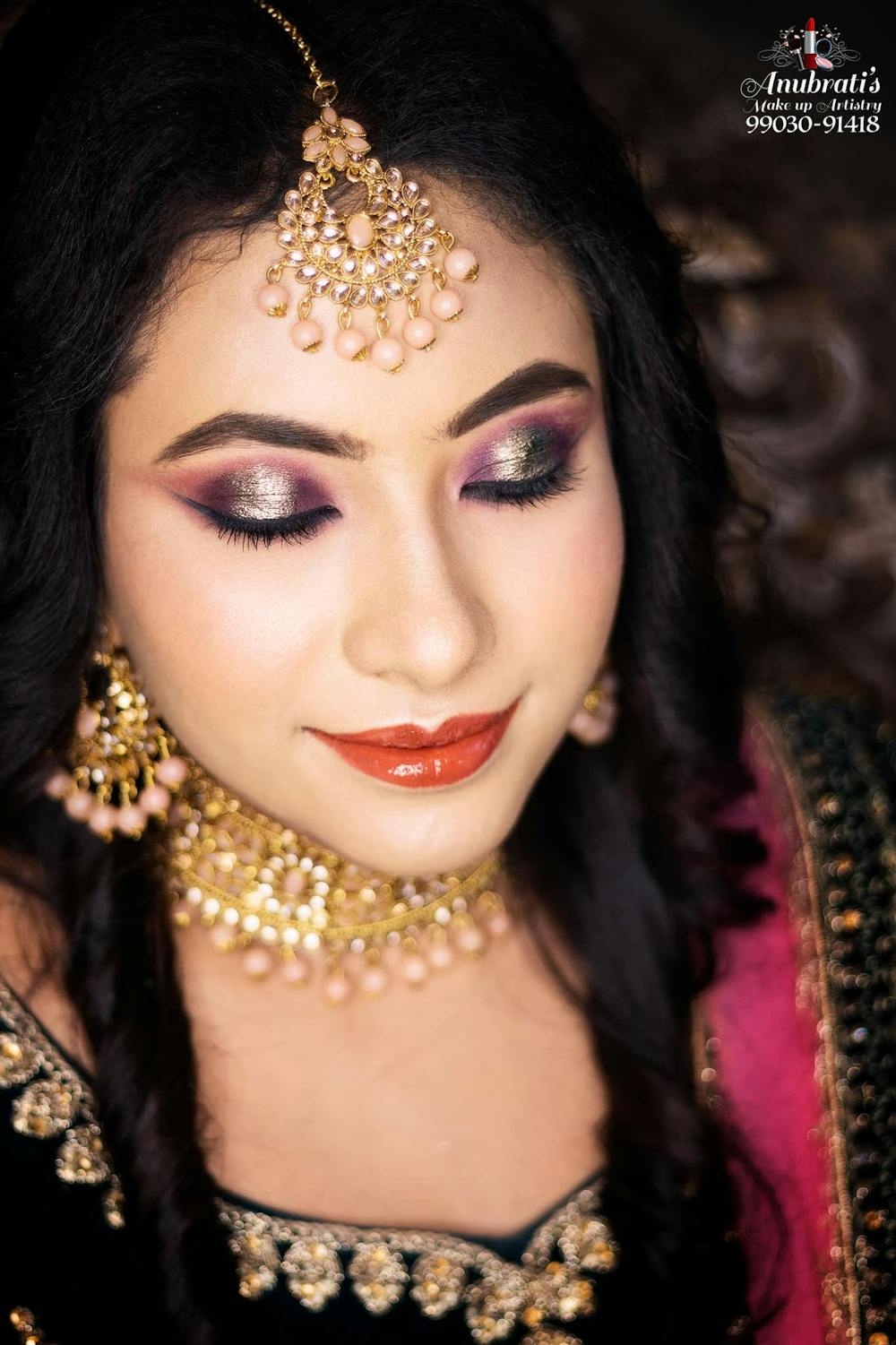 13. An Off Beat Eye Makeup For A Memorable Reception Day Look
A magnetic purple eye makeup look is sure to dazzle your better half. This off-beat eye makeup look can help you to make a bold statement at your wedding receptions. It adds depth and drama to your beautiful bridal look.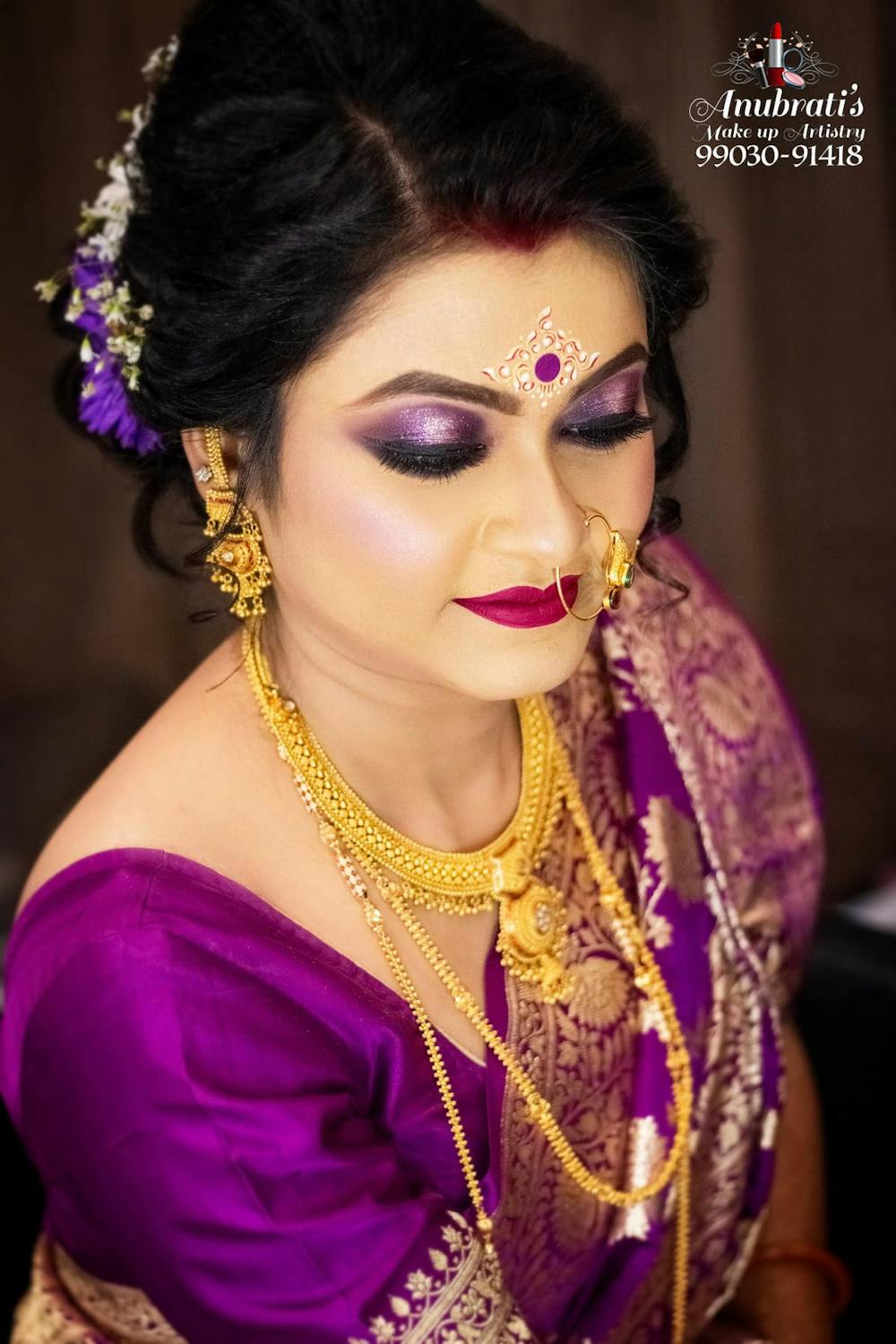 GET IN TOUCH
Let's Book a Session
News & Blog
Recent Articles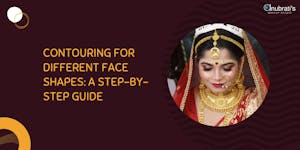 Learn how to contour for different face shapes with our step-by-step guide. Enhance your features and slay any makeup look.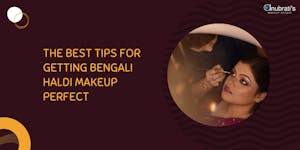 Transform your look with Bengali Haldi makeup, a unique blend of vibrant hues and modern style. Read this blog to enhance your beauty with our expert tips.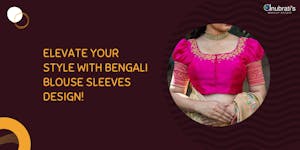 Here is a curated list of Bengali blouse sleeves design for all beautiful brides out there. All eyes will be on you with these trending blouse designs.