How To Elevate Your Style With Bengali Blouse Sleeves Design!
Here is a curated list of Bengali blouse sleeves design for all beautiful brides out there. All eyes will be on you with these trending blouse designs.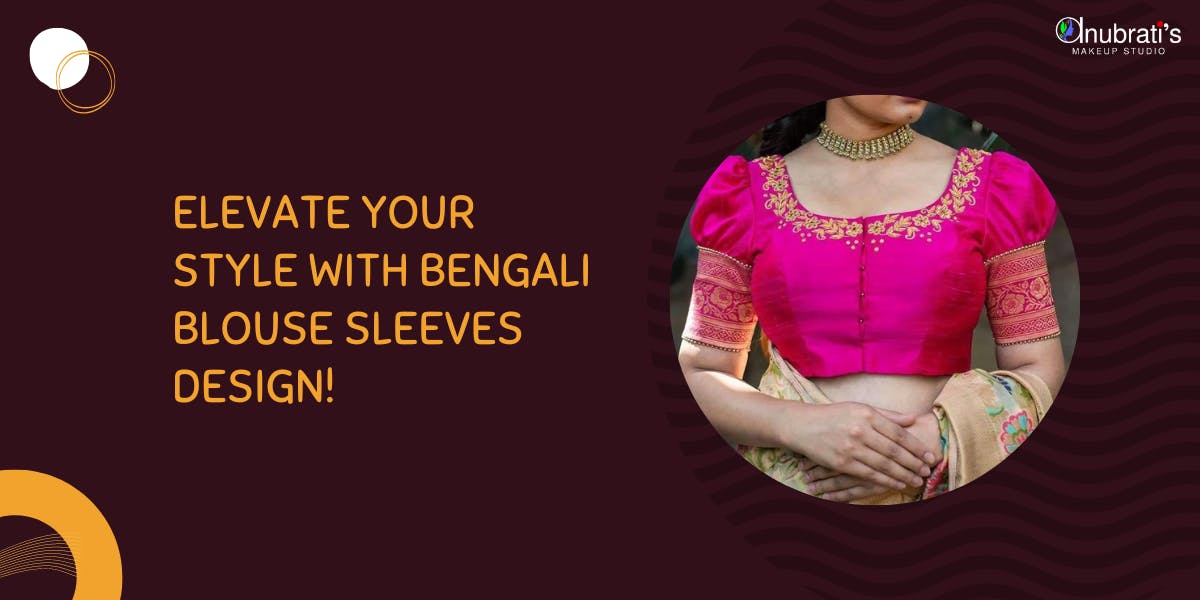 A Bengali bride in a luxurious banarasi saree and puffed sleeves blouse looks like a divine beauty. This traditional Bengali wear is still a popular fashion choice. But there is much more you can add to your bridal wardrobe for a spectacular wedding look. Bengali blouse sleeves are a stunning way to elevate your bridal look. It can add a unique and glamorous touch to your saree. Asymmetrical sleeves, inspired by the traditional Bengali blouse designs, have been gaining popularity. These bridal blouses create an aura of timelessness and sophistication.
They come in a variety of styles, giving rise to a spectrum of breathtakingly beautiful and distinctive bridal looks. Being the best bridal makeup artist in Kolkata we have seen many fashion-forward brides. Bengali brides mostly choose a Bengali sleeve blouse to beautify their wedding look. So, here we have listed below some attractive Bengali blouse sleeves design to plan a ravishing bridal look.
Recommended: The Latest Bengali Bride Hairstyle That Will Make You Look Stunning!
1. Portrait style Bengali blouse sleeves design
A wedding is one of the biggest celebrations in Bengali culture. Therefore, every bride makes sure to look their best at their special event. This portrait Bengali style blouse looks extremely elegant with a banarasi saree. Our gorgeous bride has complemented her red banarasi with a green portrait blouse which is making her look more beautiful.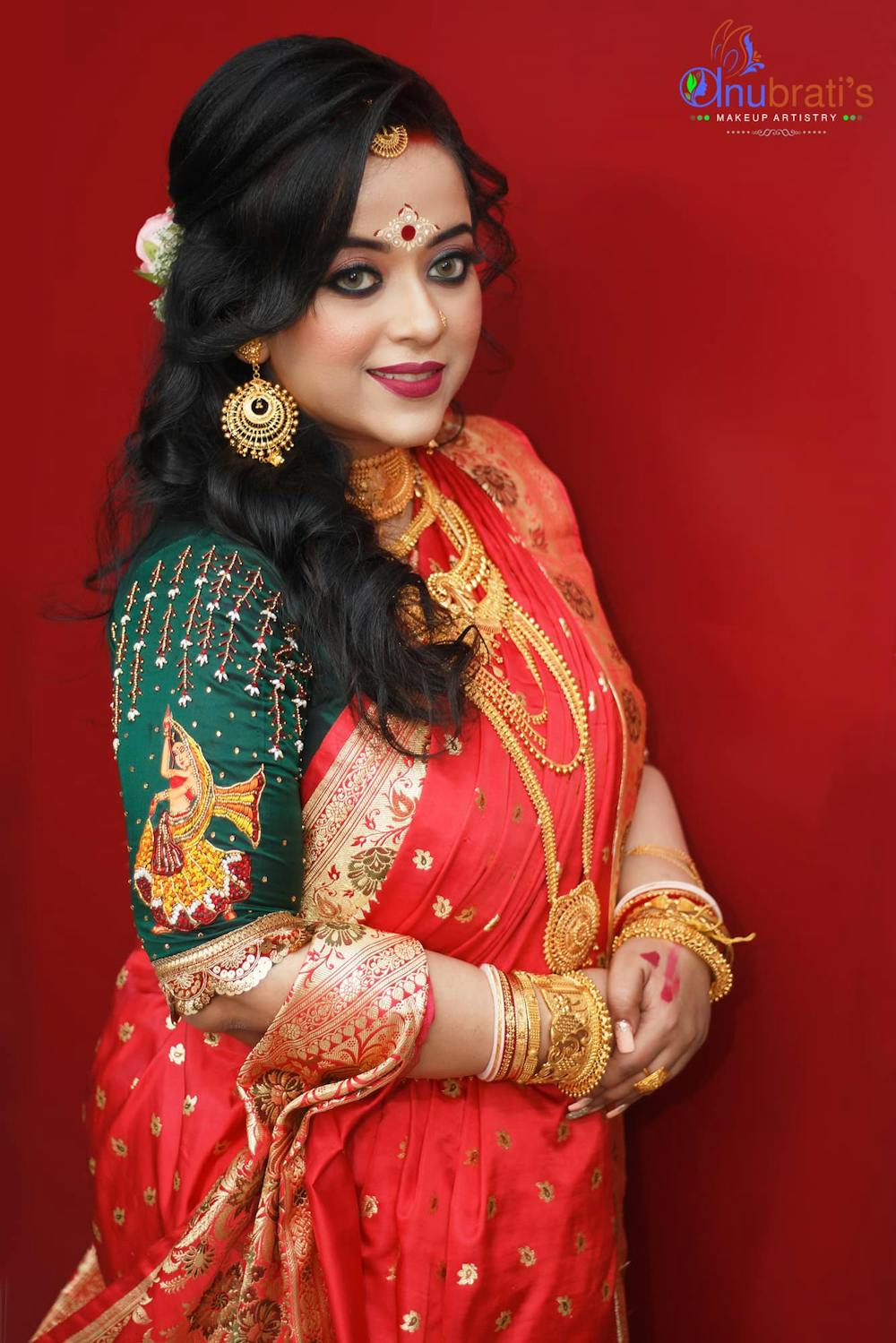 Must Read; Most Gorgeous Bengali Bridal Makeup Looks For D-Day
2. Unique Bengali blouse sleeves design
Take a cue from this Bengali designer blouse! Creative blouse design in Bengali style leaves a great impression on people's minds. This varmala motif designed on the blouse can be a perfect fit for a traditional Bengali bridal look. Take the help of a professional top makeup artist in Kolkata to enhance the charm of your bridal look.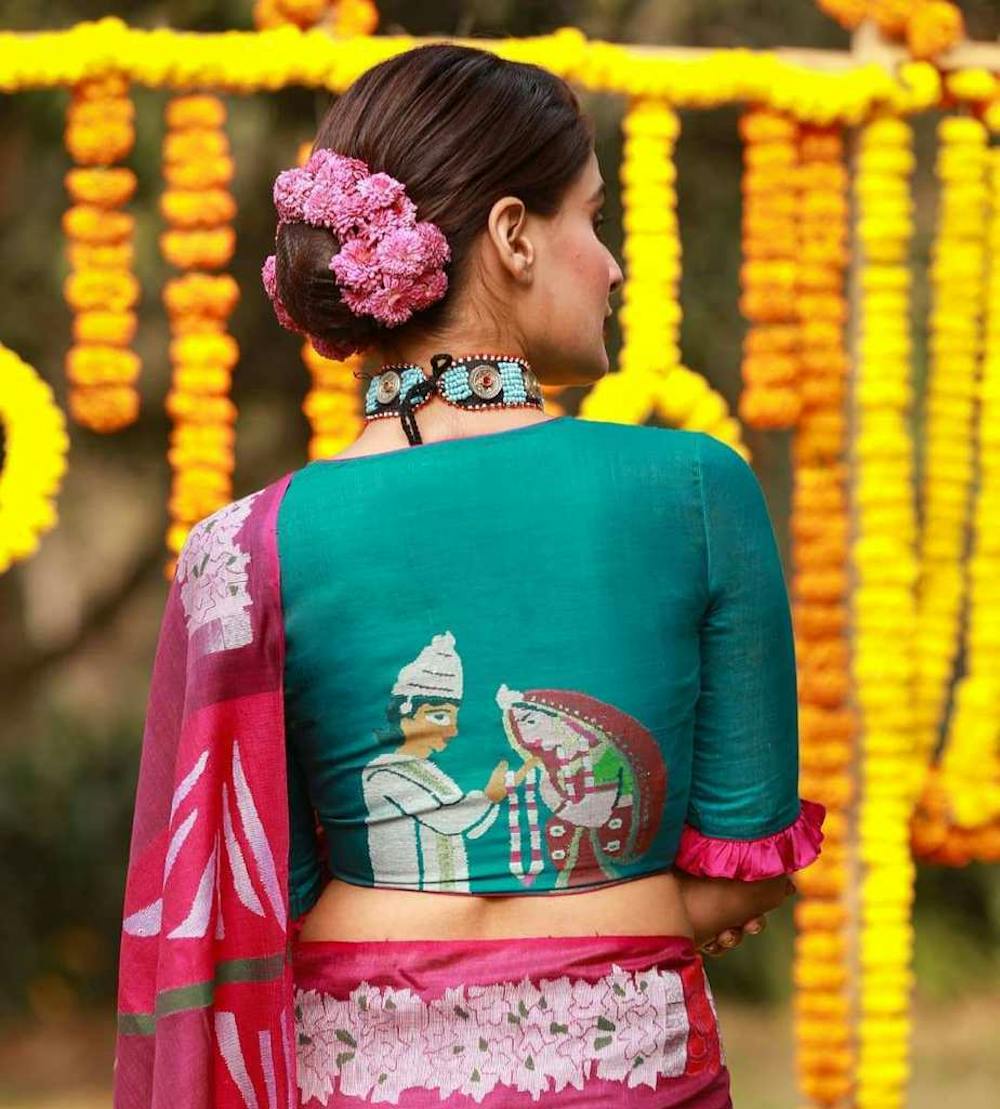 See More: 13 Bridal Eye Makeup Ideas For Your Dream Wedding
3. Topor motif Bengali blouse sleeves design
If you are planning to ditch the heavily embroidered blouse, you must try this elegant blouse once. This is a new Bengali blouse design that represents the cultural beauty of our weddings. This red blouse with delicate white embroidery adds the perfect pop of color to your bridal look.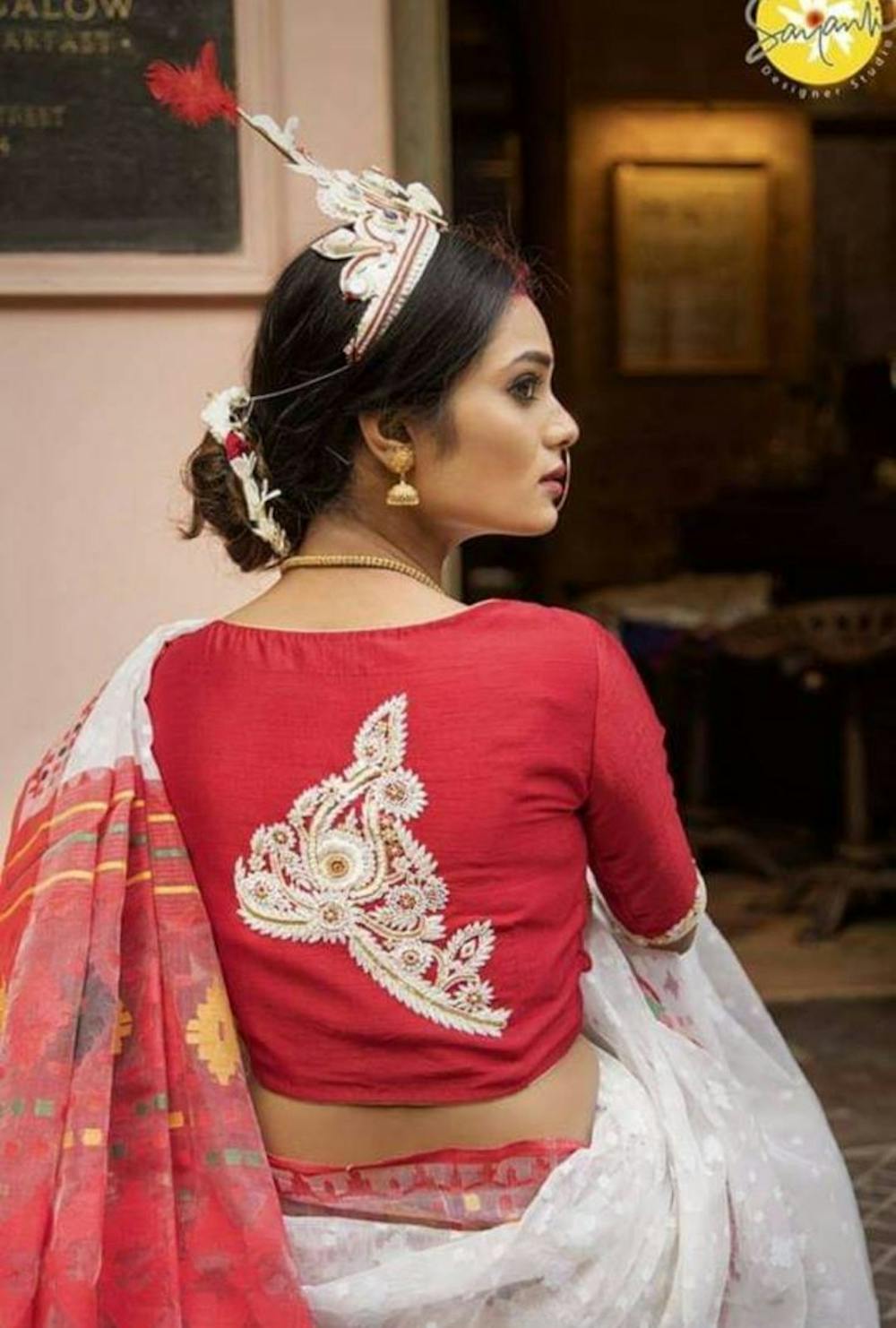 4. Puffed Bengali blouse sleeves design
This old fashion Bengali blouse design is still a popular fashion choice among Bengali brides. This sensational blouse of the retro era can help you to make a style statement on your wedding day. Make sure to choose proper bridal accessories that can highlight the beauty of your lavish wedding attire.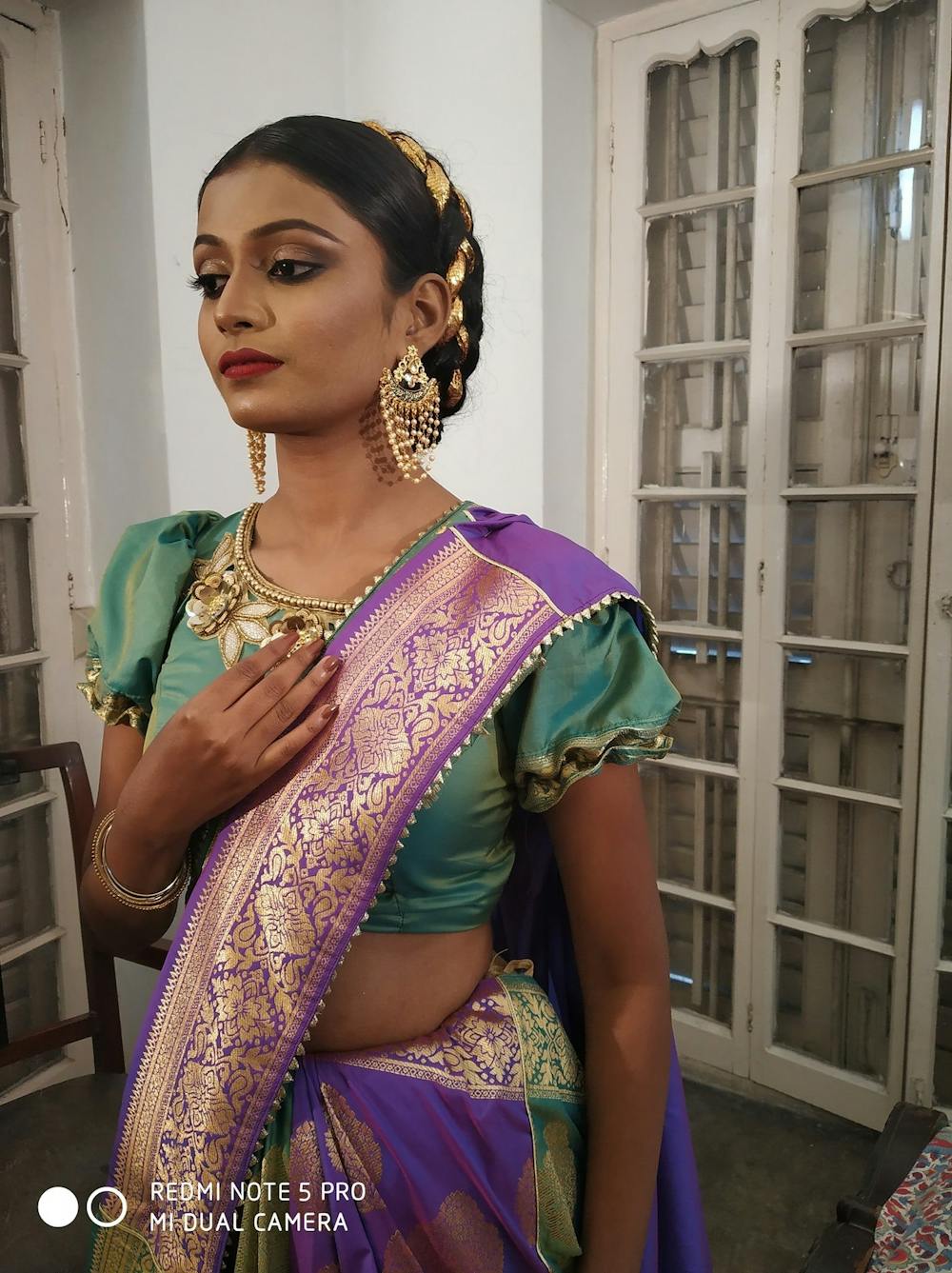 5. Three Fourth Bengali blouse sleeves design
Nobody can ignore the simplistic charm of this Bengali sleeve blouse. This stunning blouse when worn with a contrasting silk saree can take your bridal look to the next level. Go for a gold choker necklace to complement the beauty of such elegant wedding attire.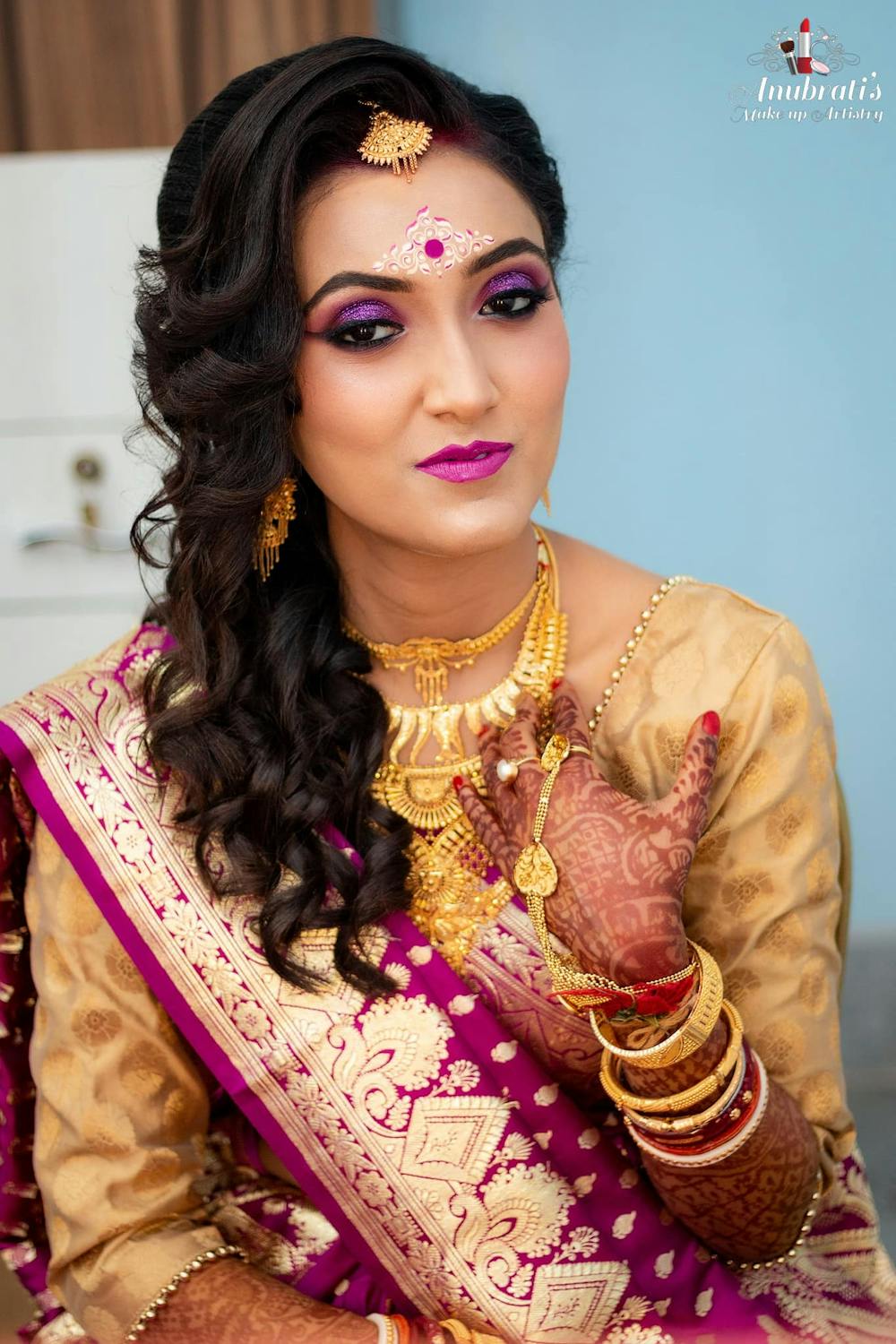 6. Net Bengali blouse sleeves design
If you want to raise the temperature high, then opt for this Bengali designer blouse. These offbeat Bengali blouse sleeves look stylish when you team them with colorful banarasi. This net sleeve blouse is currently in trend and can be customized as per your choice.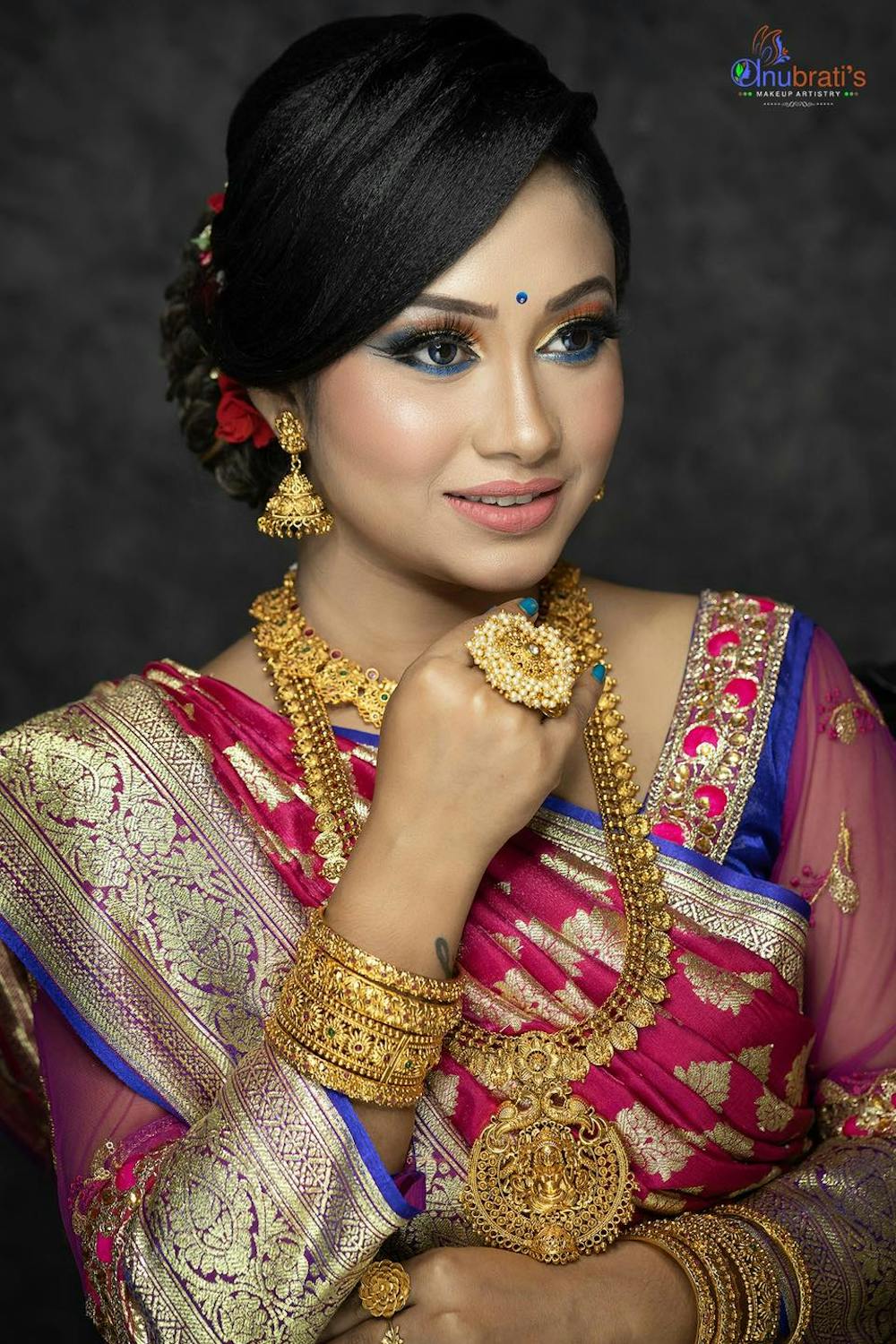 7. Full Bengali blouse sleeves design
Getting married in the coldest months? Opt for a full sleeve Bengali blouse design. You can pair ornate gold jewelry with this beautiful Bengali sleeve blouse and trust us all eyes will be on you. This designer blouse can provide you with the most enchanting Bengali style look.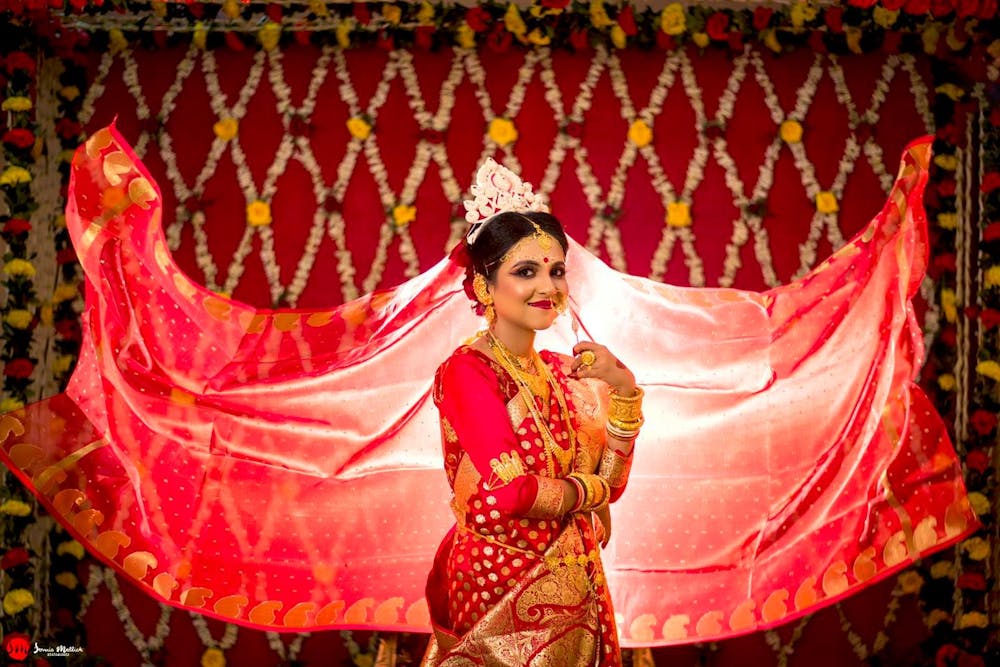 8. Fancy Bengali blouse sleeves design
This Bengali red blouse design can make you stand out in the crowd. The main attraction of this beautiful blouse is its heavily embroidered sleeves. The intricate details carved on the blouse are sure to make a statement. It will give every bride an elegant and glamorous look.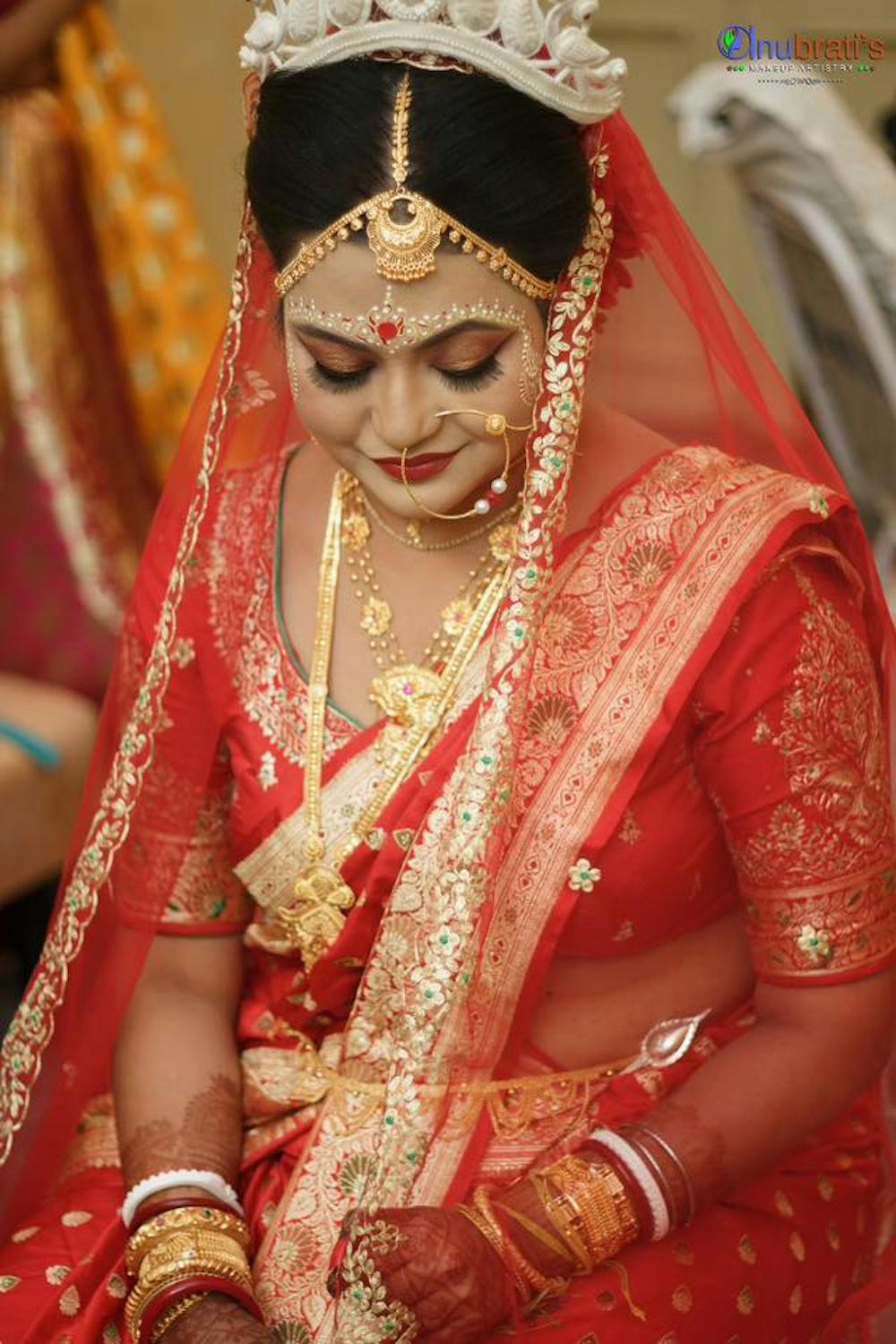 9.  Ruffle Bengali blouse sleeves design
Elegant, stylish, and rich this ruffle Bengali blouse style will make you a show stealer bride. The ruffle sleeves of the blouse give it a soothing as well as eye-catchy look that can go with any Bengali saree designs. It can be a perfect Bengali blouse to wear at pre-wedding events.
10. Bell Shaped Bengali blouse sleeves design
Are you a huge fan of sophisticated and minimal Bengali bridal blouse designs? Then choose a bell sleeve Bengali saree blouse. The sheer net fabric and the delicate embroidery of this bride's blouse is adding a decent appeal to her bridal charm. Her wonderful mehndi design is further enhancing the beauty of her Bengali blouse pattern.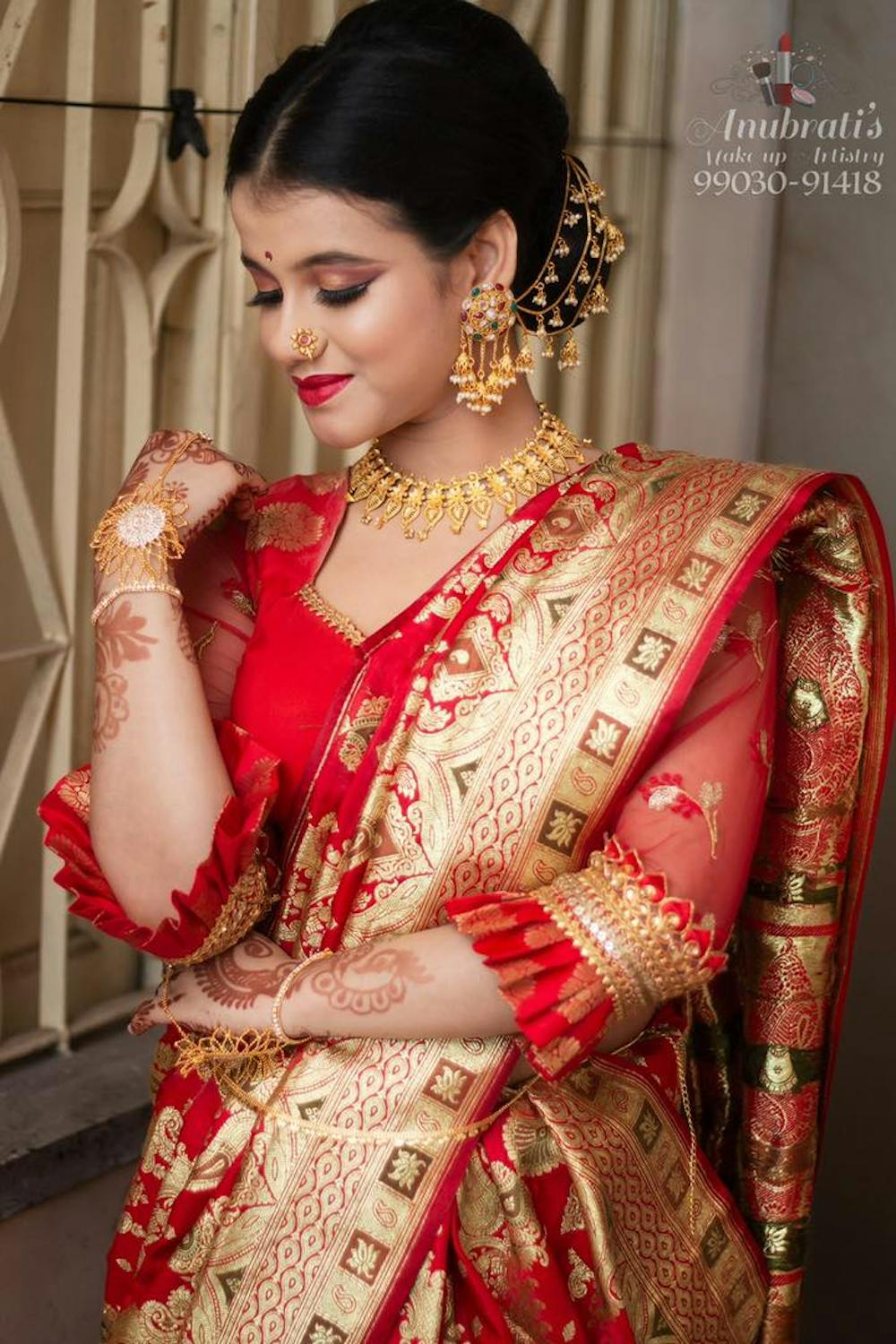 11.  Ikkat Style Bengali blouse sleeves design
This is another ravishing blouse design for bengali saree. You can never go wrong with an ikkat blouse. This is the latest Bengali blouse design that you can pair with your signature saree to look aesthetically pleasing on your wedding day. The animal and nature motifs on the sleeve of this blouse make it look all stunning.
Mistakes You Should Avoid While Choosing Bridal Blouse
1. Brides often make mistakes while choosing the fabric for their blouses. You must choose the fabric of your blouse by keeping in mind the climatic conditions of the wedding day. Light fabrics are good for summer while silk and velvet are perfect for winter.
2. Most brides end up choosing a tight-fitting blouse. Sometimes, this can lead to unpleasing back bulges. You can even feel uncomfortable while breathing in.
3. Never underestimate the importance of the neckline. It can make or break your bridal blouse look. Always choose a blouse that helps you flaunt your wedding jewelry. A high-neckline blouse is never a good option for the wedding day.
4. Following the latest trend is good enough to reflect your stylish personality. But sometimes it can be the biggest mistake that can spoil your entire bridal look. So, make sure to follow a trend that suits your personality and body shape.
5. Never pick an embroidered blouse that doesn't have a lining. Embroidery on a blouse like sequins or glitter can create an itchy sensation on the skin. So, always make sure to opt for blouses that have a lining, especially on the arms.
GET IN TOUCH
Let's Book a Session
News & Blog
Recent Articles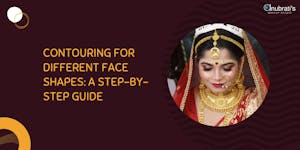 Learn how to contour for different face shapes with our step-by-step guide. Enhance your features and slay any makeup look.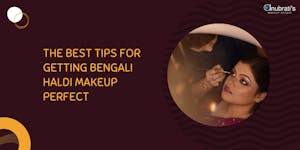 Transform your look with Bengali Haldi makeup, a unique blend of vibrant hues and modern style. Read this blog to enhance your beauty with our expert tips.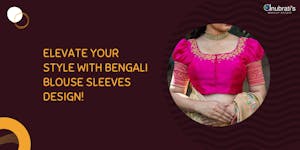 Here is a curated list of Bengali blouse sleeves design for all beautiful brides out there. All eyes will be on you with these trending blouse designs.