The Latest Bengali Bride Hairstyle That Will Make You Look Stunning!
Anubrati's Bengali bride hairstyle will make your special day more extraordinary. Anubrati creates magic with her hair-do skills to add an extra glow to your D-day.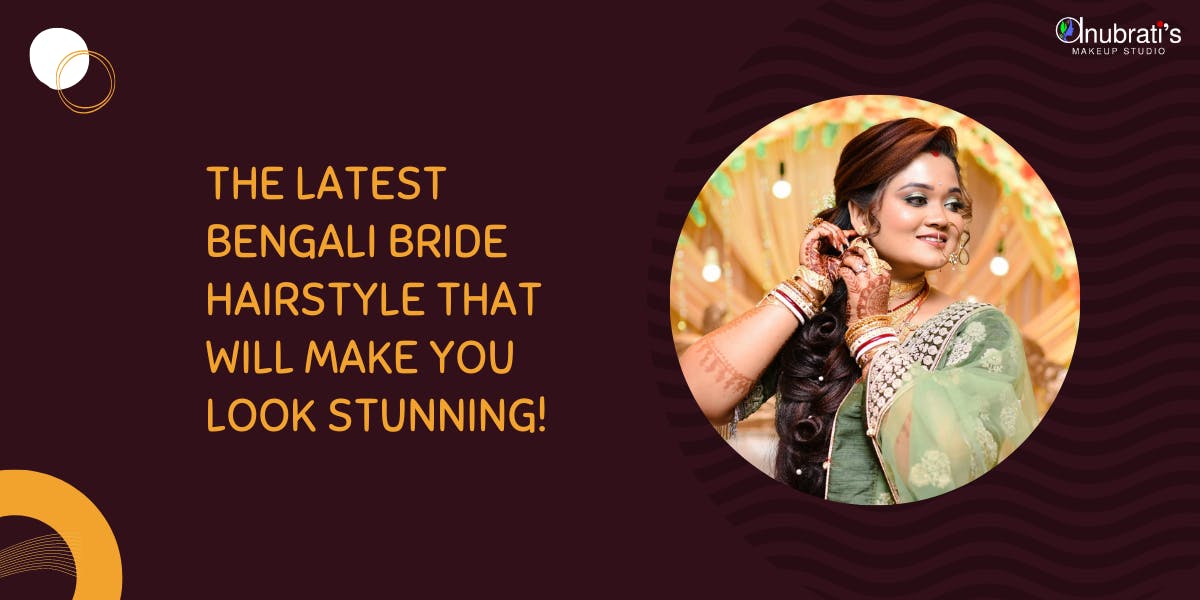 Bengali Bride Hairstyle - What makes it so astonishing?
We know how particular you are about your wedding day. You have been planning everything from selecting the perfect saree to contacting the top makeup artist in Kolkata.
But did you pay attention to the hairstyle that you want for your special day? A good hairstyle can change your entire look game and can make you look more glamorous. And, if you are a Bengali bride-to-be then you must know about the best bridal makeup artist in Kolkata to do your makeup and hairstyle.
This blog will help you to know what Bengali bridal hairstyle is perfect for you and what types of latest Bengali hairstyles are. So, what are you waiting for? Let's get started.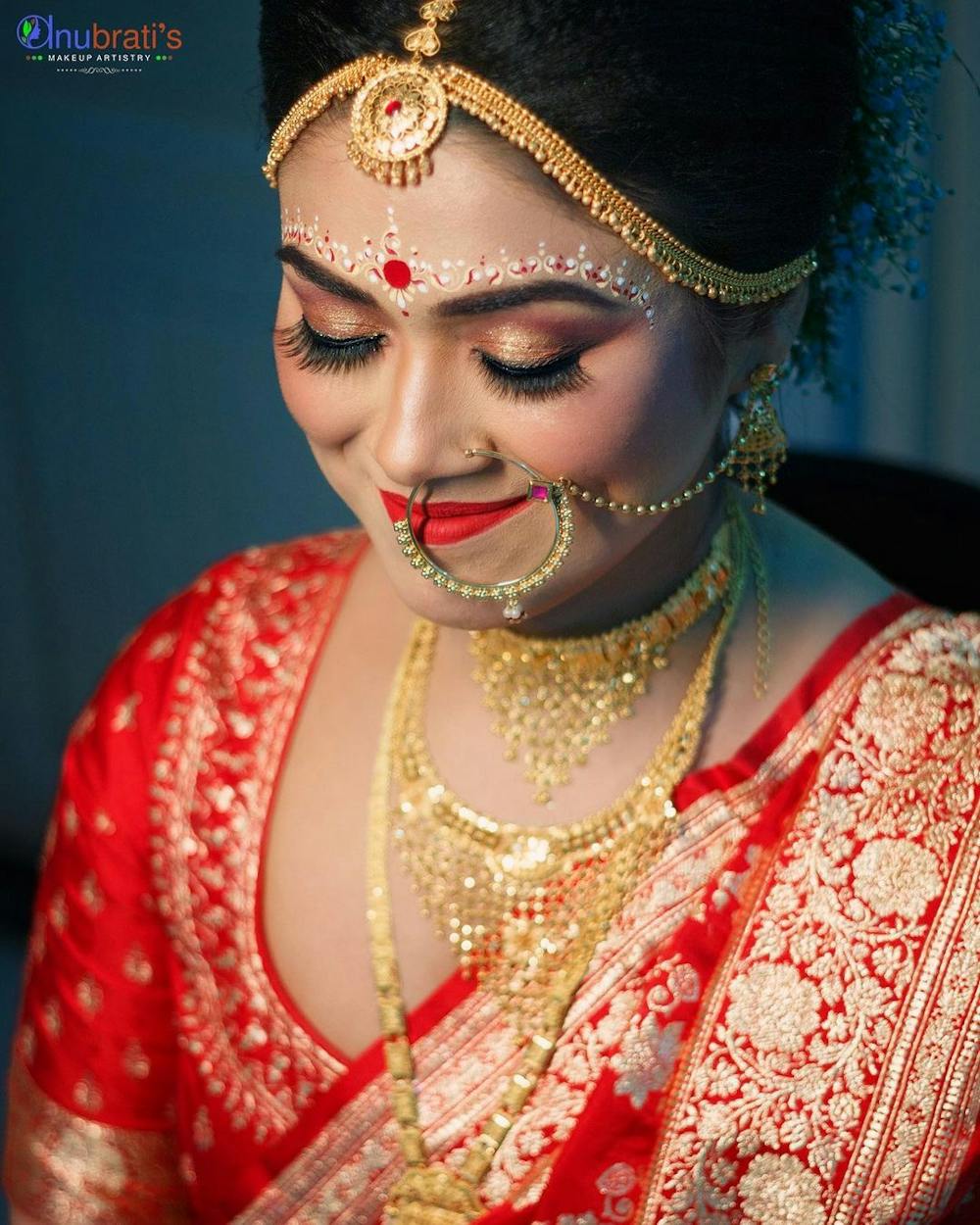 Recommended: Trending Bridal Makeup Traditional Look For Bengali Brides
How to select your quintessential Bengali hairstyle?
You have planned everything accordingly for the wedding, from the venue, the guest list, the food menu, and the playlist to your saree or lehenga, then why not plan the hairstyle you want for the day as well?
First, you need to calm your nerves and sit back with a cup of coffee to check out which bridal hairstyle will go best with your look.
If you are a Bengali bride then there are a lot of Bengali wedding hairstyles that you can check out here and choose according to your liking.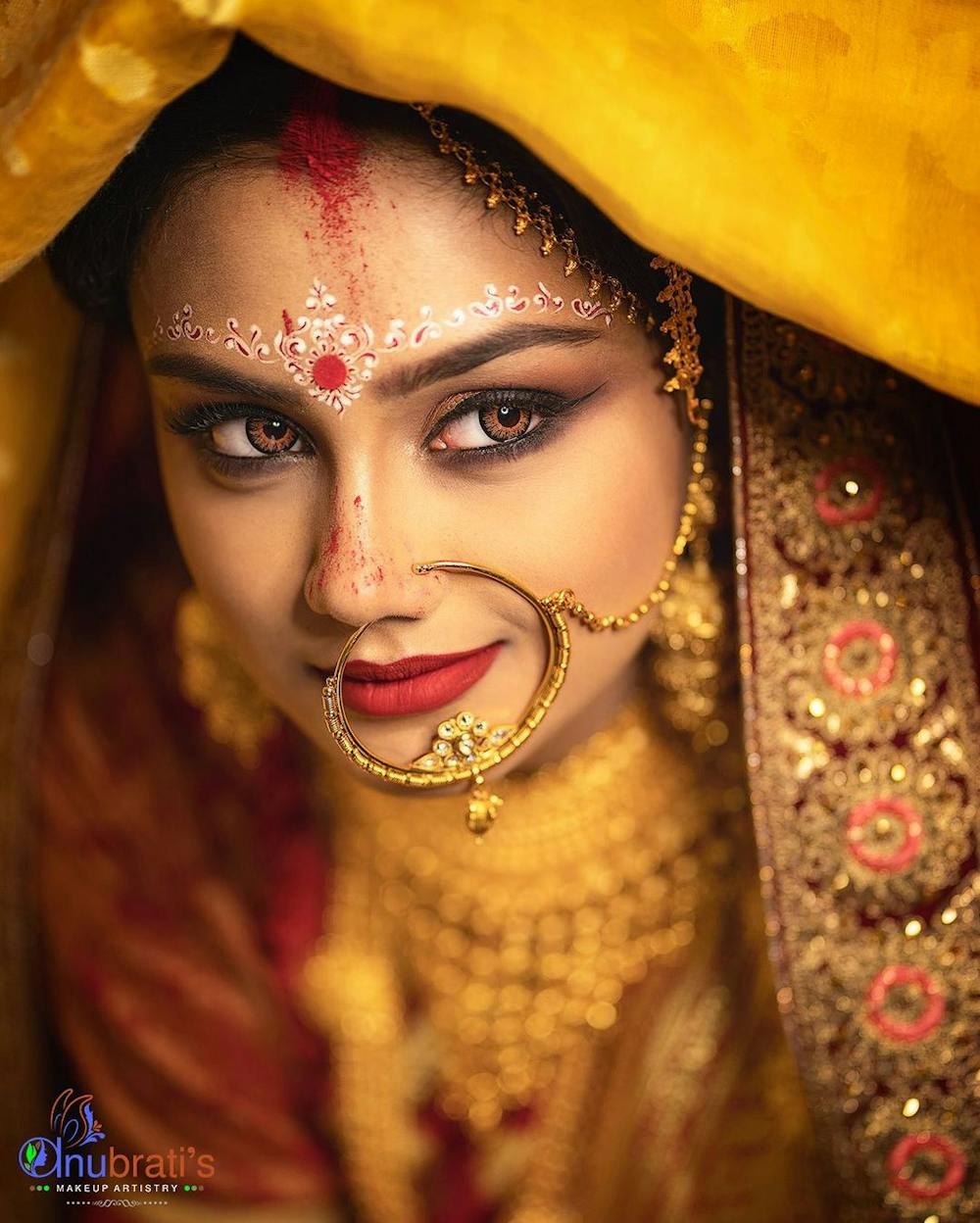 You need to determine the hairstyle according to the type of saree or lehenga you will be wearing at your wedding or reception. The hairstyle should be subtle and not too loud if you are wearing a red saree.
You can select a side bun hairstyle for the lehenga to create a charming modern look.
Another deciding factor is also the face type that you have. You can go for a simple Bengali hairstyle if you have a round or oval face whereas you can try styling your hair with accessories if you have sharp facial features.
Must Read: Most Trending Smokey Eye Makeup For Bengali Bride
Feel like a Queen on your day with a few simple hacks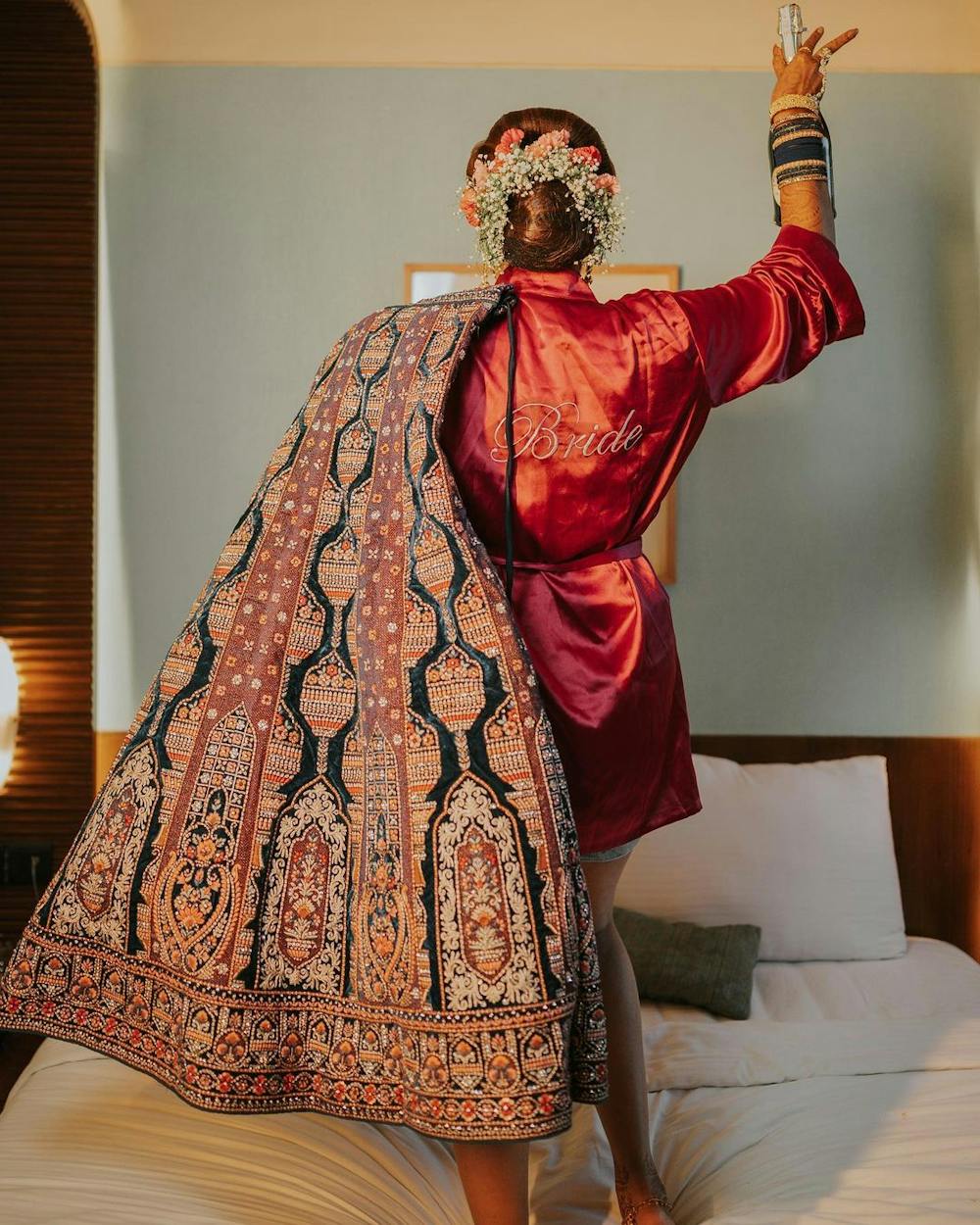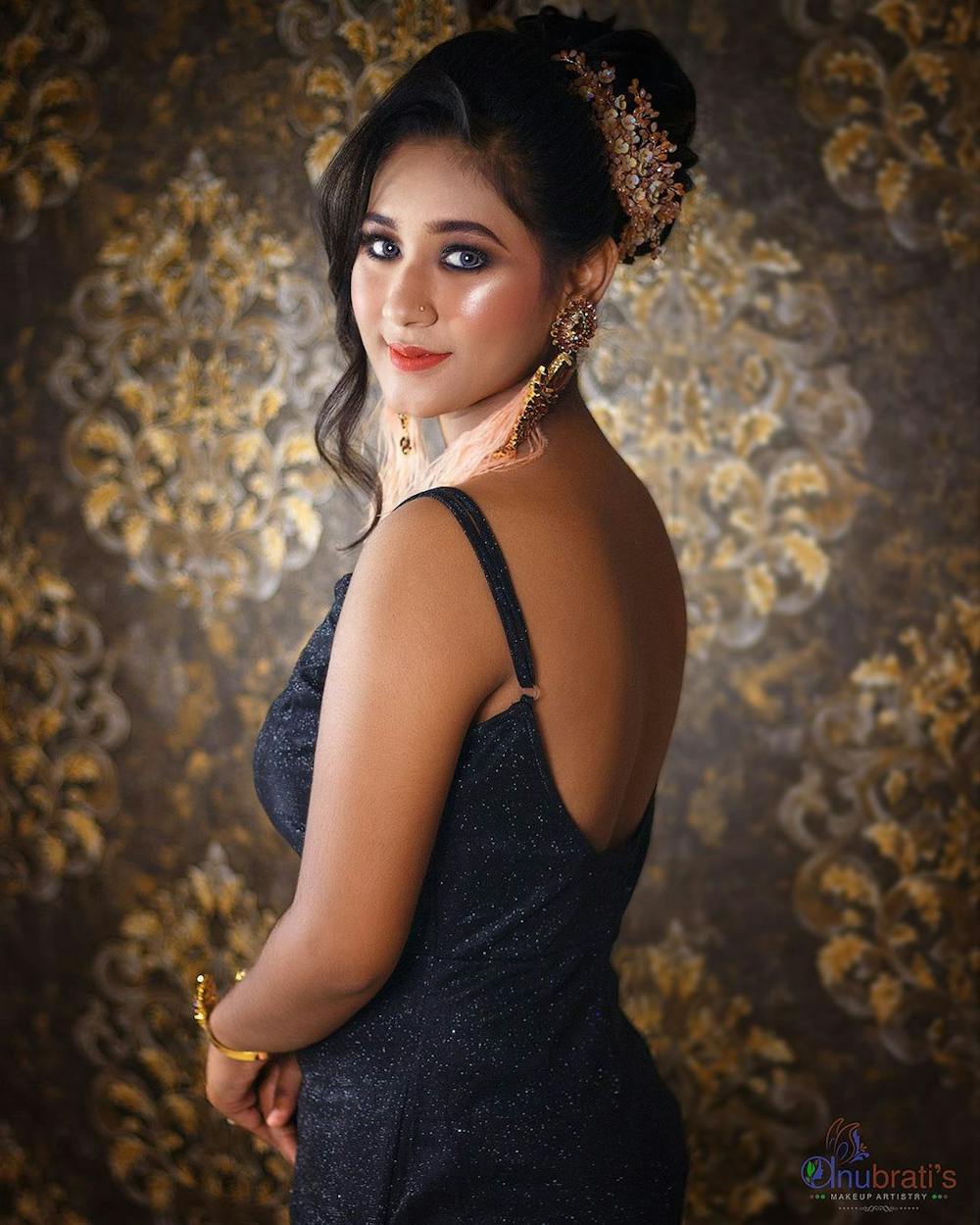 You need to remember a few points before you finalize your hairstyle for the wedding or reception to make you look extremely beautiful. 
Apart from your face shape and dress color, what you need to pay attention to is also the wedding theme. Yes, you heard it right.
If you have loud lighting and too much decor in your event place then it is always best to opt for a neutral hairstyle to make you look stand out.
If you have decided on pastel decors for the event then you can always choose a loud and accessorized hairstyle. Though neutral and basic hairstyles always work best in both cases.
You also need to choose your headgear before hard to avoid a fashion disaster. A solar mukut, tiara, or floral crown will be the best options for a Bengali bride to go for.
You also need to pay attention to your hair type and length and take desirable advice from your hairstylist. Anubrati's Makeup Studio takes care of all the points mentioned above before deciding on your ravishing hairstyle.
Also, do not ignore the shining factor and add as much shine as possible to your hairstyle.
So, now when you know what to do and what not to do on your special day. Let us take you through a few of the latest simple yet enchanting Bengali bridal hairstyles.
See More : 13+ Attractive Wedding Nail Art Ideas For Bride
1. A simple Crimped Loose Curls Hairstyle
Any man can be enchanted by a Bengali women's beauty and if you have opted for crimped hair for your wedding day then you can make your man's heart pounder a little more.
Crimped hair for Bengali brides can never go out of fashion. Those dark beautiful crimped open hair with a veil as your headgear will turn all the heads around you.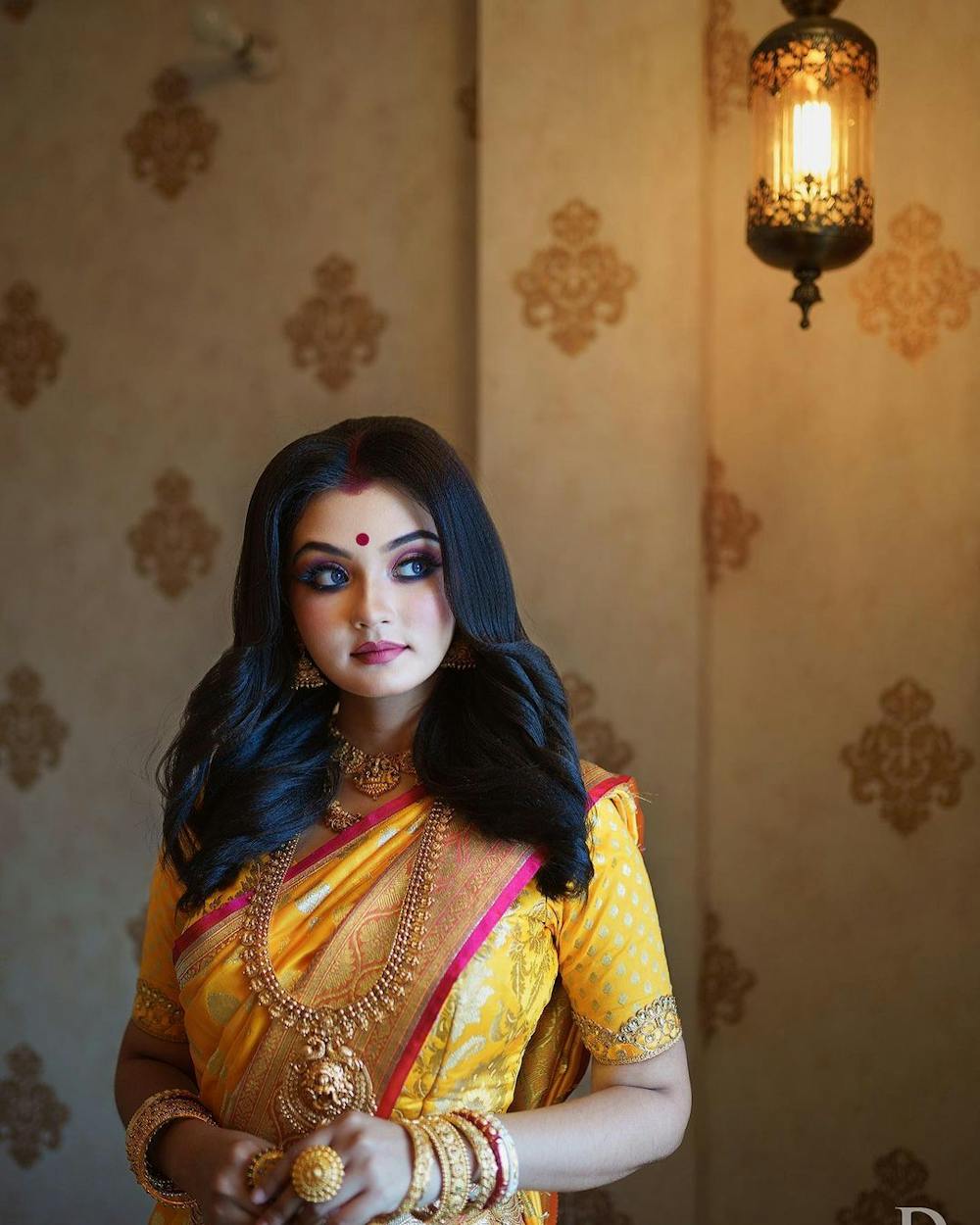 Also, do not forget to mid-part your hair when opting for a crimped curl hairstyle so that the vermillion on your forehead adds extra glow to your face. Trust us, you will look like a Goddess in crimped hair and a red saree.
2. A Divine Bun styled with a Sholar Mukut Hairstyle
A bun is one of the best Bengali traditional hairstyles that you can select on your wedding day.
A Sholar Mukut on the front hair partition will not only make you feel like a new Bengali Bouma but will also add that royal glow to your face.
The mantra is to straighten your hair and make a simple bun of it. You can also add flowers to the bun to add extra volume to your hair.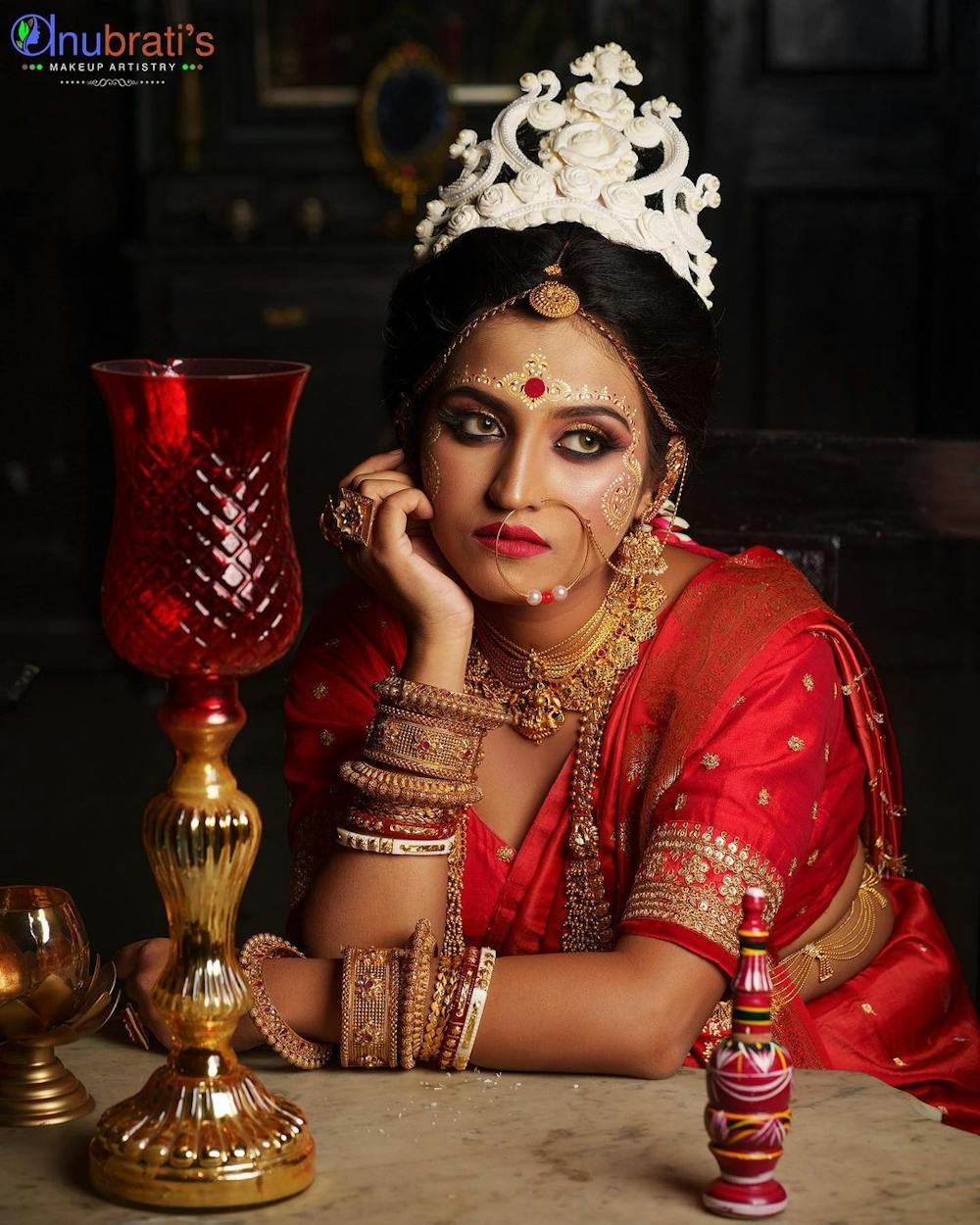 3. The Remarkable Floral Bun Hairstyle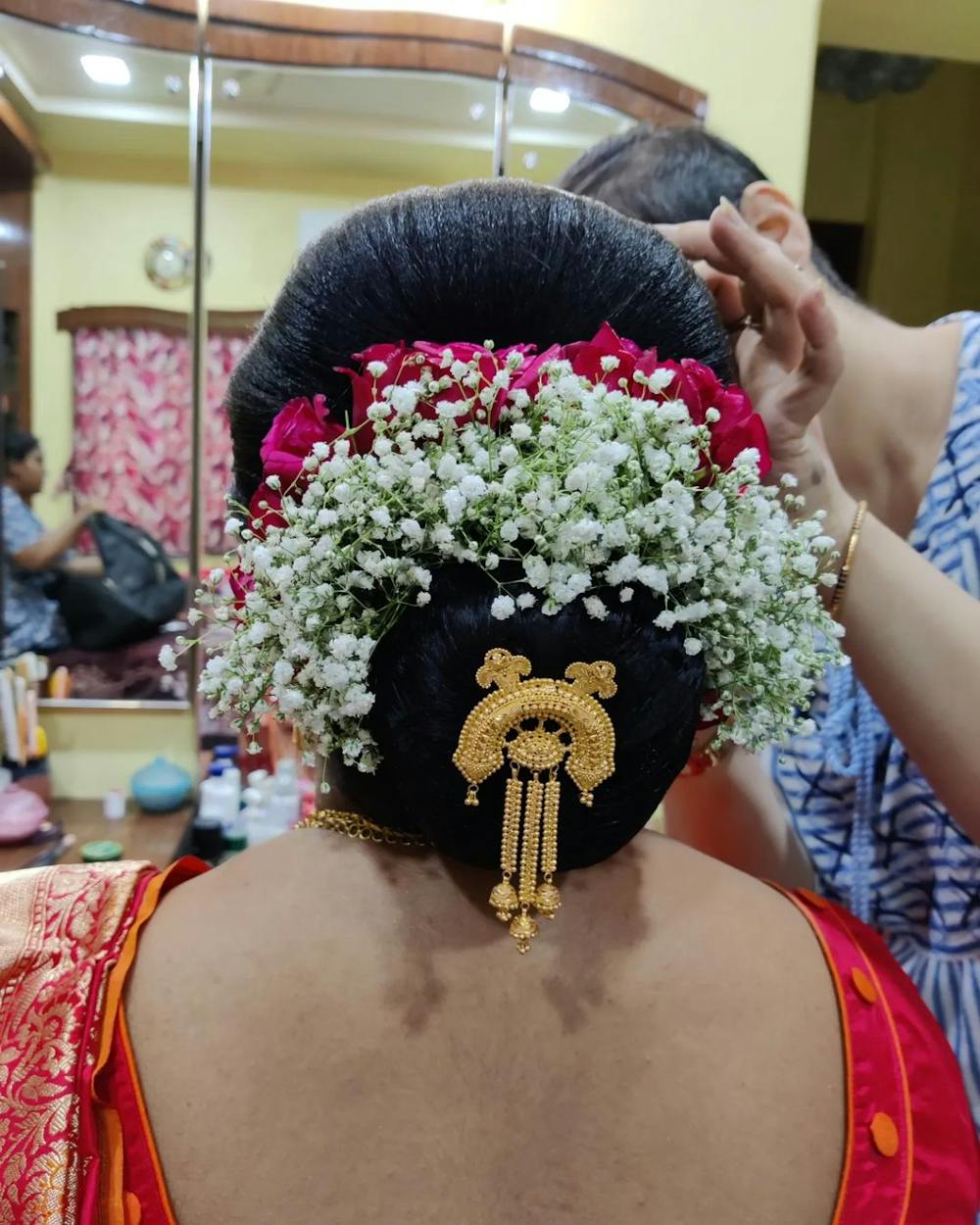 This aesthetic Bengali bridal hairstyle with flowers can never go wrong and is perfect for both the wedding and the reception day.
Crimp or straighten your hair and add a little puff in the front hair to create the traditional look. Add bright flowers to your bun and also do add a small hair piece in the middle of the bun to create a more perfect look.
4. A Crimped Curled Side-Swept Hairstyle
Another gorgeous hairstyle for a Bengali wedding party is the Side-Swept hair-do. 
You can simply create a magical reception look with this hairstyle. All you need to do is curl and crimp your entire hair and put it on one side of your shoulder.
The best is to side-part your hair and put thick vermillion on your forehead to make the hair look more attractive.
Also, always try to add white or peach-colored flowers at the backside of the Side-swept hairstyle.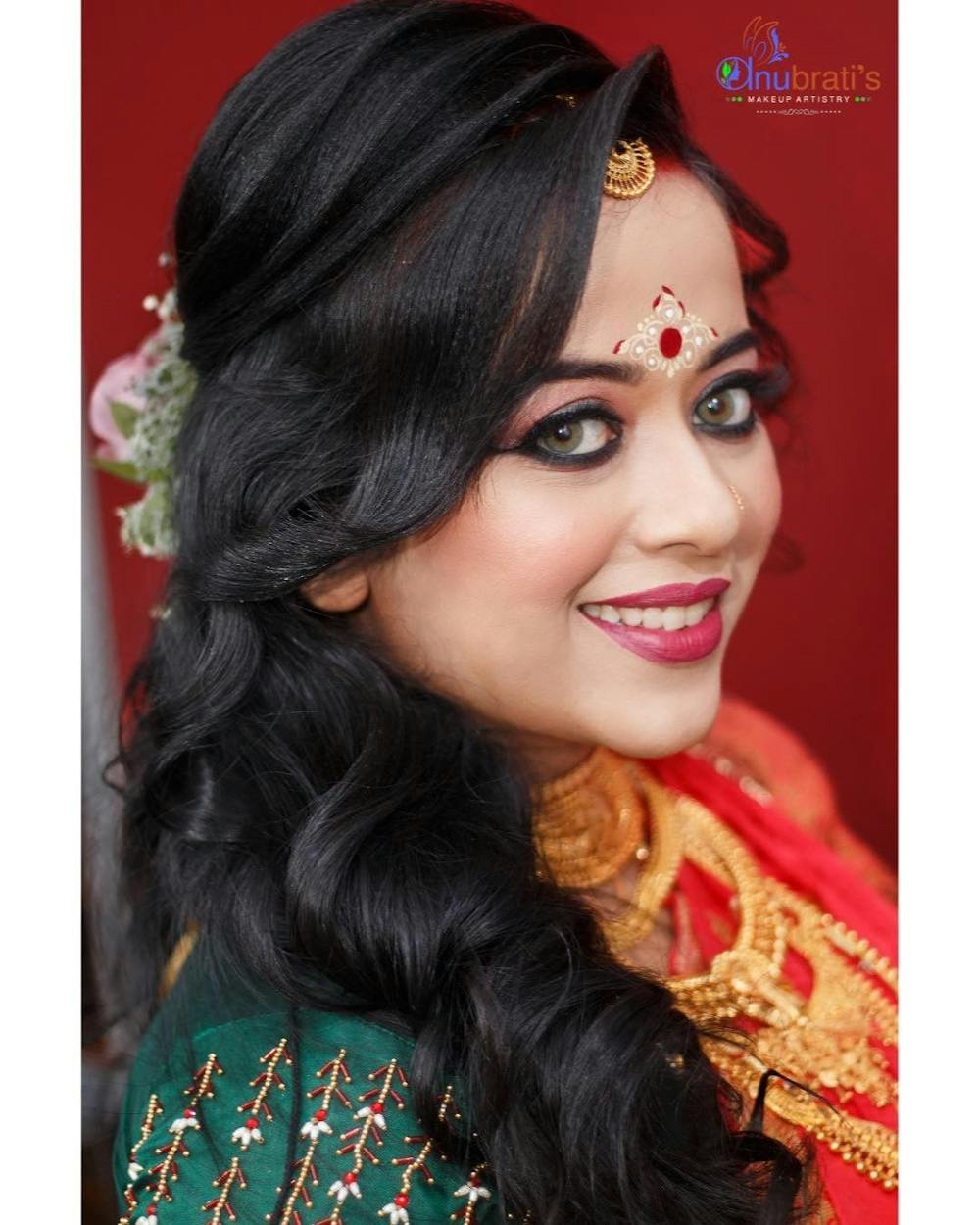 5. A neutral French Curl with Stonned Tiara Hairstyle
If you are someone who likes to keep it minimal with the looks then French curls are probably the hairstyle made for you.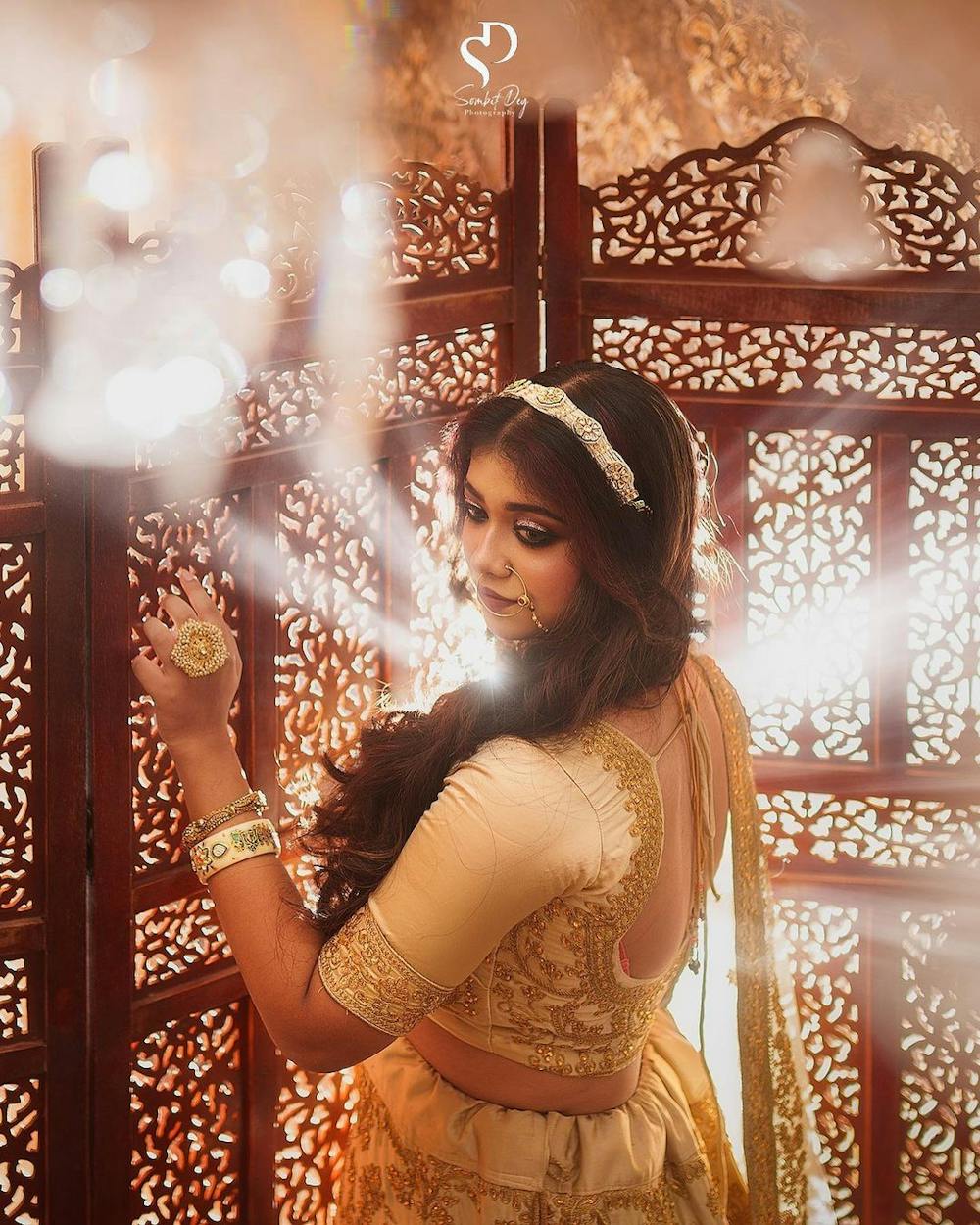 You can select to mid-part your hair and volumize it with soft curls. This simple hairstyle will make you the star of your wedding reception.
The French curls are unconventional and modern that a Bengali bride can choose.
Also, add a Matha Patti or a heavily stoned tiara to finish the look. This Bengali hairstyle goes best with a lehenga or a gown.
Closure 
We hope that you have more clarity about what Bengali hairstyles to go with for your most special occasions. 
We have curated the top five best and latest hairstyles for Bengali brides that you will love to try.
You can select the hairstyle you want for your wedding or reception and create that magnificent look, and we are sure that you will make your better half fall flat with your bewitching looks.
GET IN TOUCH
Let's Book a Session
News & Blog
Recent Articles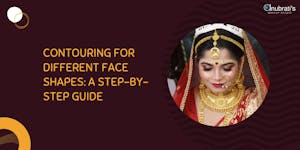 Learn how to contour for different face shapes with our step-by-step guide. Enhance your features and slay any makeup look.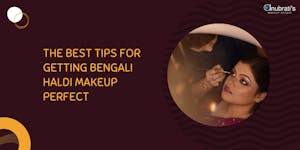 Transform your look with Bengali Haldi makeup, a unique blend of vibrant hues and modern style. Read this blog to enhance your beauty with our expert tips.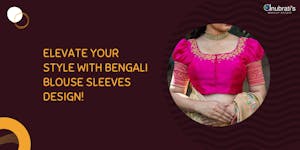 Here is a curated list of Bengali blouse sleeves design for all beautiful brides out there. All eyes will be on you with these trending blouse designs.