Gorgeous Reception Banarasi Saree For Bengali Marriage
Some luxurious silk sarees in your wardrobe live on forever. Take notes from the outstanding collection of reception banarasi saree for Bengali marriage.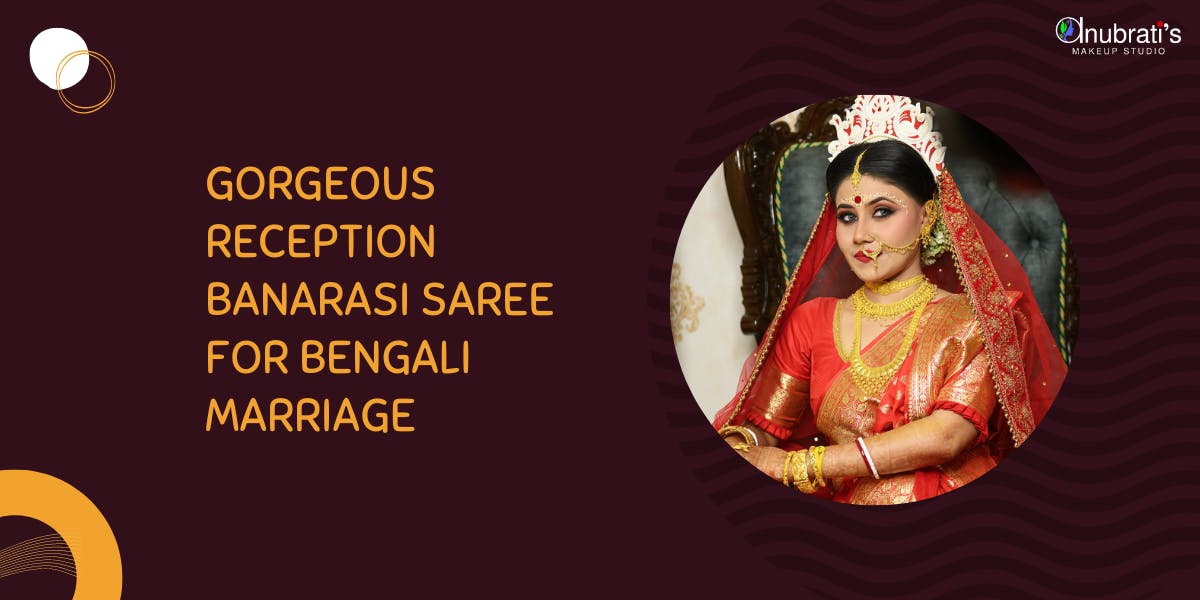 Every bride wants to look her best on the reception night. To add a touch of elegance, you can opt for a reception banarasi saree for your Bengali marriage. Banarasi sarees have been a symbol of elegance and grace for centuries. It is believed that wearing a Banarasi saree on an important occasion like a reception ceremony can bring good luck and prosperity. The intricate designs, and luxurious fabrics make Banarasi sarees perfect for such occasions. They make you look stunning, and provide comfort and ease throughout the ceremony. Investing in a banarasi saree for your Bengali marriage will ensure that you look graceful on your special day.
The traditional patterns and motifs add the perfect touch of glamour to any Bengali reception look. This is why the top makeup artist in Kolkata suggests bride to wear this statement saree to flaunt her ethnicity and look fashionable. Here are some breathtaking examples of gorgeous banarasi saree for reception that you can bookmark.
Recommended: The Latest Bengali Bride Hairstyle That Will Make You Look Stunning!
1. Red Reception Banarasi Saree For Bengali Marriage
As soon as we talk about the bengali reception look, our minds head toward the red banarasi saree. It is the most beautiful color that defines the love and marital status of a Bengali woman. Hence, wearing a red silk saree with intricate embroidery is always the best choice!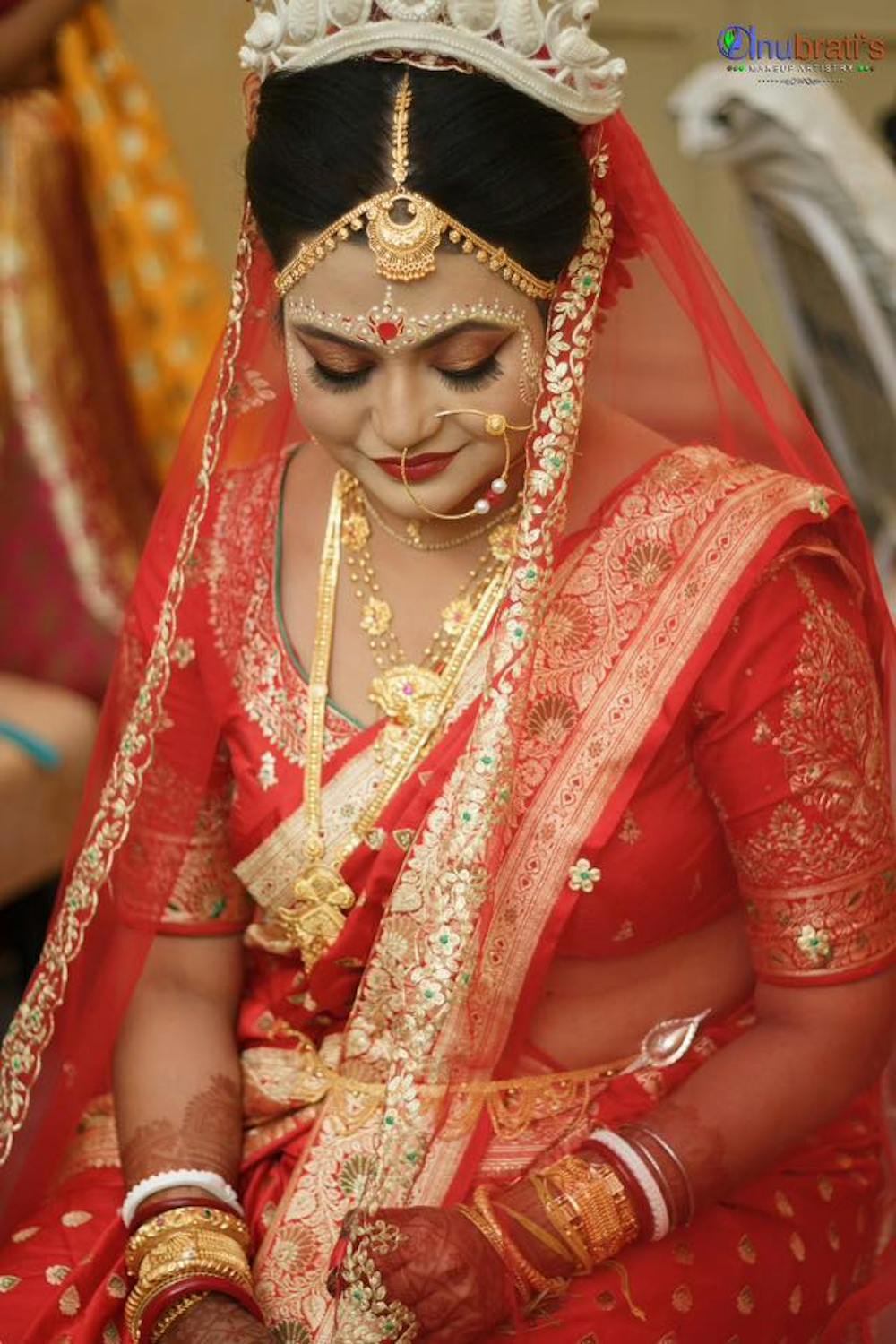 Must Read: Every Bride Must Have These Bridal Makeup Essentials
2. Pink Reception Banarasi Saree For Bengali Marriage
The stunning image of this Bengali bride will steal your heart with its soft allure. All the credit goes to the best bridal makeup artist in Kolkata who makes her look gorgeous in her pink banarasi saree. Pair up the wonderful saree with traditional gold jewelry to enhance your bridal charm.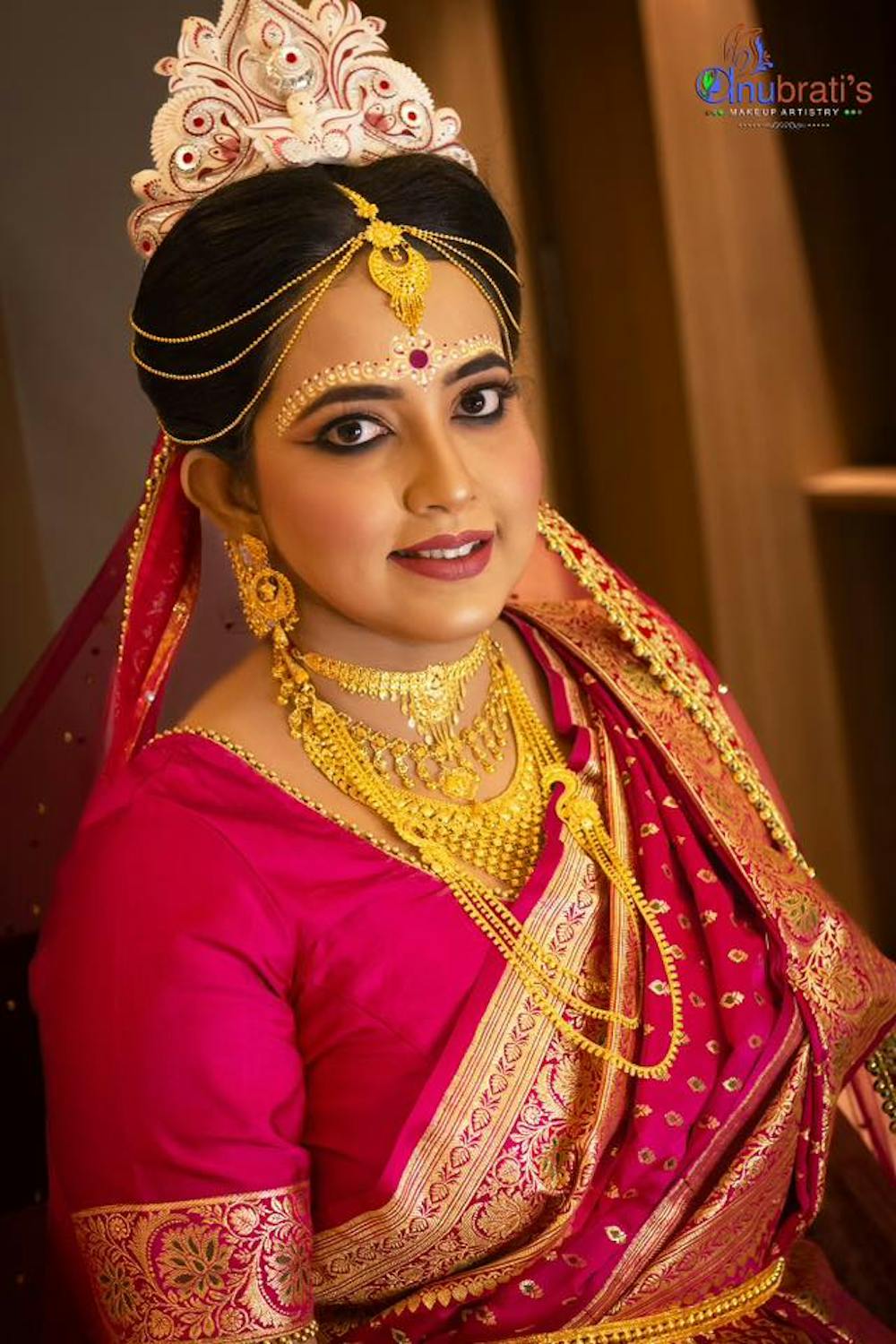 See More: 13+ Attractive Wedding Nail Art Ideas For Bride
3. Red & Golden Reception Banarasi Saree For Bengali Marriage
The eye-catchy combination of red and golden saree is a true example of style and sophistication. The exquisite golden embroidery on this rosy red silk saree is a match made in heaven. This traditional Bengali reception saree style is adding a certain charm to her bridal look.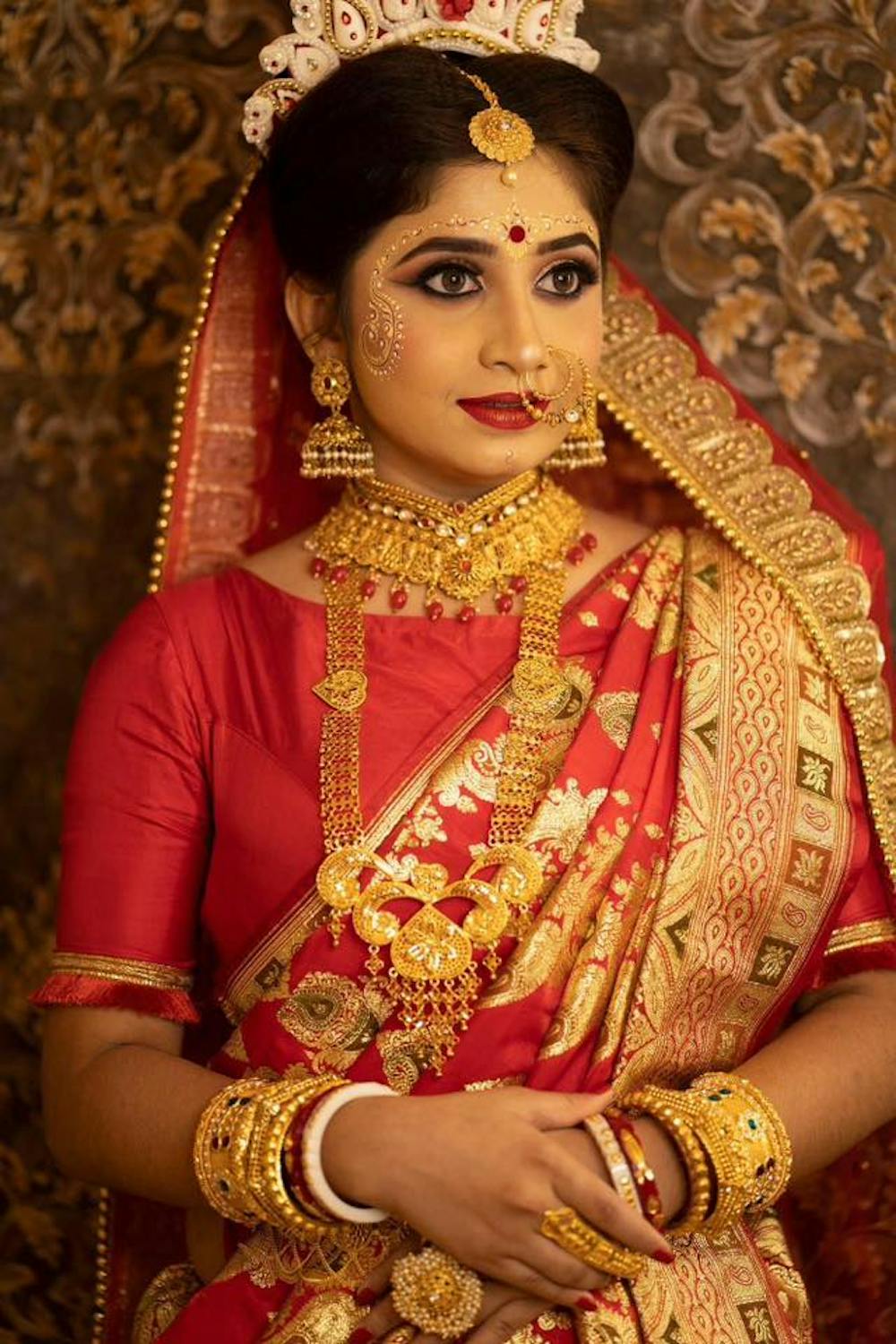 4. Blue Reception Banarasi Saree For Bengali Marriage
If you want to add a statement saree to your wardrobe, take a look at this blue banarasi saree. This luxurious reception saree for Bengali bride with heavy brocade work screams glamour. Her nude makeup and bold lipstick are further accentuating her party looks.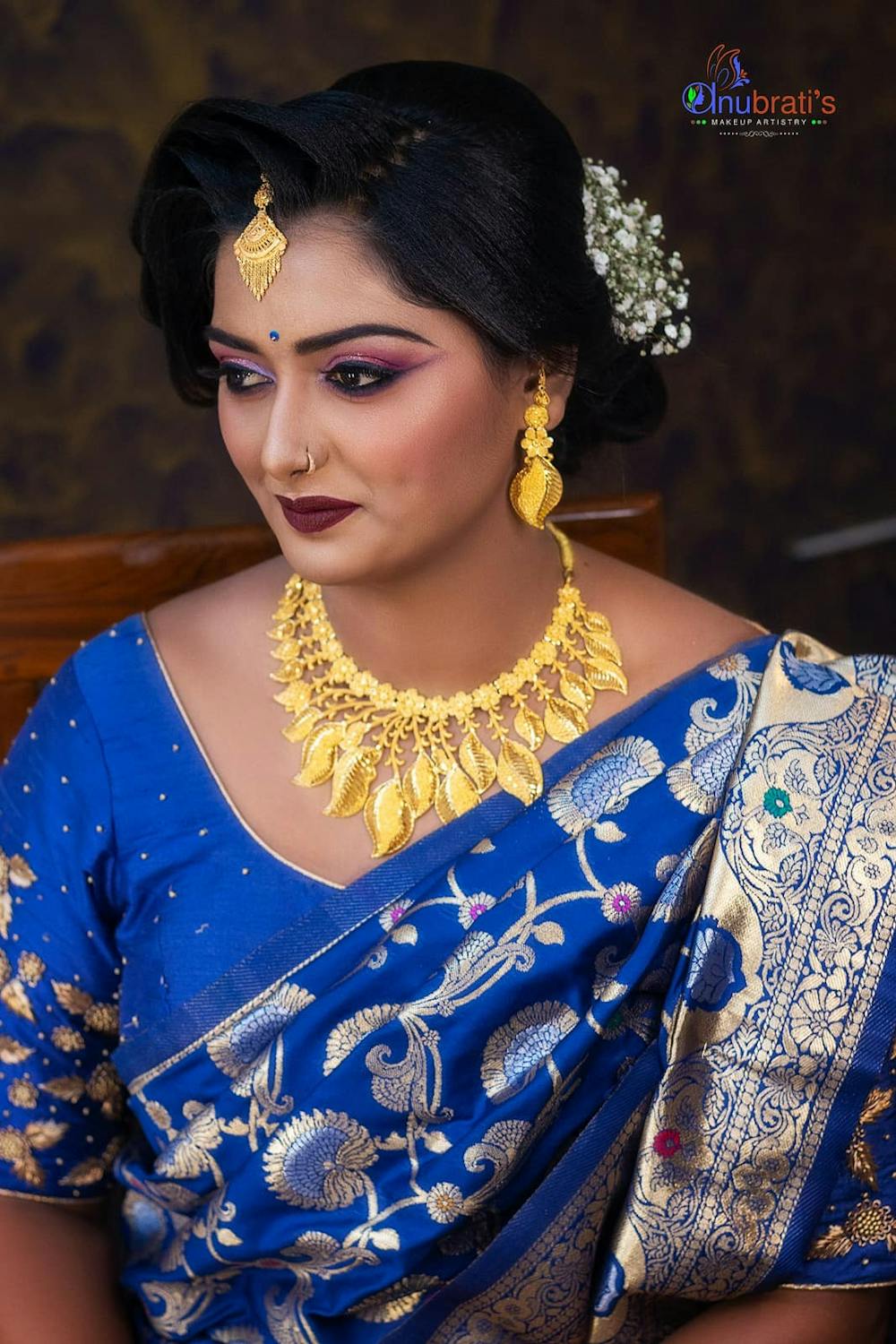 5. Magenta Reception Banarasi Saree For Bengali Marriage
If you are looking for an offbeat Bengali reception saree, what better than a magenta shade? Ditch the traditional colors and opt for this bold and glamorous shade. The magenta banarasi with golden touch looks fascinating. Such offbeat shades always grab the attention of people around you.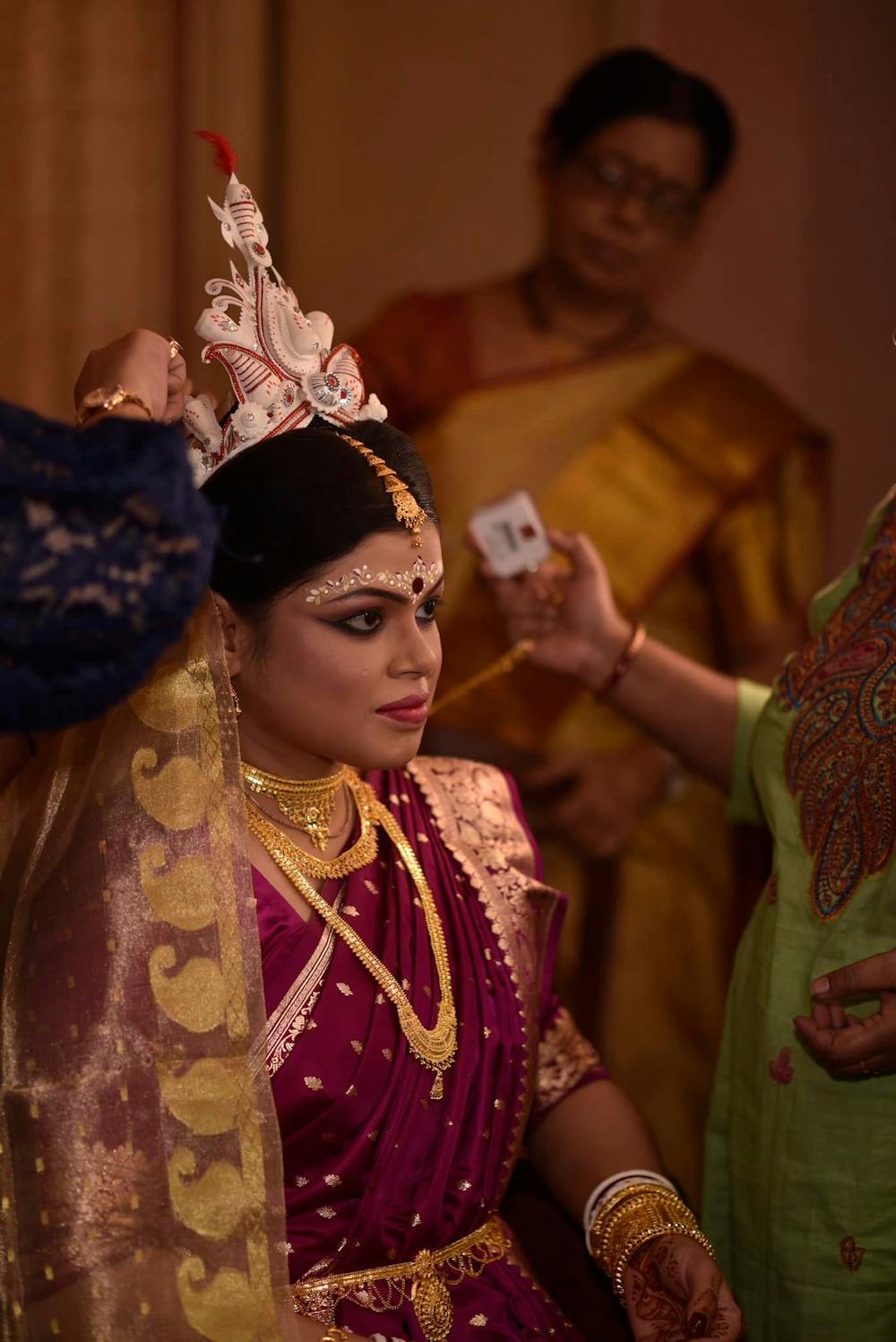 6. Green & Red Reception Banarasi Saree For Bengali Marriage
The rich golden embroidery on this red and green banarasi saree is praiseworthy. This is also one of the best banarasi saree for wedding that adds a traditional vibe to your wedding look. A contrasting Chandan bindi art will do wonders for such a beautiful Bengali reception look in saree.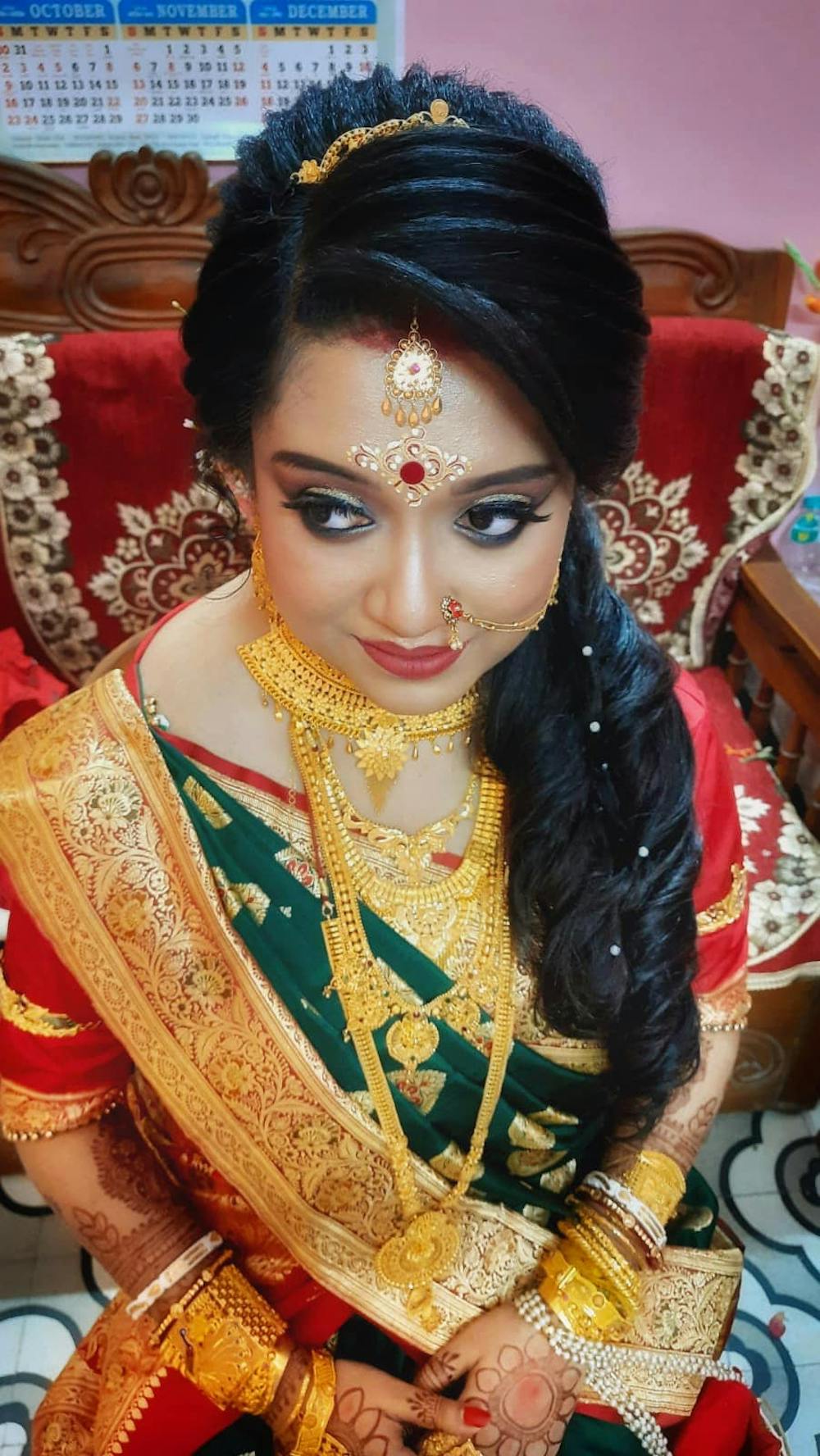 7. Maroon Reception Banarasi Saree For Bengali Marriage
If there is one saree that is most loved by Bengali women after the red banarasi, it will be a beautiful maroon silk saree. Take inspiration from this lovely bride. She is looking heavenly beautiful in her Bengali wedding reception pose. The dainty silver motifs on the maroon shade look outstanding.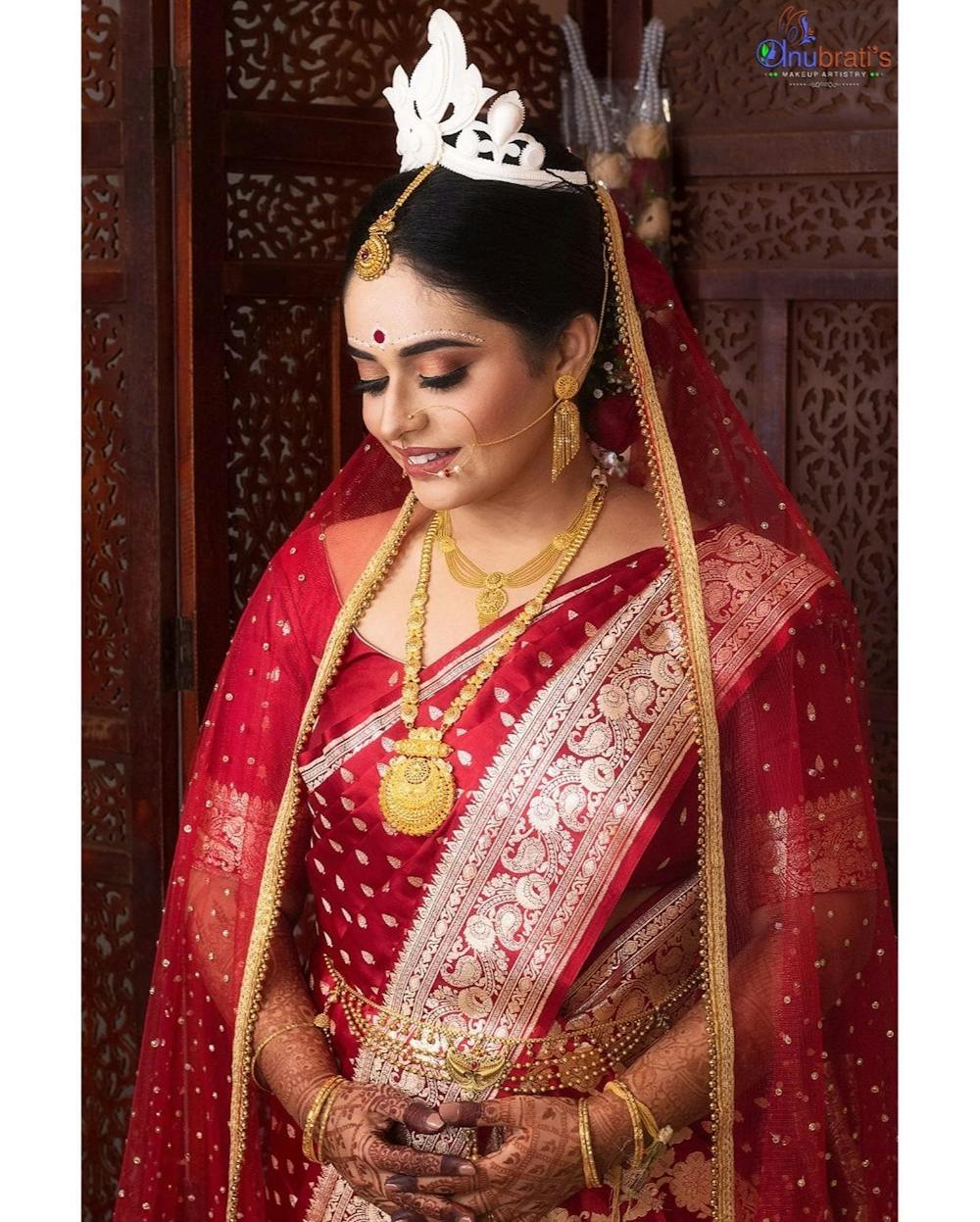 8. Forest Green Reception Banarasi Saree For Bengali Marriage
Nowadays, couples are planning nature-themed wedding events. So, if you are one of them, you can opt for this nature-inspired Bengali bride reception saree. Like a perfect jewel, this forest green banarasi will bring a special glow to your face. It will complement your bridal makeup and make you look beautiful.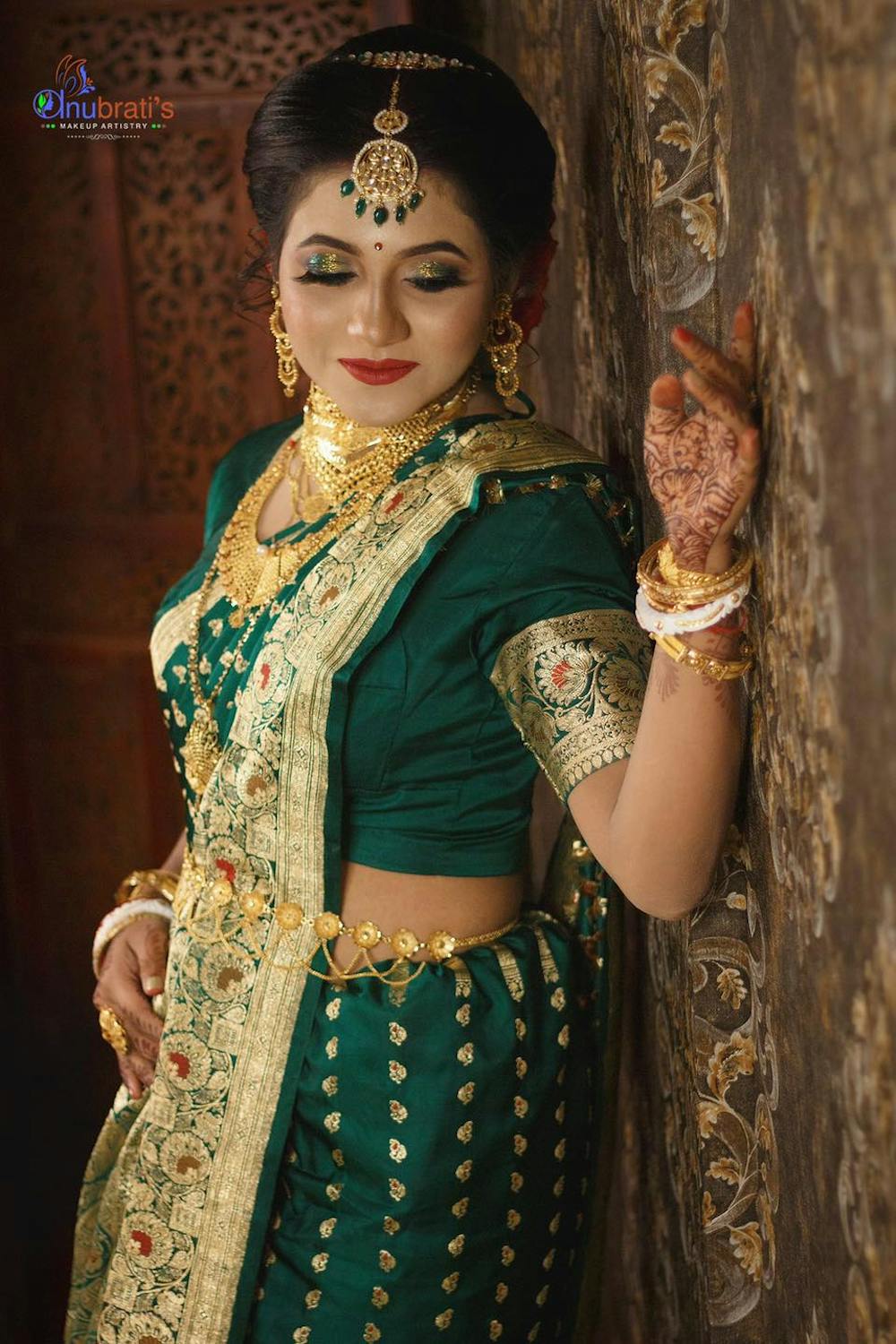 9. Yellow Reception Banarasi Saree For Bengali Marriage
Yellow is considered an auspicious color for the Haldi ceremony. But you can also wear this vibrant saree at your post-wedding event. This will provide you with a unique banarasi saree reception look with an extra dose of charm on your face. So, are you ready to add timeless elegance to your look with a pretty yellow banarasi?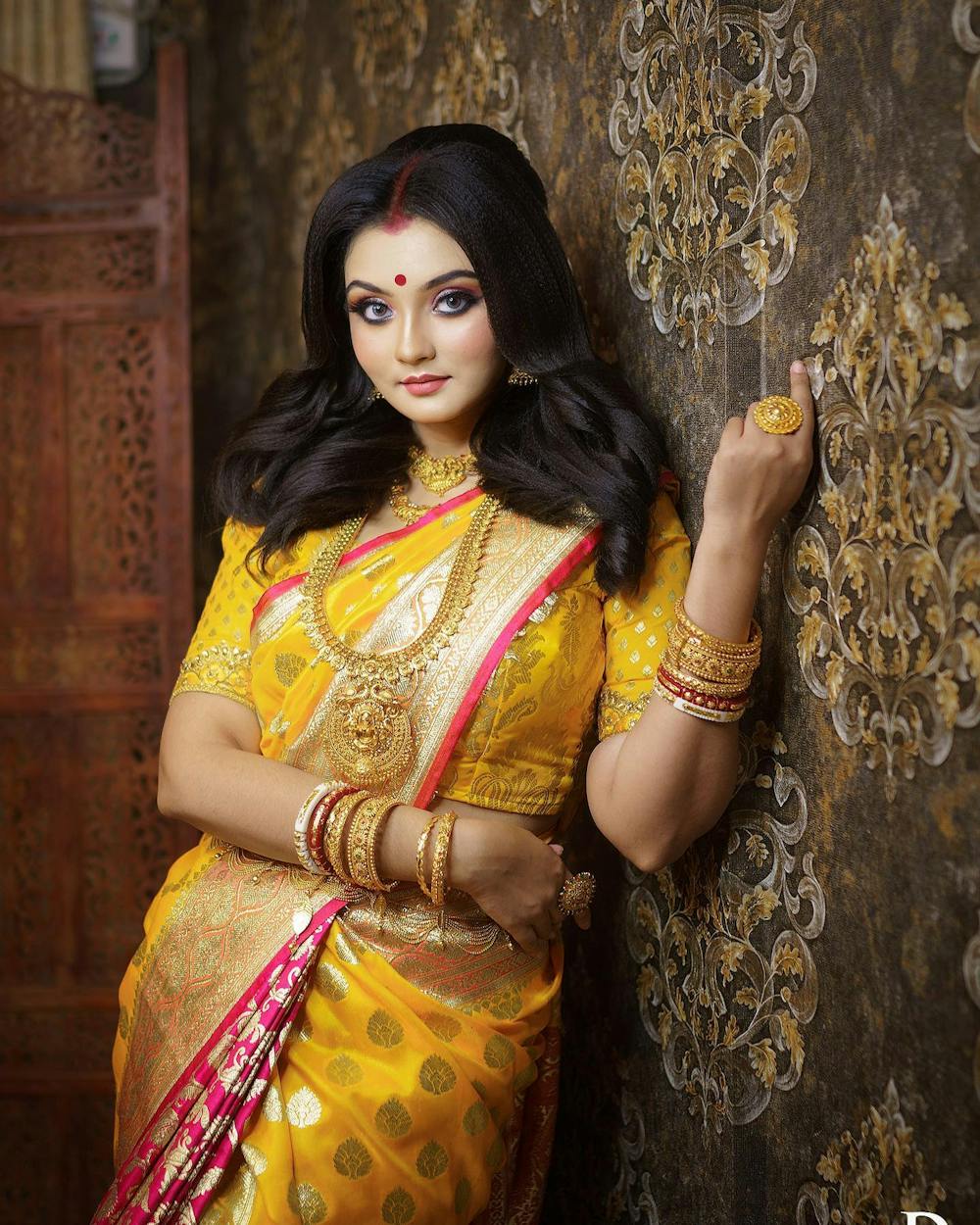 10. Turquoise Reception Banarasi Saree For Bengali Marriage
Next on this list is a beautiful silk saree that adds a playful vibe to your Bengali wedding reception photography. A banarasi saree in turquoise shade reflects happiness in the eyes of the bride. You can style it with a silk blouse to flaunt a spectacular bridal look. Make sure to opt for nude lips and HD makeup with such a vibrant shade.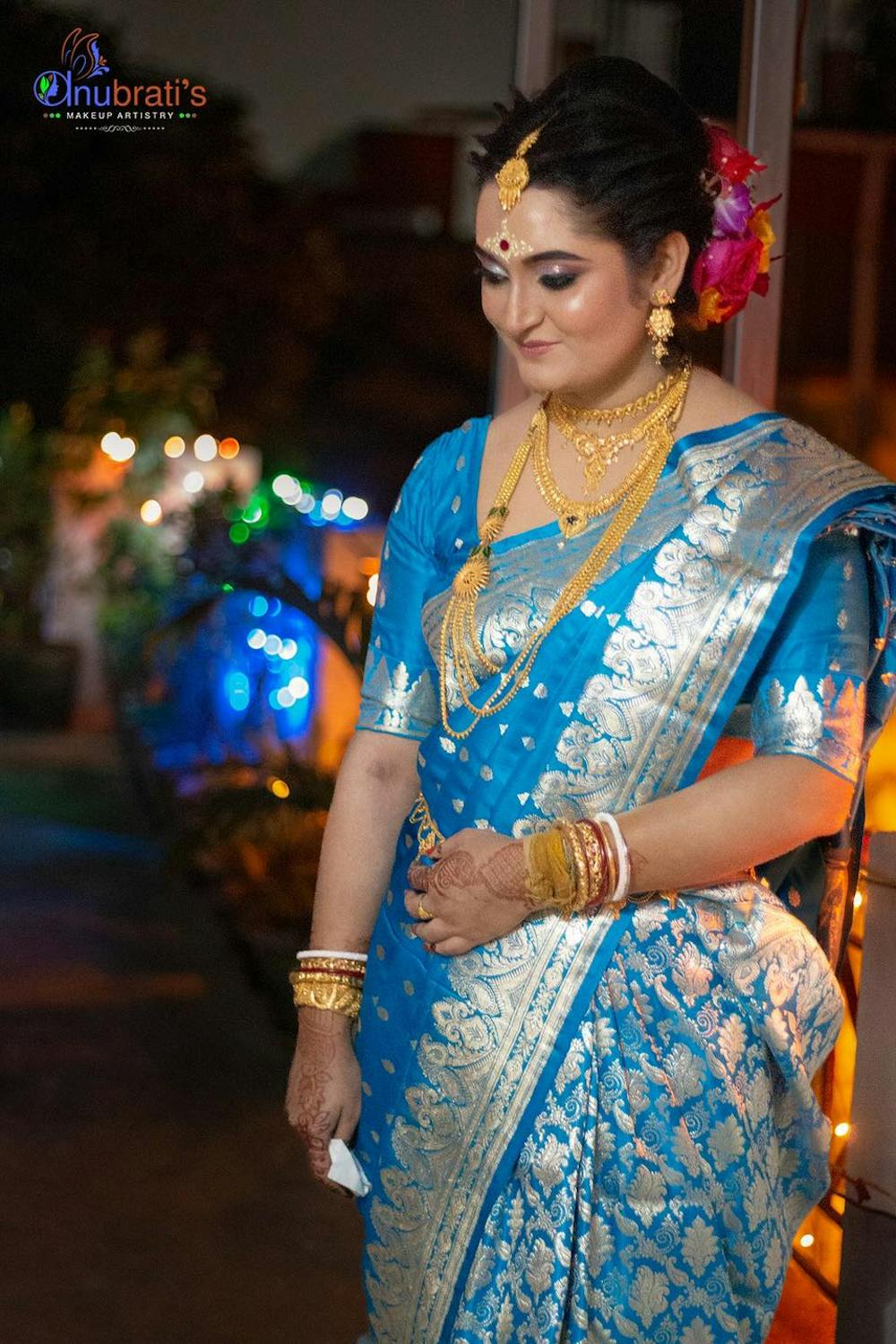 11. Violet & Red Reception Banarasi Saree For Bengali Marriage
Dual-shaded banarasi saree is the first choice of modern Bengali brides. Such an eye-catchy combination is violet and red. This is an unconventional reception banarasi saree that is sure to make you the center of attraction. Her beautiful eye makeup and statement jewelry add a touch of royal elegance.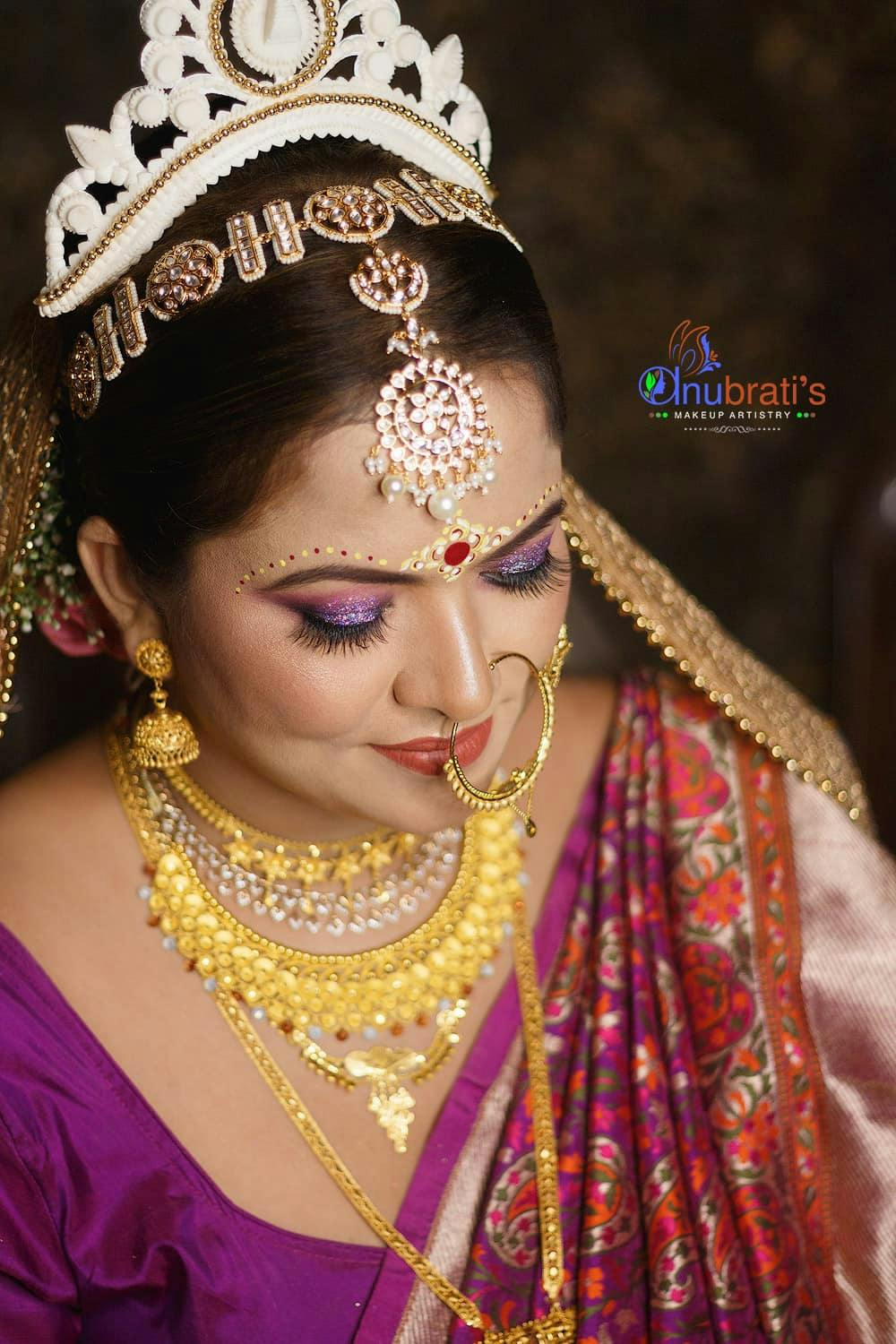 12. Royal Blue Reception Banarasi Saree For Bengali Marriage
Some brides like subtle while others prefer bold shades. If you want to add a luxurious touch to your reception look then you can try a royal blue silk saree. This bride has smartly used light pink shade makeup to complement her elegant saree.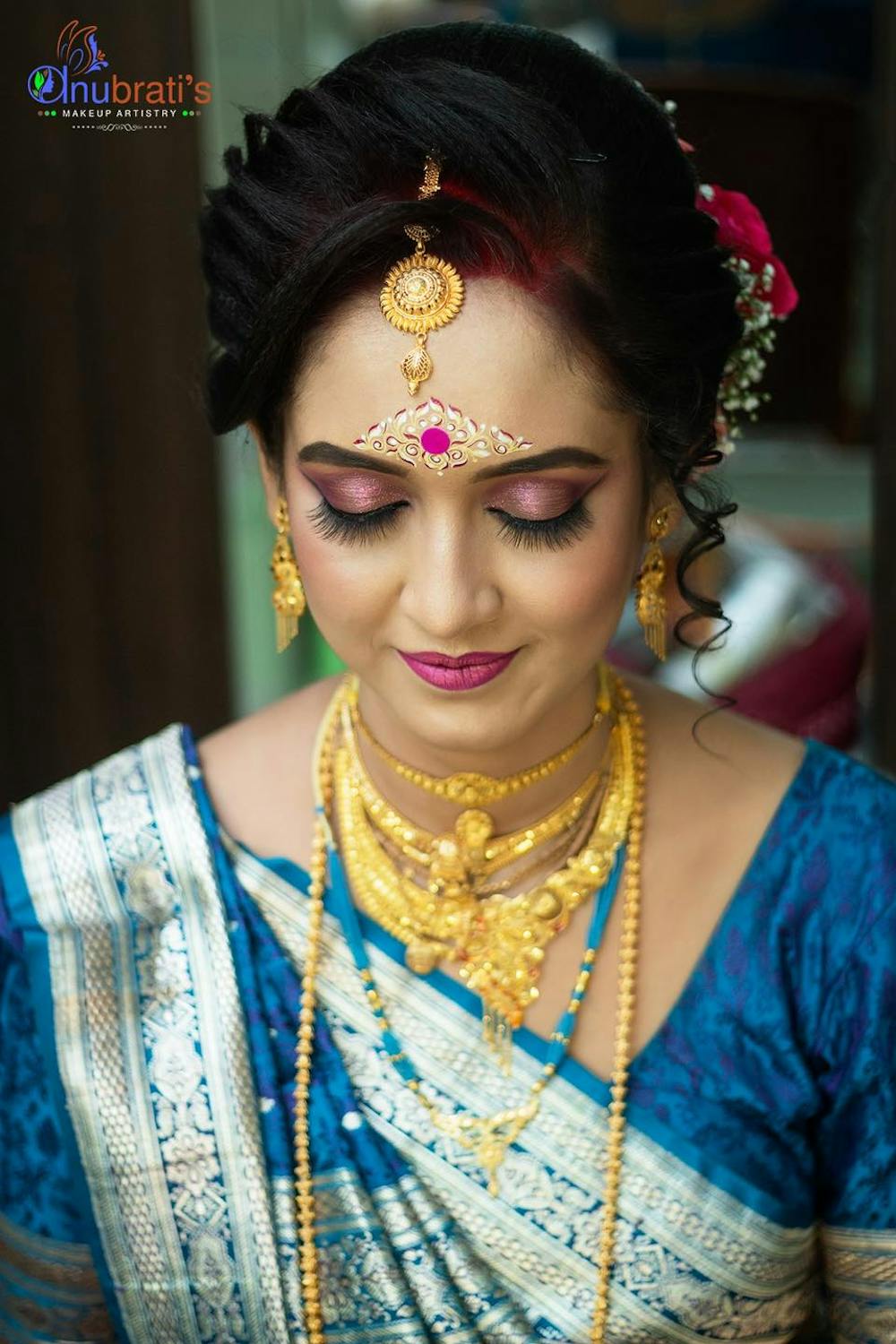 13. Maroon & Green Reception Banarasi Saree For Bengali Marriage
The contrast of maroon and parrot green colors in Banarasi saree can leave you speechless. What steals the look of this glamorous bride is her flawless wedding makeup. No doubt this graceful bridal attire is a perfect option to wear at night ceremonies.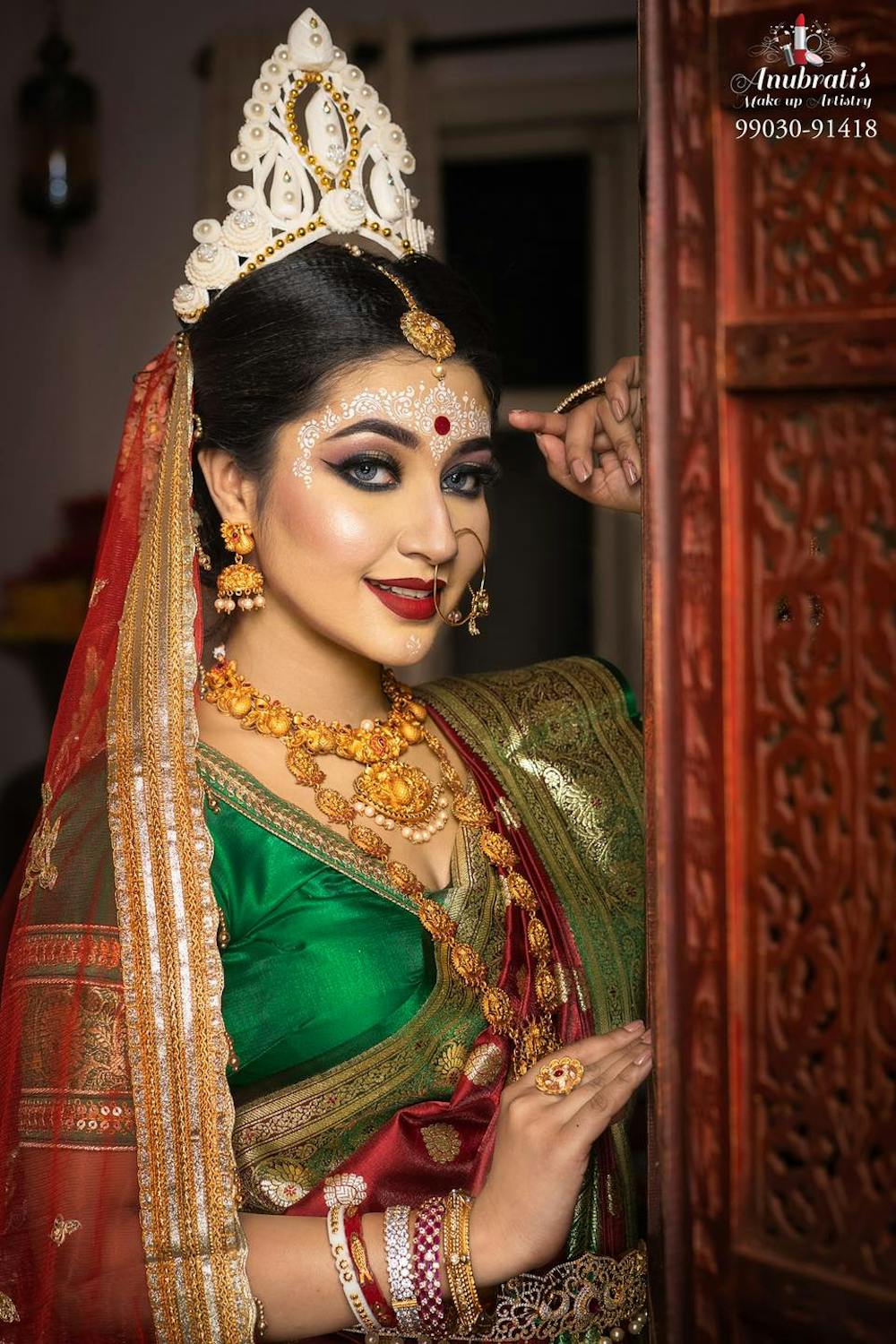 14. Leafy Motif Red Reception Banarasi Saree For Bengali Marriage
Ending this list with the most remarkable bridal look for wedding events. This red banarasi saree for a bengali wedding steals all the attention. The leafy brocade work and border in golden hue make the saree more attractive. Any bride can turn out to be a super glamorous diva in such a ravishing silk saree.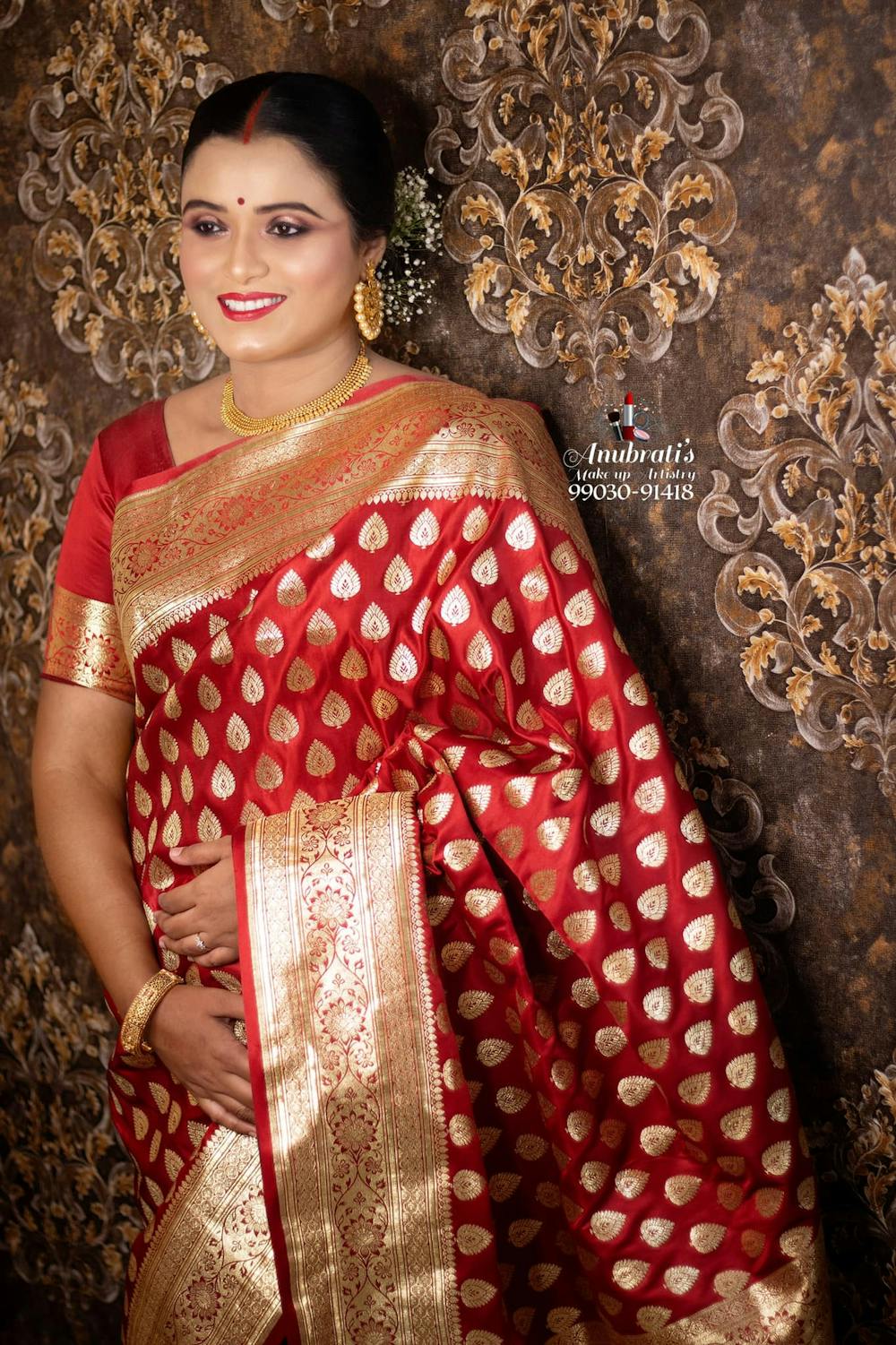 GET IN TOUCH
Let's Book a Session
News & Blog
Recent Articles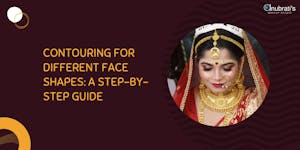 Learn how to contour for different face shapes with our step-by-step guide. Enhance your features and slay any makeup look.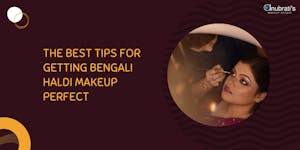 Transform your look with Bengali Haldi makeup, a unique blend of vibrant hues and modern style. Read this blog to enhance your beauty with our expert tips.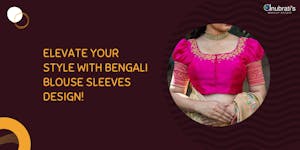 Here is a curated list of Bengali blouse sleeves design for all beautiful brides out there. All eyes will be on you with these trending blouse designs.