About Us
We believe in providing you with a stress-free makeup session that is full of fun. Get ready to create a memorable first impression with our makeup services.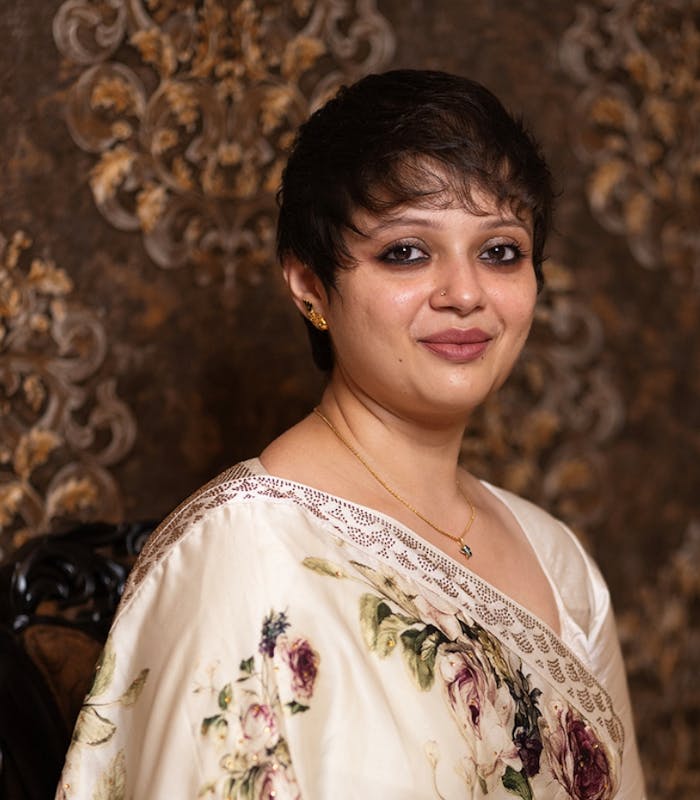 ABOUT ME
A Short Introduction Of The Best Makeup Artist Kolkata
Anubrati is a professional makeup artist Kolkata who specializes in bridal makeup, celebrity makeup, and artistic makeup. She believes in natural beauty, and that's why she extends her expertise to offer you an elegant look. With years of experience in the makeup industry, Anubrati has established herself to be the top makeup artist in kolkata. Her award-winning makeup has enhanced the look of many popular celebrities. She feels pleasure in providing her clients the best possible look they deserve on their special day.
She understands your requirement personally and decides on the best makeup that suits your skin type perfectly. She took great interest in different faces and skin types. From the latest hair styling to HD makeup her makeup can add a magical appeal to your bridal look. So, what are you waiting for? Book your appointment today to get the first-class makeup treatment in an affordable package by makeup studio in kolkata.
FEATURES
Why Bride Choose As Their Makeup Artist Kolkata?

Blends Perfectly
Anubrati uses products that blend perfectly with your skin, providing you with a natural glow.

Conceals Imperfections
The secret to the beautiful & flawless skin of brides is the herbal concealers used by her.

Silicon Light Reflecting 
To offer you a luminous finish that looks natural and vibrant, silicon-based foundations are used.

Natural Look
She is a firm believer in natural beauty and that's why she always prefers to offer you a natural and best look.
Suitable For All Skin
Anubrati's collection of herbal products is perfect for all skin types.

Hair Dressing 
Her experience in hair styling can offer you the best hairstyle without harming your natural locks.  

Artistic Makeup
Her dream-like make-over and creative touch can make you the most stunning bride in the town.

Classic Shimmery Glow
She uses modern techniques in create the classic bong bride shimmery facial glow that will make you look
GET IN TOUCH
Let's Book a Session
CUSTOMER FEEDBACK
From Our Happy Customers
I m highly satisfied with the work of anubratidi..she is very well behaved..i kept full faith on her and she did a magical work..everyone praised me for my bridal cum reception look..her assists r also appreciable..thank u all..

Payel Das

Beautiful experience for both bridal as well as reception makeup. I whole-heartedly thank Anubrati mam for making me look so gorgeous on both the days.. Seeing the makeup, there was a overflow of appreciation from all my guests..
Apart from the makeup, it was wonderful talking to Anubrati mam and her team members. All of them were extremely cordial and best at their services.
I would definitely recommend Anubrati's makeup artistry to everyone..❤❤❤

Poushali Chakraborty

I have made up mind years ago that only Anubrati Di will do my bridal makeup on my very special day. Her work is so exceptional and flawless.. I laughed so much on my wedding yet nothing happened to my makeup.. you will find many makeup artists who'll give you a complete makeover where you won't even be able recognize yourself but Anubrati di highlihts your features and brings out your beauty.. I highly recommend her.. she's amazing..❤❤❤

Ananya Dutta

Anubrati di is someone with whom I could connect so easily, and this connection is very important when you are about to get the best makeover for your D day. I am still awed by her work and till date it's the best decision I have made for my wedding day.
She connects with each bride individually, listens to their needs, and the best part is you get a name from her after all such good things. Additionally I got clicked at her studio and felt like a diva with all her attention and pamper. Myself aka happy campor, recommends Anubrati Chatterjee to upcoming brides. A big shout to her team and applause for her great work. Lots of love ❤️

Aditi Das

It has been a great experience to have my look created by Anubrati. She is a magician and does wonders with her brushes and I so loved my look that at the end of the day, I wanted to stay long enough with me.
Thank you so much ❤️

Deeya Ray

Her behavior is very kind and sweet.. I love the natural look on my reception, she gave me.

Sonali Bhattacharjya

One of the best decisions which I made during my wedding was selecting Anubrati di. She is extremely talented and very helpful. Not only she has done magic on my bridal makeup, she has helped also by suggesting what kind of accessories to choose etc. Everybody praised during my wedding for the ulimate best make up look. Highly recommended to would be brides.

Sayantani Goswami

A very happy team of beautiful artists! Thank you very much! 😊

Somdatta Goswami

Professional and I must say one of the best makeup artists.

Shormistha Chatterjee

Anubrati Di did my wedding makeup and suffice it to say... everyone was wowed! She was punctual to the dot, very hygienic and her pleasant attitude made sure my bridal jitters were soothed! All in all... I would recommend her to everyone!

Suranjana Sanjoy Neogy

Choosing Anubrati Di as my bridal makeup artist is one of the best decisions I made. She has done magic on both wedding and reception. Besides makeup, she is extremely helpful while suggesting about makeup and jewelry. Definitely recommended to every would be bride.

Sayantani Goswami

she is wonderful and was the best...she made me the prettiest on my special day.. the entire process was smooth and neat.. there was overflow of appreciation from each and every one. thank you for making me look sooo beautiful

Laboni Mukherjee

It was an awesome experience.i never thought I could look good that perfectly She is very passionate about her work and she is so sweet.i like her a lot in person

Piya Sarkar

Exceptional work, beautiful experience for both bridal and reception makeup. I thank Anubrati Mam for making me look so gorgeous on my special days...

Poushali Chakraborty

I have made up mind years ago that only Anubrati Di will do my bridal makeup on my very special day. Her work is so exceptional and flawless.. I laughed so much on my wedding yet nothing happened to my makeup.. you will find many makeup artists who'll give you a complete makeover where you won't even be able recognize yourself but Anubrati di highlihts your features and brings out your beauty.. I highly recommend her.. she's amazing.

Ananya Dutta

I wholeheartedly want to thank you Anubruti di and your team for making my reception day look so beautiful. Everyone from her team gave their best with polite and friendly behaviour. Fortunately I came to know about her from Facebook and booked her a couple of months before.And I can only say...WOWWW!!!! Anubruti di fulfilled my expectations more than enough . Thanks a lot once again.

Madhurima Das

She is indeed a magician. She just fulfilled all my aspirations regarding my 1st Anniversary look. An add on was her charming nature, I loved each and every bit .Thank you so much di and the whole team ,u all made my day extra special.

Barsha Dey

I am very happy with the makeup done by Anubrati di and her team.Everyone appreciated and mentioned that I looked really nice on my special day.I would also like to mention that everyone in the team was very warm and helpful and they were also very professional.

Shreya Chatterjee Dasgupta

I m highly satisfied with the work of anubratidi..she is very well behaved..i kept full faith on her and she did a magical work..everyone praised me for my bridal cum reception look..her assists r also appreciable..thank u all..

Payel Das

Beautiful experience for both bridal as well as reception makeup. I whole-heartedly thank Anubrati mam for making me look so gorgeous on both the days.. Seeing the makeup, there was a overflow of appreciation from all my guests..
Apart from the makeup, it was wonderful talking to Anubrati mam and her team members. All of them were extremely cordial and best at their services.
I would definitely recommend Anubrati's makeup artistry to everyone..❤❤❤

Poushali Chakraborty